Although it makes for a great dramatic effect, the theories of the sudden death of democracy disregard the gradual erosion and capture of institutions, and the role of the populace – argues political scientist John Keane.
Earlier this year, John Keane started off a discussion on the death of democracies in Eurozine's focal point 'The writing on the wall'. Since then, the pace of a democracy breakdown have been discussed by several authors. Together with editor-in-chief Réka Kinga Papp, Keane discusses his article 'How democracies die, fast and slow'  and the lack of biospheric representation as a democratic death threat. 
Read John Keane's articles in Eurozine, including the debate on the death of democracies discussed in the episode : 
This episode is an edited version of a longer conversation, which is available in its entirety only to our Patrons. You can get access to the full episode, and more giveaways by becoming a Patron for as little as €5 a month on Patreon.
Please subscribe to Gagarin on Spotify, Apple podcasts, Castbox, Stitcher, Soundcloud or wherever you get your podcasts, and leave a review so more people can find us. You can also subscribe to our newsletter, so you'll always know what's truly worth thinking about.
Published 26 May 2023
Original in English
First published by Eurozine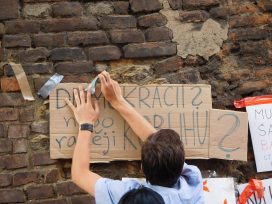 The Czech Republic's liberal government has taken up the Ukrainian cause as its own. But unless it starts offering solutions to a growing social crisis, labelling the opposition as Russia's useful idiots may not be enough.