When trust defines everything
COVID-19 in a polarized Ukraine
The Ukrainian government's pandemic response has got dramatically different reviews. The Zelensky administration declared a strict lockdown early on and has mobilized big business, enjoying wide popular support, but anti-corruption activists and established intellectuals remain suspicious. Nataliya Gumenyuk asks who to trust.
A comment breaks through the dozens of alerts on my mobile: 'The government isn't communicating enough'. Since president Zelensky announced initial lockdown measures on 11 March, the very same day that the first Ukrainian COVID-19 case was confirmed, opinion has been divided. The Ministry of Healthcare's CovidInfo Viber channel has almost 3.6 million subscribers. The chief healthcare officer and city mayors release daily briefings on TV, YouTube, Telegram and even TikTok. So why isn't it enough? Why are intellectuals so critical of what the authorities are doing?
As the co-founder of an independent Ukrainian TV channel, I am well connected both within and outside the country. Whilst restricted to the tenth floor in my apartment building, I have had more time than usual to observe media stories and comments. And I have been appalled yet not surprised by what I have seen.
As I am aware of how much eco-chambers influence bias, I should be transparent about my own information bubble – my network consists of former and current ministers and MPs (many in opposition), civic society representatives and human rights defenders, economic experts, anti-corruption activists, war volunteers, respected senior journalists, prominent writers, columnists, musicians and university professors.
This same network is the source of Ukrainian information for most Western political experts and editors. Every once in a while they write about 'Ze End of Ze'. It is now a year since 73 per cent of Ukrainians voted for ex-comedian Volodymyr Zelensky to become president. Those in my bubble largely did not. Many openly supported the former president and oligarch, Petro Poroshenko, who built his election campaign around the message 'true Ukrainians can't trust a liberal comedian who wants to find peace with Russia and oppose the identity politics that unite the nation in war'. Poroshenko may have lost the election, but he consolidated the opinion of many – former establishment members, professionals and technocrats, anti-corruption activists, war veterans and public intellectuals, who knew one another well and had previously been opposed, but they united against Zelensky. None of them trusted an outsider from show business.
Many of those I often consult consider that the Ukrainian government's measures to stop the spread of COVID-19 are excessive. Although the actions that have been taken are similar to those adopted by many other European countries, there is concern that their impact will be more severe in Ukraine. With so few confirmed victims, the measures are also considered disproportionate: by 15 April, 3,764 coronavirus cases had been officially registered, 180 people had died and 143 had recovered.
The lockdown may have been coined a state of emergency rather than martial law, but anti-corruption activists remain vigilant. Although recent measures do not theoretically restrict freedom of expression, in their view they are focused on appointing a new general prosecutor loyal to the president. One activist in particular is astonished by the government's deal with Uber to provide 30,000 free taxi journeys to doctors: 'This is evidence of just how dysfunctional authorities are'. Since public transport was stopped in Kyiv, not enough buses were available for those who still officially have to travel to work. Remote learning has also been passed to private providers. Commercial TV channels are now scheduling lessons every weekday morning, but even this took two and a half weeks to organize.
Ukraine, the second most populous post-Soviet republic, has a broken and corrupt healthcare system, which no government has yet managed to reform. It does not have enough ventilators to treat COVID-19 patients in intensive care. Up to 5 million people who live under Russian occupation in Crimea and the Donbas are particularly at risk. The current grey zone is inaccessible to both Ukrainian officials and major international organisations. The regions' high percentage of pensioners are especially vulnerable in this health crisis; many young people have already left. In the last six years of the Russian-Ukrainian conflict, 14,000 people have been killed and almost 30,000 wounded. Now, with conflict still ongoing despite another ceasefire, coronavirus is also threatening lives in the area.
Economists, meanwhile, have declared Ukraine's economy dead. They think the lockdown is too severe given that countries such as the UK and the US have more registered infections yet more relaxed approaches, which bolster already stronger economies. A society where most people have no savings is economically precarious; I know of those who lost their income a week after measures were taken.
Italy has been a popular migrant destination and given its different geography, few Ukrainians doubted that the pandemic had or would reach their home country. Even fewer considered that the government would be able to cope with the crisis. They felt that the country had already lost the battle.
'The president looks weak during his addresses to the nation' writes a senior editor. 'Zelensky was like Putin in his video communiqué' ventures another main commentator even though the Russian president hadn't yet made his first COVID-19 statement. I read other criticism, 'Merkel thanks the people. What a shame our president doesn't' after having heard Zelensky say, 'thank you for staying at home' in his national evening address.
'Mr and Mrs Zelensky trip up on gender roles again' criticizes a foreign think tank analyst. The president's wife has appeared in a video with Ukrainian female celebrities to advise mothers on how to behave during the outbreak. The column ends, 'Where are Ukraine's dads and why aren't they providing an example during the pandemic as well?' Meanwhile, another clip with famous Ukrainian fathers speaking about COVID-19 plays on my laptop.
'Zelensky has appointed feudal leaders in every region' is the comment raised after the president dubiously gathered Ukraine's richest people, including notorious oligarchs, together in his office. He encouraged them to support the government. Perhaps they could donate ventilators to hospitals. And, if not, he asked them to help local governors when needed – since they are the biggest employers in their regions, their workers could become valuable 'volunteers'. So far, big business has donated 36 million euros to hospitals and for urgent COVID-19-related needs, which is an unusually large sum for the country.
'This is the death of the president's majority' and 'this government is incapable' were two reactions to the ten-hour parliamentary debate necessary to discuss a highly controversial land reform bill involving a $5.5 billion IMF loan. Only a few weeks ago, the bill had been a political bargaining tool and unpopular with voters. However, with recession on the horizon, it's clear that the economy won't survive without foreign donors. Should Zelenksy have gone to parliament himself and personally rallied his MPs to cast their votes to avoid a default outcome? After 19 years of moratorium, Ukrainians are now allowed to buy and sell land. The very same day, MPs, all wearing masks and gloves, also supported the first reading of the so-called Anti-Kolomoisky bill. The law will prohibit the largest nationalized Ukrainian bank's return to its former owner Ihor Kolomoisky – the very same oligarch who was close to the president. In both cases, Zelensky didn't have enough Servant of the People party members present and so the opposition took a momentary advantage.
'Her circle trusts a different minister from Poroshenko's time – a fierce warrior against the crony healthcare sector. As an American-born Ukrainian from the diaspora, Uliana Suprun has one hundred per cent trust among anti-corruption activists. Her US-style aim to transform broken, post-soviet, free healthcare into a business industry can't be questioned; her support among reformers is evangelical. Even now, writing this column for an international magazine, I'm anxious that I'll be called an anti-reformer if I dare criticize her.
'Just look at his photo', a political correspondent says to me, highlighting the physical resemblance of a new minister to the late Soviet leader Brezhnev. After just 30 days, the new minister is considered not efficient enough even for Zelensky and the healthcare committee led by his party. Yet another minister has been appointed, this time in the midst of crisis – 'an efficient manager'. I could read about him, but his bio is brief. I rely instead on the opinions of people I trust. 'What a masquerade of new faces', says the same performer a few days later, when the minister my bubble wanted to resign had finally been replaced.
When members from the ruling Servant of the People party issued a statement opposing government plans to cut almost all funding for culture and education, the cultural elite staged its first online rally 'opposing party and president who want to destroy culture'. A thousand people joined the cause. In the end, the state budget for the sector was decreased but to a lesser extent. And yet 'culture is being murdered' is still the cry. Meanwhile, the Servant of the People party has decided to donate the state funding it got after winning the elections to fight the pandemic.
In consulting foreign news, I read a BBC report about how UK citizens were stranded around the globe due to cancelled flights. Ukraine's airline traffic has been suspended since the first days of lockdown. The Ministry of Foreign Affairs had ten days to organize the return of travellers, yet not for free. A private airline, owned by a competitor of an oligarch allegedly close to Zelensky, helped to transport 80,000 people home. Nevertheless, my feed is still full of posts from activists who challenge the decision despite omitting any mention of 'ambassadors' from within our bubble.
Meanwhile, a recent CBS News poll regarding the pandemic reveals stark yet unsurprising results: 72% of canvassed Democrats said they trust the national media and only 14% trust President Trump; in contrast, only 13% of Republicans trust the media but 90% trust their president. Whether we approve or condone current governmental decisions depends on our personal political persuasions, which are biased not only by trust but also by distrust.
I begin to question myself. Should I panic? Surely my bubble can't be wrong? Have I been coerced into trusting an untrustworthy government? How dare I ignore the intention 'to usurp power and give it all to Putin or the oligarchs, who are using the moment to get even richer'? The intentions may be good, but what if incompetence kills us?
I am a journalist and, therefore, have no right to portray political bias. Am I failing my profession?
For the past 6 years, I have covered the revolution, then the annexation of Crimea and now an open-ended war. It is inevitable that society is polarized given such circumstances. The public demands to know who's a friend and who's foe. So far I think I've managed. But what now?
While observing the responses of authorities in other countries – China's authoritarianism, Hungary's COVID-19 enforced death of democracy, Germany's liberalism, Sweden's moderation, Turkey and India's imposed penalties and Russia's denial of the pandemic – I consider the Ukrainian authority's reaction. And what do I see? Are these the usual emergency actions conducted by a normal government that most probably is making mistakes but is still trying hard in a very unusual situation?
I tune in to Ukrainian TV, which foreign experts rarely refer to. A truck disinfects the streets where the first COVID-19 case was brought over from Italy by a migrant worker. I watch reports on the closed border with Russia, where there is little hassle. And another from a train station where people are being reimbursed for their unused tickets without showing any sign of frustration. I read another national survey on COVID-19, this time Ukrainian. The poll shows that 40% of Ukrainians would support a stricter lockdown and 33% find the existing measures adequate; a total of 73%, the same percentage that voted Zelensky in – most probably all from outside of my bubble.
The pandemic's silver lining is that scientists and academics are trusted again and are back on the screen. Yet this is not enough. My question is how to regain trust in general, in the state, institutions, politicians, our echo-chambers and the general public.
How can I regain my trust in a person that I admired for investigating war crimes who is now spreading conspiracy theories about martial law that is not taking place? A political correspondent for whom the minister's physical appearance matters first and foremost? An economist who dismisses the lockdown? A professor who, in between writing careful advice on how not to panic, alarms us all about the end of democracy? A human rights defender who calls for war whilst yelling that the government will use the pandemic to negotiate for peace?  And, finally, will any of them trust me after I publish this column?
What should we do instead of silently saving up all our doubts while observing how online communication reinforces bubbles of distrust? Now, at a time when it's even harder to create real platforms of understanding between isolated individuals.
'A war against the virus' – that's how this crisis has been named by some politicians. Yet every modern war ends up not with a victory but conflict resolution, which has its own rules – trust is rarely regained by talks but by joint action. Maybe that's the plan?
Published 16 April 2020
Original in English
First published by Eurozine
© Nataliya Gumenyuk / The Institute for Human Sciences / Eurozine
PDF/PRINT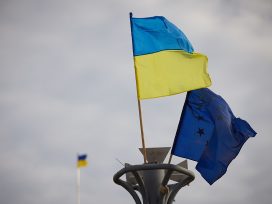 Ukrainians should have known that war would be the ultimate consequence of their identification with the West. Now that Russia has carried out its longstanding threat, the reality has dawned. But can the same be said for Europe?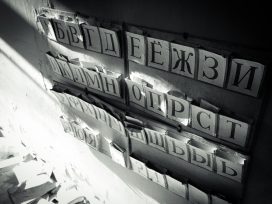 Reintegrating Russian-speaking Ukrainians into the 'Motherland' – one of Putin's central pretexts for war – has impacted a sharp counter reaction: many are abandoning their mother tongue, reaffirming their Ukrainian identity. Could Ukraine be headed for monolingualism after centuries of multi-language cultural exchange?