The power of minus
Using guerrilla tactics in a state close to collapse
The periodical translation of news into words and the associated analysis that constitutes the print medium, writes Victor Tsilonis, is no longer enough. It cannot attract a wider audience. The answer: humorous, issue-specific poster, social media and video campaigns.
All the world's a stage,
And all the men and women merely players;
They have their exits and their entrances,
And one man in his time plays many parts,
His acts being seven ages.

Shakespeare, As You Like It, Act II, Scene vii
Introduction
Intellectum aims at the systematic development of thought, social criticism and scientific discourse, providing comprehensive yet high quality content. The interdisciplinary approach creates added value, which contributes to the promotion of new ways of viewing reality and a positive change of mindset.
In 2012, in addition to publishing the journal, Intellectum started analysing news and current affairs via its new website and developing original forms of social actions.
After the International Book Fair of Thessaloniki 2012, we realized that the periodical translation of news into words and associated analysis that constitutes the print medium – the effort that goes into discovering and analysing part of the truth hidden beneath all the dust – wasn't enough.
We therefore started a new column called "Fingerprints of the Day", which was followed by the web radio show Afternoon at Tiffany's and then the columns "Aphorisms", "Absentia Lucis" and "Immoral Morality". In this way, we tried to interpret on a regular, daily basis current events, take apart the core facts and transform them into digital words.
From those words we chose 11 articles from the past year and presented them in a special issue of Intellectum. We also realized that, for better or worse, in an era in which Internet and television are obviously converging, the simple translation of facts into words is outdated and words alone lack the power to attract a wider audience.
Thus we chose to make use of the power of image in order to sensitize larger social groups in contemporary Greek society to particular issues. These are some of our campaigns.
1. Hair racist – brain racist
In these tough times, Intellectum arms itself with humour. By focussing on the issue of alopecia (baldness), we provoke a large percentage of men in the perfect Greek nation, as advertised by the Golden Dawn party. In ancient Greece, alopecia was a rare phenomenon, observed mainly in non-Greeks. This is why there is – as far as we know – no ancient statue that portrays a person without hair. Aristotle was the first to investigate this rare, mysterious, degenerative disease, observing that all women and children remained unaffected by it. Also, the heroes of the Greek Revolution of 1821 (Kolokotronis, Androutsos, Karaiskakis and Makrigiannis, among others) are all portrayed with rich, long hair. Intellectum decided to present this subject (the model used is a member of the team) in order to demonstrate that the superior and pure Greek nation is a myth and xenophobia and racism are just ideas that have no place in the mindset of contemporary people thinking logically and liberally.
2. Mocking fascism
After the attacks against "multi-millionaire", small-time immigrant vendors in Rafina, we decided to respond with a series of humorous posters. Everyone must take a stand and do things so our country doesn't fall apart.
Here's the first poster, designed by Giannis Ergeletzis. (Michaloliakos is the chairman of the notorious neofascist Golden Dawn party. Alefantos a colourful and nervous football coach, who often provokes laughter.)
3. Criticizing Greek journalism
In order to draw attention to the sorry state of Greek journalism, we produced another poster.
(Note the Latin, English and French phrase, all in one small "Greek" sentence!)
4. Boycott petroleum
In Greece, the petroleum market is controlled by a number of families that have dodged paying taxes for decades. Even the IMF has sounded the alarm about what is happening in Greece regarding fuel and named names too. Are we going to sit still, remain silent and do nothing? we thought. In this campaign, twenty-one people, prominent in their respective fields, were photographed soaked in oil. We used very expensive smuggled and impure fuel.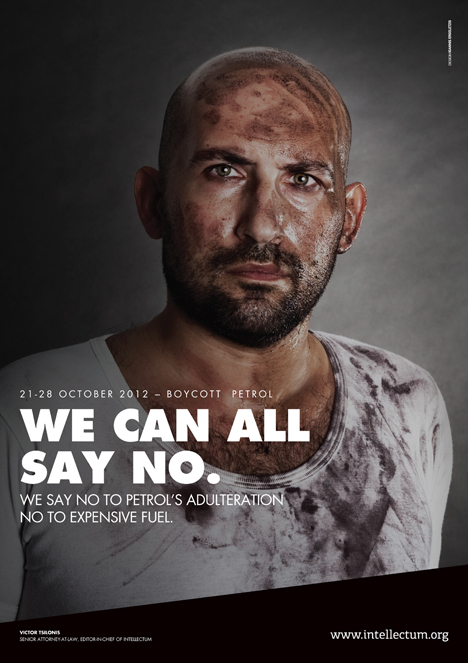 5. Turn it off, it's good!
When the Greek public broadcaster was shut down in June 2013, Intellectum, together with the independent production company DesThess, objected to the unconstitutional closure of ERT, NET, ERT3 and of its satellite channel ERT World (avidly watched by many Greeks abroad), the digital platform (Prisma+, Cine+, Studio+, Sport+), the sport channel ERA Sport, the Third Programme and radio 9.58, along with every radio station broadcasting in Greece as well as abroad.
We also firmly objected to the sale of ERT's historic archives and to the illegal act of forbidding every single Greek and EU citizen access to them. This was an illegal act, since the archive's formation was made possible through community funds.
In a highly ironic and mocking tone aimed at those Greek officials and politicians who are now trying to rectify their own shortcomings, created exclusively by their own decisions, Intellectum and DesThess joined forces for the first time to create the TV campaign "Turn it off, it's good!"
These short videos aim to indicate the historic, cultural and social role of the public TV and radio channels.
The above projects and actions led to the inclusion of Intellectum on the short list of the 2013 Greek Internet Awards. They will be presented at the Eurozine conference Making a difference: Opinion, debate and activism in the public sphere taking place in Oslo from 29 November to 2 December 2013.
Published 13 November 2013
Original in English
First published by Eurozine (English version)
Contributed by Intellectum © Victor Tsilonis / Intellectum / Eurozine
PDF/PRINT