Contracting COVID-19 in the UK over Christmas was far from joyous. While politicians, favouring business over health, were betting on Omicron's mild symptoms leading to few hospitalizations, especially for the vaccinated, the isolated and sick were negotiating a procedural nightmare of defunct privatized healthcare provision.
Read more from our 1/2022 newsletter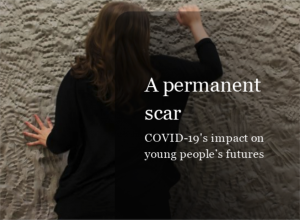 Wiliam Hayward on COVID-19's impact on young people's futures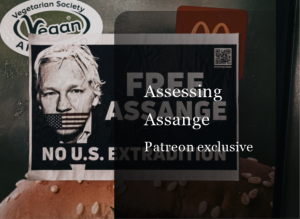 An exclusive topical looks into leaks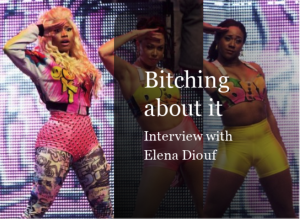 Women of colour subverting stereotypes in hip hop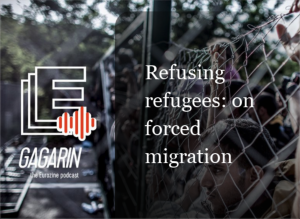 Ranabir Samaddar talks labourforce and false dichotomies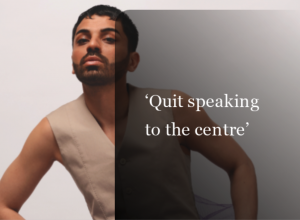 Roma representation in media: taking matters into one's own hands
Anastasia Filippovna's 'Portrait of Christ'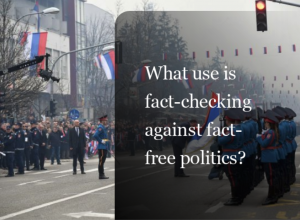 Sending a scuba diving team into a bathtub: on the political potential of history proper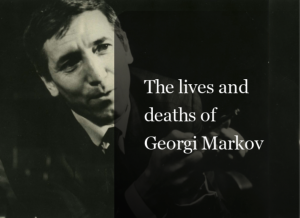 From the Communist regime's darling to its legendary murder victim
Subscribe to our newsletter.
The evening train was stationary when I woke. Panic immediately captured my semi-conscious state. Where were we? How long had we been in the station? How was I going to get off? No longer soothing music still playing in my ears. No time to pack book, phone, glasses case. Bundled together with bag, coat, rucksack. I lurch in slow-motion, as if drugged, towards the nearest exit through an overheated carriage packed full of settled travellers, silently staring, many unmasked.
Never had I acted out this common nightmare for real before. Those standing near the doors became motionless witnesses to my seemingly miraculous escape, pressing the illuminated button just in time. Hurling myself and all my belongings off the train into a pile on the platform was a relief; this unfamiliar connecting stop absorbing any embarrassment without comment.
When asked to fill out an NHS test and trace form over two weeks later, I itemize this journey as the likely time and place of COVID infection. My train had been cancelled and double the standard amount of passengers had been travelling on the last, small cross-country train from London Paddington to Bristol.
Testing
I posted off my Day 2 PCR test the following day on 21 December. When my first cold-like symptoms started showing on Christmas Eve, I had already been keeping a low profile for four days. The result from that first £40 entry test never arrived.
Stories were already beginning to circulate about the demand for lateral flow tests overwhelming supply. Chemists, when open, were being used as public LFT distribution centres but were out of stock and not receiving more deliveries. Surely the government hadn't failed to take precautions against its own predictions of rising Omicron infections?
Rather than admitting mismanagement, the advice was to refresh the government website regularly in case more free tests became available. The prices of commercial packs began inflating day by day. Official recommendations to test before getting together over the festive period were beginning to look shallow. My mother's plans to share Christmas Day with a neighbour were cancelled as a precaution.
On Boxing Day, with no improvement to my sore throat, sneezing, a blocked nose and tiredness, we resorted to calling another neighbour, a recently retired nurse, to see if she had any spare LFTs. When a loud magenta strike appeared immediately at 'T', I explained to my mother, who had never used an LFT, that we didn't need to wait 20 minutes for the result.
Her test was thankfully negative; knowing that we couldn't isolate from one another, my biggest fear was passing COVID to her. Although we were both double vaccinated and boosted, I was concerned about her vulnerability as an over 70s with underlying health issues. Why had I taken the risk of returning for a family Christmas?
A PCR test, bookable through the government website, was available but at a test centre twenty miles away. Without a car, there was no safe way of getting there. I rang the helpline to see if there was a more local solution. A sympathetic voice could only take me through the same online form but did hint at the possibility of nearby appointments becoming available from 27 December.
Although I didn't have a high temperature or a cough, nor a loss of taste or smell at that point — the UK government stipulated symptoms for eligible PCR testing — I feigned consent, having read about Omicron symptoms, and ordered a pack of NHS home tests, three of which were being supplied per household. These tests never arrived either.
The warden from the housing scheme where my mother lives gave us four LFTs from her personal reserves. Then I managed to order a box of seven in my mother's name, only available to those with no symptoms. This order arrived within two days and temporarily relieved growing despondency.
Then local walk-in PCR tests became available as predicted. But what would ordinarily be a short distance for me turned into an exhausting trial. I finally arrived after taking a slow, criss-crossing route to avoid any passers-by. The sight of the slouching figure on security at the gate of the out-of-town carpark, his mask slung cowboy-low below the nose, told me that I was facing hired contractors.
By now it was perfectly clear to me that the problems I was having were the result of outsourcing public health provision to commercial interests. Of course, other countries are doing the same but not to such levels of chaotic, unaccountable inefficiency. Austria, where I'm a resident, has a well-organized testing system, especially in Vienna.
I was told that I could expect to wait 72 hours for the result. But I never received an email or text about this test. Calling the helpline, all I got was a long sequence of automated options leading only to silence.
When my mother tested positive on 30 December, we ordered home PCR tests in her name. They arrived four days later, followed by positive results after three more days, one day after both of us had already had our first negative antigen.
None of the above even attempts to describe the anxiety caused by the government underestimating the problem and pushing for unrealistic recovery times. Thankfully neither of us came close to being hospitalized.  I dread to think what I would be recalling had we become caught up in the consequences of dwindling health resources and rising NHS staff shortages.
Patience
Unfortunately, my UK testing nightmare had not ended there. With scant PCR test availability in Gloucestershire and time limits on the validity of results, I decided to take my chances in London. With each of my travel elements – two negative antigen tests, last-minute tickets and a private PCR – dependent on one another, I was immediately vulnerable to the COVID marketplace.
Although I'd researched clinics providing same-day 'fit to fly' PCR results – annoying in itself because I was travelling by train – I struggled to find an available appointment. I persevered with a painstakingly slow internet connection, trawling through a dizzying array of businesses with extortionate prices, pitched anywhere from £60 to £260. In desperation, I settled on a £125 offer for a late afternoon slot with results by midnight.
The clinic barely disguised its makeshift setup in a hired, ground-floor backroom casually subdivided with a reception desk, waiting area couches and testing booths. Before being tested, I wanted to double-check the turnaround time, vitally important for a successful departure. Seven hours suddenly became 24 hours.
I was caught between having already paid £100 (non-refundable) and a higher-end offer down the road for a same-day result. There was a chance, I was told, that the result would come back sooner but with no guarantee. By now I had become used to gaming the system and decided to gamble.
Overnight, I plotted my attempt for leaving if the result didn't materialize. One clinic was offering 15-min antigen tests for £29, acceptable for entry into Belgium on the Eurostar. With a negative LFT, I could bide my time before travelling onwards to Austria. I booked the test on my bus journey back into town. When I arrived, the clinic was a near replica of the former, down to the striking tattoos on the young medic's forearms.
The scramble I had to get out of the train on my arrival was mirrored by my protracted attempts to leave the country. Waiting for the LFT result in St. Pancras one hour before departure, banking on an official negative but not generating my tickets in case I still needed to rearrange them, nor filling out a passenger locator form for Belgium, which depended on the train's details, was the tense end to a waking nightmare.
I soon realized that neither of my official negative tests would be checked. Their only worth was in the reassurance I'd been craving for weeks. It was not until later that I found time to reflect on the horrors of negotiating a compromised health system when ill, being forced to talk to customer service rather than receiving treatment by a public health service.
NHS test and trace have since been calling me and my mother for days on end. I answer what I hope will be the last call. Do I have any questions about the process? Plenty, but they'll have to wait until after I've recovered from this procedural ordeal and near-total exhaustion.
This editorial is part of our 1/2022 newsletter. Subscribe to get the weekly updates about our latest publications and reviews of our partner journals.
Published 12 January 2022
Original in English
First published by Eurozine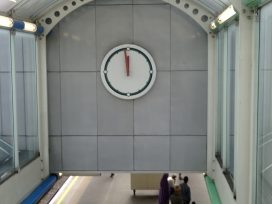 A four-day-working-week trial is underway in the UK. The long-awaited attempt to improve the nation's poor work-life balance and reduce related environmental impacts coincides with the conservative government's 'zombie' prime ministerial handover period – one much more seriously anticipated than the other.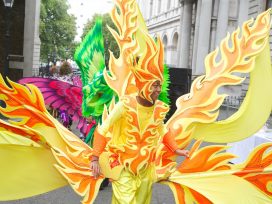 After being expelled from the USA for her affiliation to the Communist Party, Trinidad-born Claudia Jones became a key figure in the movement for racial justice in Britain. Known as the 'mother of carnival', rarely are the various strands of Jones' life as a journalist, activist and poet pictured together.