Watch your mouth! Journalism now and tomorrow
31st European Meeting of Cultural Journals: first iteration
Are you concerned about press freedom and integrity in central eastern Europe? The first part of the 31st European Meeting of Cultural Journals, livestreamed from Budapest on Saturday 14 November, gives you the chance to hear journalists from the region speak about their current predicament and responses.
Market upheavals and media change, state capture and ownership concentration, political interference and self-censorship – the issues facing journalism today are many.
The first part of the 31st European Meeting of Cultural Journals – entitled 'Watch your mouth! Journalism now and tomorrow' – is focusing on how political interference and market pressure are threatening independent publishing.
Livestreamed from Budapest on Saturday 14 November between 17:00 and 21:00, the discussion will be focusing on the pressing issues facing independent publishing in central eastern Europe.

The first of the two panel sessions profiles the journalists of tomorrow. Journalism students from Budapest discuss their professional future in a country where independent media practices have been systematically undermined.
In the second panel, practicing journalists from the region speak to journal editors, academics and activists about individual and institutional responses to political interference.
Panel I
17:00–18:30
Where do you see yourself in ten years?
Flóra Dóra Csatári, Telex.hu, formerly Index.hu, ELTE Média
Dávid Malatinszky, Magyar Hang, ELTE Média
Kamilla Strausz, #kommlab, Corvinus University
Anna Szilágyi, ELTE Média
Moderator:
Dóra Laborczi, Nők Lapja
Panel II
19:00–21:00
How to deal with political pressure
Speakers:
Lukáš Fila, CEO of Denník N, Slovakia
András Földes, reporter for Telex.hu, formerly Index.hu, Hungary
Anna Lengyel, dramatist and literary translator; organizer of the 2019 December demonstration of theatres, Hungary
Boris Vezjak, Philosopher and editor of Slovenian journal Dialogi
Moderator:
Réka Kinga Papp, Eurozine
The discussions will be livestreamed on YouTube by our media partner, Partizán.
Network members can register to the online event here.
We are pleased to partner with ELTE Média and the Center for Media, Data and Society at Democracy Institute of Central European University (CEU CMDS). Our media partners are Partizán and Klubrádió.
The events are co-funded by the Creative Europe Programme of the European Union.
Published 11 November 2020
Original in English
First published by Eurozine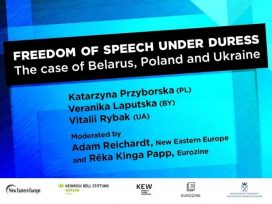 A discussion by New Eastern Europe
Poland is descending on a path toward more and more authoritarian tactics to curb independent journalism, while Belarus has long been enduring direct repression, especially since last year's revolution. In Ukraine, however, the majority of mainstream media is owned by oligarchs, and public service is trying to gain ground to balance them out.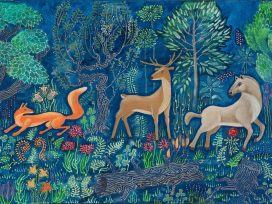 Watch the 31st European Meeting of Cultural Journals
A Russian, a Turk and a Hungarian, all journalists, walk into a bar … well, an online talk, actually. Irina Borogan, Ece Temelkuran and György Kerényi spoke about censorship and repression, the impossibility of exile and the performance of care.