The legacy of division: dual book launch
Watch the discussion of authors and curators #EMCJ31
What is racism against eastern Europeans? And what did Viktor Orbán learn from Slavoj Žižek?
The Legacy of Division: East and West after 1989, a panel from the 31st European Meeting of Cultural Journals that aired on 25 May at 19:30 CET. This conversation launched the English and Slovenian versions of the new Eurozine anthology.
Watch the discussion of four authors from the new Eurozine anthology
You can listen to Simona Škrabec, Jannis Panagiotidis, Jill Massino and Bogdan Iacob, in conversation with the book's curators and moderated by Adam Reichardt, editor of our partner journal New Eastern Europe.
We usually associate 1989 with the dissolution of the Soviet Union, but the process started earlier and the recognition of the independence of the member states took place only in 1991. In a series of original essays and conversations, the third Eurozine anthology examines the legacy of the East-West division following the end of the Cold War and the implosion of communist regimes. Along with our Slovene partner journal Razpotja, Eurozine and 35 contributors from the fields of European and global history, politics and culture address questions fundamental to our understanding of Europe today.
Kinga Anna Gajda's review in the New Eastern Europe points out that for today's
new political generation, The Legacy of Division. East and West after 1989 will be an excellent resource, one that not only can teach them about the roads already travelled, but allow them to find themselves in the labyrinth of today's Europe and to reflect on how to answer the question: What is our future?
Find out more about the volume and read from the authors in Eurozine's long-running focal point, The legacy of division, curated by Ferenc Laczó and Luka Lisjak Gabrijelčič.
The book launch is part of the programme of Eurozine's conference Watch your mouth!, the 31st European Meeting of Cultural Journals #EMCJ31 that is co-funded by the Creative Europe Programme of the European Union. Please register and join the next discussion on 2 July as well!
The book received support from the Bundeszentrale für Politische Bildung. It was published in English by CEU Press in September 2020 and in Slovenian by Založba ZRC in 2021. 
Published 13 May 2021
Original in English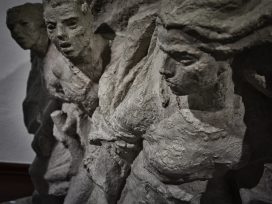 The legacy of 1989 on contemporary politics
The events of 1989 unleashed a world of discovery. Economic determinism was replaced by imitation of the West. Was that process authentically spontaneous or were eastern Europeans staging a script they did not write? Either way, imitation created a crisis of identity, the consequences of which are still unfolding.