A journey in which there is no stereotypical marginality but that is full of humanity, balanced between the existential difficulty and the joy of living: this is the journey that viewers of Emiliano Mancuso's work embark upon, writes Renata Ferri.
Emiliano Mancuso is a storyteller. He takes time to tell stories, he experiences the worlds he describes, he becomes entwined in relationships with the people he meets, sharing their rhythms and habits.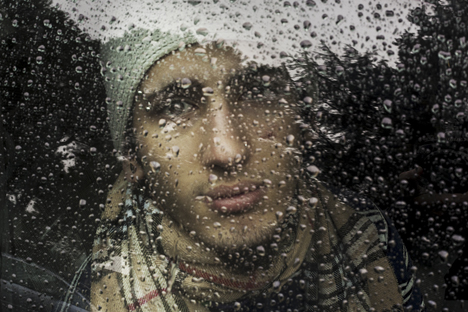 In this new work, entitled Felix's Diary, he crossed the threshold of a group home and, without a screenplay, he started taking photographic and video notes. As if he was making a family album, he carefully preserves memories, not missing a moment, a gesture, a word, and so he collects letters, pictures and hours and hours of shooting; these are the elements of this story that talks different languages, each relating to the other, in a coherent and authentic dialogue between the twin souls of writing, the spoken one and the visual one, that leads us to a microcosm where existences reveal themselves, with disarming genuineness, fears, anguishes, uneasiness, happiness and pain.
Felix's diary is an exploration of a world shut away within but a few walls, a journey through adolescence, the human experience of meeting, the perception of the universality of feelings.
In his previous work, Stato d'Italia, the author had travelled for three years across a country in decline, experiencing illegal activities, unfinished works, hydrogeological disasters, strikes, immigrant landings, demonstrations; he devoted himself to documenting what was happening in parliament during the Berlusconi era, offering some fresco portraits of power that give a meaningful representation of our political class of the time. He seemed destined to witness social issues, to convey and analyse Italian chronicles, always empathizing and siding with the victims of injustice as a true-born photojournalist does. Through his pictures, he gave a voice to those who go unheard.
Then something happened. Emiliano Mancuso stopped, he quit travelling across Italy, he changed his life and for one year he walked every day the street that lead to Torre Spaccata, on the outskirts of Rome, where Casa Felix, the group home for troubled minors, lies. He met Giuseppe and Valerio, two kids who lived in the group home, and he put together with them the story that we see today.
Giuseppe and Valerio became both directors and protagonists; the others, foreigners for the most part, are the background actors of a choral novel.
Mancuso had shot them for thousands of hours, rarely in outdoor settings, focusing instead on the microcosm of the home as an expression of the world; while empty rooms and a few personal possessions constitute the minimalist set design, he draws attention to bodies and faces.
Every image is a detail, an expression of the insufficiency of existence, the fleetingness of the moment, the frailty of emotions. Pictures are notes, collections of moments, shared portraits wherein the perspective is one-point perspective, the connection is clear, the trust is mutual. Bare, plain, domestic, pictures produce a personal and autobiographic tale. The language of photojournalism, the action, the wide-angle lens, the black and white, the long shots: all of this is eschewed.
Devoid of formalism, the author becomes essential in this work. He uses camera, cell phone, Polaroid, everything is close at hand. The thing is not to miss an instant, a gesture, an emotive moment, a ray of light, nudity revealing intimacy. Everyday scenes are there to be photographed and the image won as a result is immediate and natural.
The author is invisible for, as the days go by, his presence vanishes: the kids predominate over the shootings, their writings become the plot of this story. A documentary in every aspect. An exhibition and photographic evidence shorn of any artificial or fictional elements. Each himself in relation to one another.
A narration consisting of single personal stories that emerge through
details and phrases.
Emiliano Mancuso collects memories, fragments of lives in transition, offering a gallery of characters who are able to represent themselves as protagonists of their own lives. I think that this is the key to understanding this work that, through different media, takes us on a journey into the lives of others, a journey in which there is no stereotypical marginality but that is full of humanity, balanced between the existential difficulty and the joy of living.
Published 3 December 2014
Original in Italian
Translated by Achille Caradonna, Jole De Bellis
First published by The Stories without borders exhibition catalogue
Contributed by Lector in fabula / Fondazione "Giuseppe Di Vagno (1889-1921)" © Renata Ferri / Lector in fabula / Fondazione "Giuseppe Di Vagno (1889-1921)" / Eurozine
PDF/PRINT