Creating the commons in Spain: The current state of play
The Spanish general election in December 2015 resulted in unexpected victories for progressive political parties, particularly in large cities like Barcelona, Madrid and Valencia, and in smaller towns like Coruña, Cádiz and Zaragoza. The commons is at the heart of change in Spain, even included in the names of several citizen-driven, emerging parties – including, for example, Barcelona en Comù ("Barcelona in Common"). This shows how familiar parts of Spanish society are with "commoning". Several recent and upcoming Spanish events offer good examples of how practices of commoning are openly promoted and supported by citizens and their new allies in government.
In March 2016, Barcelona hosted two events focused on commons advocacy and public policy. Goteo conducted a workshop co-creating proposed cases in the fields of culture and economy of culture with Programa d'Actuació Municipal (the Municipal Action Plan). "Over the last five years, Goteo has built experience working with public institutions and other bodies willing to innovate in the decision-making, distribution and execution of financial budgets for culture. What we've seen is that when there's a will to change, transformation mechanisms go to work", remarked María Perulero, Goteo's Strategic Director.
The second event, entitled Procomuns, was devoted to "commons collaborative economies" and focused on commons-oriented peer production and public policy proposals. Co-organized by the European Union project P2Pvalue, Procomuns drew a large, diverse crowd. Over 30 countries were represented, and almost half the attendees were women. Plenary sessions were available in Spanish, Catalan and English. While the event was located and largely contextualized in Barcelona, there was also strong European community feeling. 122 proposals and policy recommendations and a joint statement of public policies for the "commons collaborative economy" were produced, targeting both the Barcelona City Council and the European Commission.
Upcoming in May 2016, Madrid will host an event called Commons Technology and the Right to a Democratic City, again demonstrating the bond between the commons and participative democracy in Spain. This event is planned to be part of another EU project, D-CENT (or Decentralised Citizens ENgagement Technologies) in order to raise awareness of "privacy-aware, open source democracy tools and citizen empowerment through bottom-up participation". Actors including technologists, activists, journalists, policy-makers, civil servants, academics, lawyers, designers and startups are invited, and segments of the event will be available in English. These recent events in Spain show a tendency toward increasing public participation in policy and democracy, and seeking alliances with the larger European community, as well as a deep affinity with commons consciousness.
More on the Goteo and Procomuns events in Ann Marie Utratel's full report
Published 13 May 2016
Original in English
First published by Eurozine
Contributed by European Cultural Foundation © Ann Marie Utratel / European Cultural Foundation / Eurozine
PDF/PRINT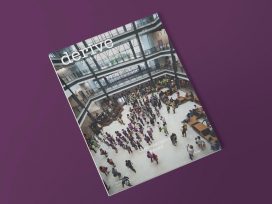 Urbanist magazine 'dérive' on emancipating Brazilian museology; the potential for Polish cultural centres; Swiss commons as a transferable prototype; and post-explosion Beirut.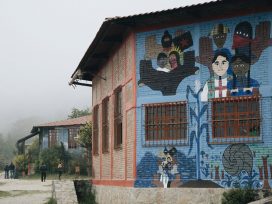 Instead of uniformity, commoning urban spaces offers an inclusive life, open to differences. Through self-managed initiatives, the 'right to the city' becomes the right to collectively produce it through creative cooperation.