Monter sur les montagnes russes
Depuis le référendum d'indépendance de l'Ukraine en 1991, le pays a connu son lot de hauts et de bas. Au cours des trente dernières années, les artistes ukrainiens ont exploré les questions d'identité parmi les ruines de l'utopie, mais n'ont été reconnus que récemment.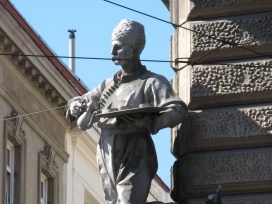 Vienna's hosting of Ukrainian artists and writers recalls the days of the fin de siècle, when the city was a magnet for intellectuals seeking freedom from Tsarism. But despite strong historical affinities, subtle barriers to solidarity with the Ukrainian exiles remain.