There is little hope for the release of Ukrainian political prisoners in Russia during the World Cup. However, Oleg Sentsov's hunger strike will not have been in vain if it causes people to question the platitude that 'sport is above politics'.
On 14 May, exactly one month before the World Cup began, the Ukrainian director Oleg Sentsov began an indefinite hunger strike. He is demanding the release of all political prisoners from Ukraine who are being held in Russia. For the many who believe that 'sport is above politics', the countdown to the World Cup began on that day. However, for hundreds if not thousands of people across the world, this was the day that the countdown for Sentsov's life began.
Sentsov, who is from Crimea, was arrested on the peninsula in May 2014, not long after Russia had occupied it. The Russian security services accused him of planning arson attacks on the local office of the ruling United Russia party and of toppling the Lenin monument in Simferopol. In August 2015, a court in Rostov sentenced Sentsov to twenty years in prison for 'founding a terrorist organisation.' He is serving his sentence in a prison near Labytnangi, near the Arctic Circle.
Neither Sentsov nor Oleksandr Kolchenko, who is also from Crimea and was sentenced to ten years in prison for contesting the Russian occupation of Crimea, have admitted guilt. Pointing to his Ukrainian citizenship, Sentsov has emphasized that he cannot be convicted by a Russian court. From the very beginning, Sentsov's attorney and Russian human rights lawyers have said that the case is manufactured and that the only evidence comes from a witness whose testimony was elicited through torture – something which that witness himself later admitted. The Russian human rights organization Memorial has recognized Sentsov and Kolchenko as political prisoners.
It was obvious from the beginning that the Russian authorities wanted to make an example of Sentsov, to send a clear message to those who were thinking of protesting the occupation of Crimea: the road to prison is straight and short, no evidence is necessary, and the verdict need not match the charges. Even an antifascist can be found to be a radical nationalist. Similar cases, of which there were several in Russia, were previously handled as property offences, Now, however, someone can be sentenced to ten or twenty years in prison for terrorism.
The Sentsov case caused an uproar from the very beginning, because of the absurd accusations and the inordinately severe punishment. Renowned journalists, writers, and human rights lawyers have written dozens of articles; there have been demonstrations of support and solidarity, open letters and appeals. Some film festivals, most notably Cannes and the Berlinale, held demonstrations of solidarity and screened films demanding Sentsov's release. As the Polish director Agnieszka Holland, chair of the European Film Academy, said last year at the Berlinale, 'We know from communist times in Czechoslovakia and Poland that international solidarity is the only weapon against political injustice and terror.'
Soviet communism didn't have a monopoly on political terror, of course. But clear parallels can be drawn between the apparatus of repression in the Soviet Union and in today's Russia. Oleg Sentsov's chosen form of protest, the hunger strike – this radical, hopeless act that ends horrifically – dates back to the Soviet period.
The Ukrainian dissident and human rights lawyer Semen Glusman, who spent many years in Soviet prisons, commented: 'It is strange that people are reacting with such indifference. Or maybe not. I went on a hunger strike twice in the 1970s – once for 112 days, once for 114 days, with force feeding, of course, an unbelievably gruesome practice – and I wasn't freed. I was protesting against unapologetic evil.'
Indifference is also a theme in the memoirs of the prominent Soviet author and dissident Anatolii Marchenko, to whom Sentsov is often compared. Marchenko wrote, 'The world was appalled by and fixated on the plight of political prisoners in South Africa and Portugal, in Franco's Spain and in South Vietnam, but not by prisoners in the Soviet Union. We simply didn't exist. This injustice drove us to despair. It was the despair of those condemned to be forgotten.' In 1986, Marchenko – who had spent half his life in Soviet prisons and had just been sentenced for the sixth time to ten years in prison – went on a hunger strike and demanded the release of all political prisoners in the Soviet Union. The strike lasted 117 days. Like Glusman, he was force-fed, a practice that can be classified as torture. He died in December 1986. A few months later, all political prisoners in the Soviet Union were freed. Perestroika had begun.
There is little hope of a new perestroika in Russia today. There has been no boycott of the World Cup, as there was for the Moscow Olympics in 1986 because of the Soviet invasion of Afghanistan. Hardly anyone dares to hope that Sentsov will be freed – let alone all the other Ukrainian and non-Ukrainian political prisoners in Russia.
All that remains is to fight against indifference; not to allow the political prisoners in Russia to be forgotten, as happened with the Soviet prisoners; to keep their fate from getting lost in the stultifying flood of negative news from around the world. All that remains is to ward off the fairytale that 'sport is above politics', like in 1978, when the Argentinian team had to prove that they were not playing to boost the image of the Junta, which was abducting people right before the world's eyes. Instead, the team tried to demonstrate that they were playing for the people, who were afraid but who still had to keep living. The catchphrase 'sport is above politics' is, strictly speaking, a way to whitewash a regime that kills, abducts, poisons, and tortures opposition figures; that invents crimes; that unilaterally abrogates international agreements; that meddles in the internal affairs of sovereign states; and that puts on white gloves to hide the blood on its fingers. Everyone knows this, but they ignore it – even if only for the duration of the World Cup.
Sentsov and his compatriots Oleksandr Kolchenko and Volodymyr Balukh are not the only ones on hunger strike (Kolchenko since 31 May, Balukh since 19 March.) Other prisoners and non-prisoners in Ukraine and Russia are joining in. On the first weekend in June, there were demonstrations on behalf of Sentsov in seventy-eight cities in thirty different countries. Hundreds of human rights lawyers, artists, writers and activists worldwide signed an open letter to heads of state and government.
'Together and to the end', Sentsov wrote in his letter announcing his hunger strike. The end could come any day, in the middle of a World Cup match watched by millions of people. Standing together in solidarity is the only weapon against political terror. It is a depressing diagnosis for our world, almost thirty years after the fall of what was supposedly the last 'evil empire'.
Published 18 June 2018
Original in Ukrainian
Translated by Kate Younger
First published by Neue Zürcher Zeitung 14.6.2018 (German version)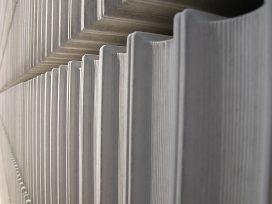 On the occasion of Europe Day, Oleksandra Matviichuk, Ukrainian human rights defender and director of the Nobel Peace Prize-winning Center for Civil Liberties, delivered this year's Speech to Europe at Vienna's Judenplatz.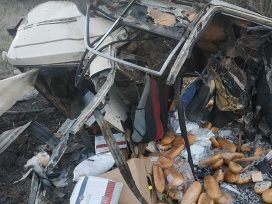 Ukrainian cuisine, literature and cafés
Defending territory in war expands beyond physical frontlines to include cultural ground. Reclaiming signature dishes, language and public space contests their colonial assumption. Upholding traditions and retaining small home comforts takes on greater significance.