Ukraine in European dialogue
Two years ago, at the end of February 2014, protests against Viktor Yanukovych's regime in Ukraine culminated in an uprising and regime change, followed by Russia's swift annexation of Crimea and war in Donbas. Events in Ukraine triggered a major crisis in relations between the European Union and Russia. Yet over time, media attention concerning Ukraine has faded, especially after shifting to the equally depressing topics of the Minsk process and the persistence of corruption.
The focal point "Ukraine in European dialogue", a cooperation between Eurozine and the IWM, aims to tackle Ukraine fatigue in the West and to offer deeper insight into post-revolutionary Ukrainian society, with its unique mix of hope, enthusiasm, social creativity, collective trauma of war, radicalism and disillusionment. Most articles in the focal point stem from the corresponding project at the Institute for Human Sciences (IWM) in Vienna, which brings together Ukrainian intellectuals, academics and journalists with their western counterparts and seeks to "mainstream" Ukraine by integrating it into the European debate.
The first round of articles, essays and interviews deals with diverse but related topics centred around some key questions: is Ukraine still making progress? Does Europe remain its political destination and the model to emulate? How did Ukraine (and Europe) end up in the current crisis, and why are we still stuck with the old ways of thinking and acting?
Mikhail Dubinyansky considers what has become of Ukraine's pro-European enthusiasm, and whether the country can sustain the long and painful programme of reforms that western countries demand of it. In interview with Slawomir Sierakowski, Anton Shekhovtsov sheds light on the frightening tendencies towards "illiberal democracy" in the countries of eastern and central Europe, which not long ago served as a model of successful democratic transition for Ukraine. Departing from the dominant trend of lamenting high levels of corruption in Ukraine, Iryna Solonenko (forthcoming) offers a more differentiated picture, analysing the successes and failures of reforms in Ukraine. Kateryna Botanova (forthcoming) reflects on the reasons for the persistence of a parochial cultural politics in Ukraine, and proposes ways to break through towards more European practices. Maria Teteriuk looks at the anti-discrimination legislation adopted in Ukraine as part of the EU visa-free deal, and observes important shifts in the LGBT rights debate as a result of Russia's crusade against "Gayropa".
Ekaterina Sergatskova describes depressing changes in Russia-occupied Crimea and points to the growing mental alienation between peninsula and mainland Ukraine. Tatiana Zhurzhenko (forthcoming) reflects on "hybrid reconciliation", which seem to follow on from Russia's "hybrid war", and stresses the need for a new language for future dialogue between Ukraine and Russia. Katherine Younger takes the recent meeting between Pope Francis and Patriarch Kirill in Havana as an occasion for revisiting the history of ecumenical diplomacy, and the role of a Greek Catholic Church caught between Rome and Moscow; she also investigates various concepts of pan-Slavism that are still relevant to Ukraine's mental mapping in Europe. Moreover, Konstantin Skorkin finds scenarios from the Donbas war to be prefigured in contemporary Russian science fiction which, in opposition to the Soviet genre, is obsessed not with the future but with the past. Yustyna Kravchuk (forthcoming) analyses the proliferating filmography of the Maidan revolution.
Published 22 February 2016
Original in English
First published by Eurozine
Contributed by Transit © Tatiana Zhurzhenko / IWM / Eurozine
PDF/PRINT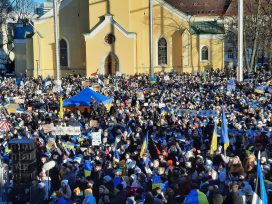 Ukraine's resistance to Russia's imperialist war has discredited the spheres of influence theory once and for all. The EU is being forced to reappraise not just its security policy, but also its colonial mindset towards smaller countries beyond its borders. Part of the series 'Lessons of war: The rebirth of Europe revisited'.