Overcome fear!
An appeal by the Ukrainian journal 'Prostory'
'We would prefer to talk about art and literature, but right now we are asking for solidarity. Overcome fear, close the skies above Ukraine, save those who may tomorrow join the ranks of the killed and wounded.'
Dear friends,
We, the editorial board of Prostory, a Ukrainian online literary magazine, appeal to you.
There is no need to describe the tragic situation now facing our country as a result of total Russian aggression. You know already. Some of us are in Ukraine now, under bombardment. Some of us, by force of circumstance, are outside the country, tormented with anxiety for friends and family.
We are artists, writers, poets, translators. We were born and raised in different cities of Ukraine – east, west and south. Our ethnic roots are an interweaving of Ukrainian, Jewish, Russian and many other nationalities.
For some of us, our mother tongue – the language in which we were taught at school, in which we think and which we love – is Ukrainian. For others it is Russian. We have always communicated with each other in two languages, without even noticing. We publish texts in our magazine in both languages. The fact of our difference and our unity struck us as both obvious and natural. This was how life was in the country around us, in its air, its streets and squares.
We wanted to create a new Ukrainian art, a new Ukrainian culture that would look into the future while also preserving in its heart the terrible lessons of the past. We produced our magazine, we wrote and published books, curated exhibitions and collections. This was not always easy in such a young and badly-off country as Ukraine. But society, the state, businesses and ordinary people tried to help us. We were building our venture piece by piece, we had a goal and were moving steadily towards it.
Yes, this all seemed natural and self-evident to us. But not to the Putin regime! Exploiting people's ignorance, their poor knowledge of history, resorting to endless manipulations, distortions, and misrepresentations, Putin kept plugging the myths about the 'Banderites' and 'nationalists' supposedly in control of Ukraine. Now the mask has finally slipped and it is clear that he has only one aim: to destroy the statehood and identity of the Ukrainian people.
The dictator has decided that every one of us patriots of Ukraine is a 'nationalist' and 'fascist'. To have to listen to this is both painful and repulsive. All of us have family who either experienced the battles of the Second World War or the horrors of the ghetto and deportations.
Now, once again, we are compelled to fight. We are united as never before. We believe in our victory.
But to be honest, what we feel in our hearts is not only determination, but also bitterness. Bitterness, because this tragedy could have been avoided. Or at least the scale of it reduced, seven years ago, a year ago, even a month ago, had the international community, our friends and colleagues, been more consistent and decisive in challenging Russian propaganda and the totalitarian essence of the Putin regime. Not only on the border of Ukraine, in Crimea and the Donbas. But also in Syria, the Caucasus, Latin America, the whole world. And in Russia, too, of course, where civil society is paralysed and all attempts at free speech are repressed with the utmost violence.
However, the conformism of so many people, their unwillingness to give up their accustomed way of life, their stubborn refusal to notice something that can no longer go without notice, have led to what is happening today. To the bombardment of residential areas, hospitals and kindergartens, to the destruction of museums, to hatred and blindness, to thousands and thousands of casualties on both sides.
It is now no longer a matter just of Ukraine, but of the whole of Europe and, perhaps, the world. Of the future of our common values and hopes, of our culture and memory, of our children.
These are not fine words, not rhetoric. They are the bitter truth. History has willed that our country be at the front line of this struggle. We know you support us. We have faith in your support and we need it desperately. We need your help. We need the demolition of Putin's lies. We need moral, economic and political sanctions against the Putin regime. And yes, maybe even military intervention.
The main priority now is a no-fly zone over Ukraine. When the Zaporizhzhia nuclear power plant came under attack, wounded employees were denied access to medical help all that night.
Three workers were killed, fire destroyed the training building. An explosion at another nuclear power plant might strike a radioactive blow against the whole free world, not to mention the aggressor, Russia.
We would prefer to talk about art and literature, but right now we are asking for solidarity: overcome fear, close the skies above Ukraine, save those who may tomorrow join the ranks of the killed and wounded.
Only this way, mindful of every life, can we win.
Glory to Ukraine!
And to the Russian warship: go fuck yourself!
Published 9 March 2022
Original in Russian
Translated by Frank Williams
First published by Eurozine
Contributed by Prostory © Prostory / Eurozine
PDF/PRINT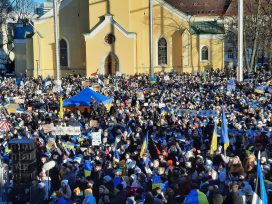 Ukraine's resistance to Russia's imperialist war has discredited the spheres of influence theory once and for all. The EU is being forced to reappraise not just its security policy, but also its colonial mindset towards smaller countries beyond its borders. Part of the series 'Lessons of war: The rebirth of Europe revisited'.