Oleg Sentsov's hunger strike has reached a critical stage. Sentsov is calling for the release of all Ukrainians imprisoned in Russia on political grounds. The human rights initiative OVD-Info, in collaboration with the Memorial Centre, has compiled documentation on the 88 prisoners, most of whom are from Crimea.
On 14 May 2018, Oleg Sentsov commenced a hunger strike for an indefinite period of time. Sentsov, a film director born in 1976 in the Crimean city of Simferopol, was handed a twenty-year prison sentence in August 2015 by the military court of the North Caucasian Federal District. Since September 2017, he has been kept in a prison in Labytnangi in Russia's far north. The Russian human rights organization Memorial considers Sentsov a political prisoner. When Sentsov began his hunger strike, he demanded the release of all Ukrainians imprisoned in Russia on political grounds. The human rights initiative OVD-Info has now compiled a list of those people that draws on information gathered by Memorial.
Up until 16 March 2014, all 88 people on the list were clearly Ukrainian citizens. Some have remained so to this day and were sentenced or detained in Russia on the basis of a provision in the Russian Criminal Code stating that foreign citizens charged with committing an offence against a Russian citizen can be prosecuted in Russia. The overwhelming majority of these 88 people are from Crimea. Following the annexation of the peninsula, many have become Russian citizens, some have retained their Ukrainian citizenship, in at least one case the person's citizenship is contested.
Oleg Sentsov's lawyer has referred to 64 political prisoners from Ukraine. This figure was quoted in February 2018 by the Ukrainian Minister of Justice. Human rights organizations have compiled lists in which further persons are named. The list compiled by OVD-Info contains the names of a further 15 Ukrainian citizens who have been sentenced in Russia or who remain in custody or under house arrest there and/or are subject to a travel bans.
Thirteen of the 88 people listed are considered by Memorial to be political prisoners, three were prosecuted for political reasons but have since been released. Memorial has reason to believe that seven of the people listed are being prosecuted for religious reasons. In 24 cases, Memorial sees clear evidence of a political motive for criminal prosecution and gross violations of law in the way the cases are being or were conducted, though it has not yet recognized the persons as political prisoners.* Forty-one persons are not listed by Memorial but are listed by OVD-Info because of widespread use of torture, unlikely charges, violations of criminal procedural code, demonstrably faked trials and constant stories in Russian state media about alleged terror attacks and acts of sabotage – all of which make it very probable that political motives have played an important role in the legal proceedings. The list attests not least to the political repression to which Crimean Tartars, who have suffered most since Crimea's annexation, are subjected. Fifty of the 88 persons are Crimean Tartars, most of whom were politically or religiously and culturally active. They are accused of belonging to an extremist organization.
Who are these 88 people, when and under what circumstances were they imprisoned, what are they accused of, what sentences or how many years in a prison colony are they facing? What are prison conditions like, who was mishandled or tortured, how is the prisoners' health?
The documentation carried out by OVD-Info can be read in English / Russian on the OVD-Info website and in German on the Osteuropa website.
* Memorial estimates that there are currently 47 political prisoners in Russia. A further 38 are considered to have been prosecuted for religious reasons but are not currently under arrest. Memorial believes that religious motives played a role in the criminal prosecution of 108 persons, in 80 cases they refer to probable victims of political persecution. OVD-Info estimates that there are currently 51 people sitting out prison sentences in Russia following judgements in which political motives are considered to have played a significant role, 240 are in custody on the same basis, 13 under house arrest and 20 subject to restrictions on their freedom of movement.
Research: Snežana Alejnokova, Nadežda Afanas'eva, Daniil Bejlinson, Dmitrij Borko, Vsevolod Brodskij, Anastasija Vikulova, Polina Gluchova, Ekaterina Geršenson, Ekaterina Goroško, Evgenija Grigor'eva, Grigorij Durnovo, Leonid Ziser, Ivan Ivanov, Nelja Ivanova, Diana Karimova, Ekaterina Mel'nikova, Elena Muljarova, Kirill Nikolaenko, Ol'ga Nikolaenko, Dmitrij Privoznov, Evgenija Sečina, Ksenija Sonnaja, Artem Telunc, Arman Tuganbaev, Tat'jana Fedorova, Nadežda Chil'gers, Nina Cukerman.
Published 14 August 2018
Original in German
Translated by Ben Tendler
First published by Osteuropa 6/2018
Contributed by Osteuropa © Osteuropa / Eurozine
PDF/PRINT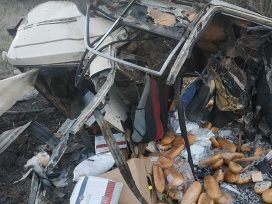 Ukrainian cuisine, literature and cafés
Defending territory in war expands beyond physical frontlines to include cultural ground. Reclaiming signature dishes, language and public space contests their colonial assumption. Upholding traditions and retaining small home comforts takes on greater significance.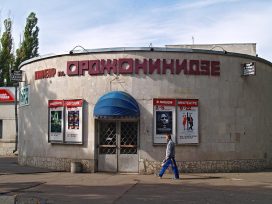 Since Euromaidan and the first Russian invasion in 2014, Ukrainian filmmakers have been prolifically recording the impact of war on society. The result is an immensely powerful and varied body of work across genres and styles. A survey.