The benefits of guesswork
Speculation may not be the best approach to determine what had happened, say, for the sake of a trial. But it can be a useful means of making sense of the often fragmented factual information we can acquire. For after presenting evidence and establishing a narrative based on sound logic in an investigative process, one can still be left feeling perplexed as to 'why': maybe not about direct causality, but on the level of concept in professedly nonsensical events.
This confusion seems to surround the mushrooming of new authoritarians all over the map in the past few years. We have partial explanations, and we may as well be acquainted with the personal becoming stories of the inglorious figureheads of these political movements. But unless one is tempted to demean the populous in general –'people are stupid!', the catchphrase of a stupid arrogant –, a decent explanation is still lacking for the electoral advancement of oppressive politics, which confronts common sense: why would 'the people' vote for representatives whose main goal is to oppress 'the people'?
William Davies says that this direct logic is wrong in the first place: to expect that denizens will thoroughly assess their best interests and then consistently act upon those, is a 17th century liberal rationale which by now has failed to explain how societies govern themselves. In an interview by Tobias Haberkorn, the theorist argues that the long-lived distinction between body and mind, as well as that between war and peace, are outdated and cannot decipher contemporary politics. He instead turns to psychological concepts of trauma, anxiety, and the experience of control.
George Blecher speculates the other way around: he uses the analogy of the ancient Roman democracy to point out the potential weaknesses of mass representation. When talking with Adam Reichardt of New Eastern Europe about US politics in the age of Trump, he reads the recurring demand for strongmen as a by-product of the tiring democratic processes.
L'homme author Erzsébet Barát looks into how the Orbán regime's war on gender could be so successful in Hungary, leading to the revoking of the country's only MA programme in gender studies and chasing the Central European University out of Budapest; while Ny Tid editor-in-chief Janne Wass examines an opposite trend: the onslaught of young women in Finnish politics.
Open Democracy's Adam Ramsay has long been investigating the dark money and data juggling behind the Brexit vote, and now has set out to examine the most recent election in the UK, in which disinformation grew to be a winning strategy.
Yet speculation can help not only interpret the past, but also to draw up a vision for something better to be built. For change to be brought about, one has to have the perspective of overcoming the present.
Looking at how social media and constant content consumption affect the individual psyche, Geert Lovink sets out to understand the isolation of digital interconnectedness, and suggests a sincere tone, to avoid the reduction of emotions to address the alienation inherent to online platforms.
On a more programmatic tone, Dan Hind composes the plan of reframing media into an entirely different regime: one that is built on the logic of an information commons, instead of a competition of non-transparent monopolies.
With these reads we wish our readers a new year full of fruitful dilemmas. Please do subscribe to our newsletter and reviews so you don't miss out on what's worth thinking about!
Réka Kinga Papp
Editor-in-chief
This editorial is part of our 1/2020 newsletter. You can subscribe here to get the bi-weekly updates about our latest publications and news on partner journals.
Published 22 January 2020
Original in English
First published by Eurozine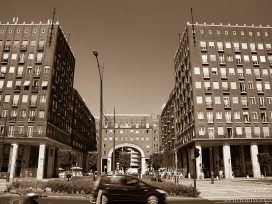 The centuries-old debate over whether certain countries belong to the East or the centre of Europe has fairly little to do with geography. In this Gagarin podcast episode, anthropologist Iván Kalmár discusses privilege, race and cultural hegemony.