What is language?
O'r Pedwar Gwynt 2/2019
New issue of 'O'r Pedwar Gwynt' (Wales), featuring Thatcher, the welfare state and Welsh pop, the wisdom of language, existentialism and mindfulness, and 'pneumatic writing' from the GDR.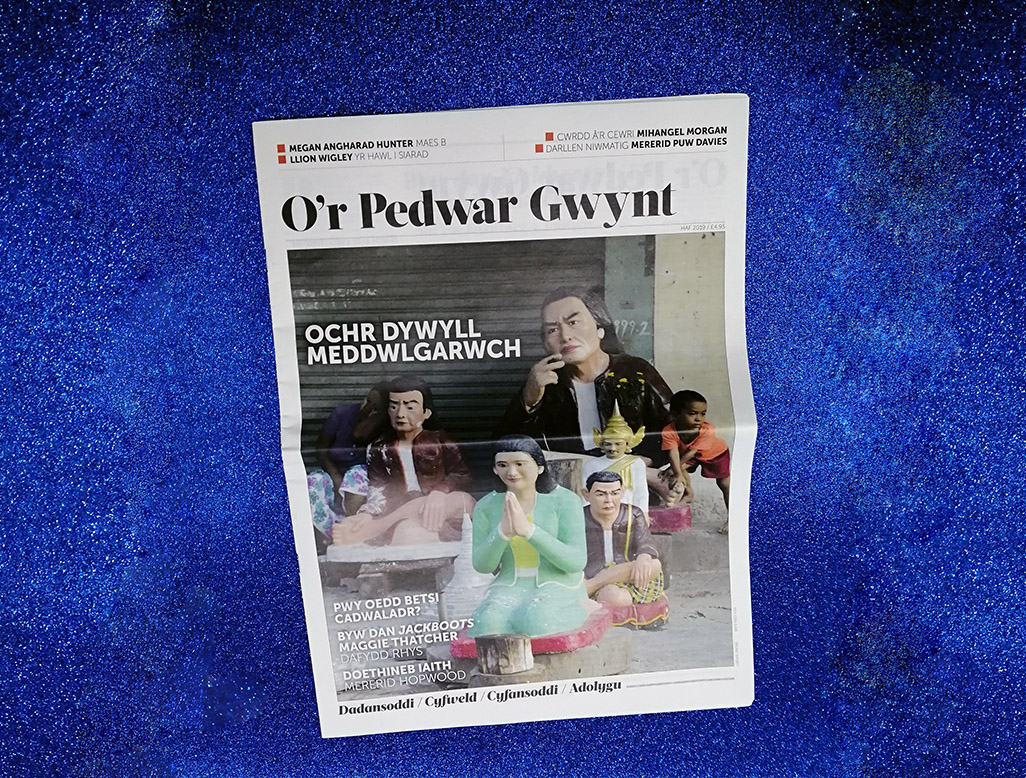 Margaret Thatcher's reign as British prime minister coincided with one of the most creative periods in Welsh-language popular music. Unemployment and creativity worked hand in hand, writes Dafydd Rhys, as new bands pushed the boundaries geographically, socially and musically. Ironically, Thatcher's U-turn on supporting a Welsh-language television channel in 1982 was one factor in this pop boom. Was marrying unemployment and creativity easier in the dole culture of 1980s Wales than in the neo-conservative Britain of today, Rhys enquires, given the increasing stigma attached to unemployment?
Language and identity
As the Welsh government announces its aim to increase the number of Welsh speakers to one million by 2050, the question 'What is language?' remains pressing. Reading philosopher J. R. Jones, historian and educationalist O. M. Edwards, and Quebecois linguist Denis Bouchard, Mererid Hopwood asks how we are formed by the languages we speak. Have we too easily assumed an instrumental view of language, ignoring the wisdom it accumulates over centuries, which is accessible to all who learn it? Recalling Derrida's assertion 'Je n'ai qu'une langue – ce n'est pas la mienne', Hopwood asks how far linguistic identity affects collective thinking, uniting speakers and non-speakers alike.
Existentialism and mindfulness
Llion Wigley, author of a new study on 'the Welsh unconscious', asks whether there are aspects of existentialism and psychoanalysis that are worth revisiting today. 'Existentialism is, in essence, the philosophy of crisis,' he writes, 'and it is clear that we are facing in our age a number of unprecedented existential crises'. In a related essay, Angharad Penrhyn Jones explores the dark side of mindfulness, critiquing the increasing emphasis on individual responsibility in public mental health. We should be wary of appropriation of Buddhist practices, which in their oversimplified form fail to allow for the necessary darker side of true mindfulness.
Also: Mererid Puw Davies re-reads the late east German author Irmtraud Morgner, inventor of 'pneumatic writing'; and thirty years on from Tiananmen Square, a republication of Yu Hua on the cult of the leader.
This article is part of the 16/2019 Eurozine review. Click here to subscribe to our reviews, and you also can subscribe to our newsletter and get the bi-weekly updates about latest publications and news on partner journals.
More articles from O'r Pedwar Gwynt in Eurozine; O'r Pedwar Gwynt's website
Published 23 September 2019
Original in English
First published by Eurozine