The space between
O'r Pedwar Gwynt Winter 2020-21
Welsh journal O'r Pedwar Gwynt asks what the literature of independent Algeria reveals about cultural duality; how the Welsh experience of fragility is relevant to Europe; why women read real crime; and whether Jan Morris was best when writing about home.
In O'r Pedwar Gwynt, Siôn Pennar witnesses Algeria's hirak protests – now supressed by pandemic restrictions – and looks back at the political present from the future of 2082.
Reflecting on independent Algeria's violent history through its literatures, Pennar encounters the challenge of overcoming dualities – a challenge he recognizes as a common one for nations that have endured in the shadow of imperial powers. Reading Nedjma, the classic by Kateb Yacine, alongside the work of later and contemporary writers Assia Djebar, Boualem Sansal, Mohamed Benchicou and Salim Bachi, Pennar describes 'building' and 'decay' as parallel processes in a city landscape heavy with the weight of history.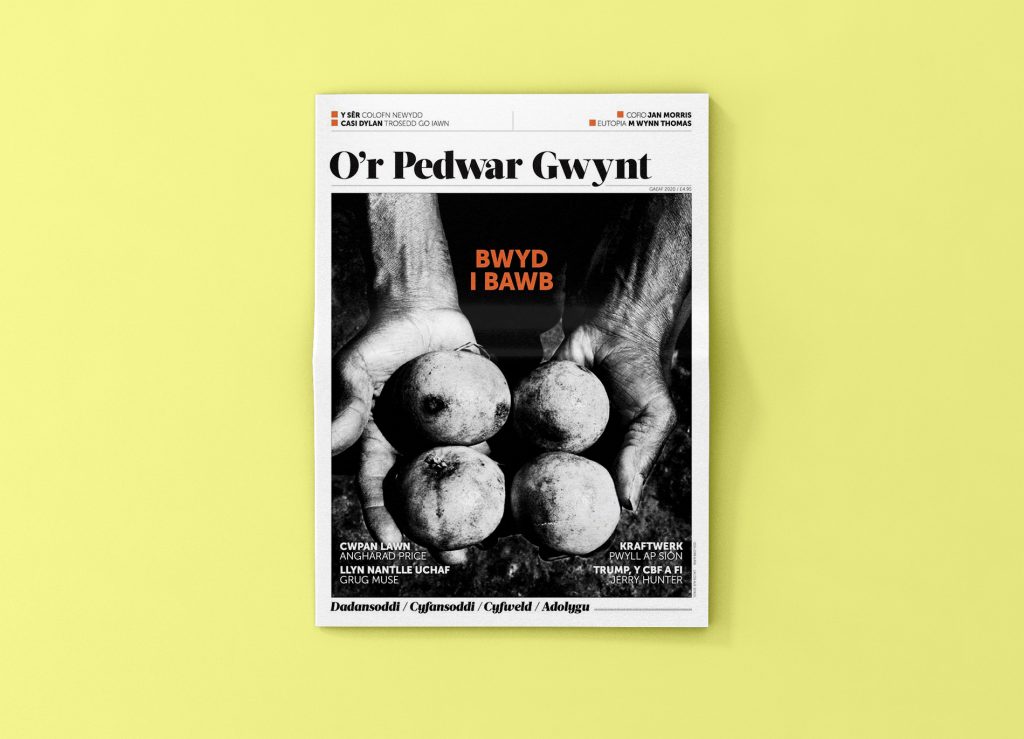 Pennar reflects specifically on fictional figures who refuse to leave Algiers following independence – those who remain 'like a shell sticking to its native rock', who do not abandon the space between Algeria and France. 'The violence of the colonial city is remembered too clearly, and yet there is sadness at the superficial way in which the independent country recalls that history'. An example is Berkane, a character in Djebar's La disparition de la langue française (2003), who feels uneasy about the 'Stalinist' monuments to the conflict and about how French street names have been swapped with those of the heroes of the war for independence.
'In those novels where the ruins of the Algerian city are live elements, there is potential if not certainty,' writes Pennar. 'We read in them the ideal not of triumph, but of recycling ruins in order to rebuild, to make peace with the past.'
'Real crime' stories
'Relief comes through giving form to the undefined fears within me,' writes Casi Dylan in her essay on 'real crime' stories. She questions the genre's tendency to capitalize on crime and reflects on its appeal to women. Much of this literature is journalism, she writes. But to what extent does it convey the actual experience of crime? How much of it moves beyond the lust for exceptional experiences, what Wordsworth called a 'craving for extraordinary incident' and its tendency 'to blunt the discriminating powers of the mind'?
Following Susan Sontag in Regarding the Pain of Others (2003), this lust for the exceptional is what drives capitalist art. And yet the truth is that crime and criminals are an integral part of everyday life. Dylan welcomes the chance that 'real crime' literature offers to respond to the reality of violence: a common response, perhaps, for the female unconscious, which might explain the appeal of the medium amongst women.
A tribute to Jan Morris
Angharad Price pays tribute to Welsh writer and icon Jan Morris, who died 20 November 2020 at the age of 94: 'On each encounter, however brief,' writes Price, 'she would leave you with the feeling that you counted'.
Although she was brought up firmly with the values of the British Empire, her convictions as a Welsh republican increasingly intoned her response to the rest of the world, writes Price. Her trilogy Pax Britannica, which portrayed the rise and fall of the British Empire and was published between 1968 and 1978, proved extremely popular. But the later Morris tended to focus on the cultural complexity of the British legacy, contributing memorable essays on former colonies such as Sydney, Ceylon, Darjeeling and Hong Kong.
Price observes the beautiful irony that, after spending a lifetime describing the planet, Morris's voice is clearest and most revealing in those short texts that describe her square mile in Eifionydd, north Wales – texts that appeared regularly in O'r Pedwar Gwynt and the Financial Times towards the end of her life.
Welsh Europeanism

To free Wales from the confines of English culture has always been a strong motivation for Welsh writers and intellectuals to look to Europe, writes M Wynn Thomas. Yet Wales also has something to offer Europe, he argues: the experience of living on the edge of obscurity holds up a mirror to other European nations who are less conscious of their own fragility.

This article is part of the 3/2021 Eurozine review. Click here to subscribe to our weekly newsletter to get updates on reviews and our latest publishing.
Published 17 February 2021
Original in English
First published by Eurozine