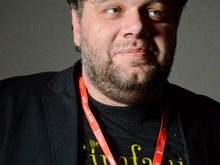 A conversation with Myroslav Slaboshpytskyi
Myroslav Slaboshpytskyi is probably the biggest star among Ukrainian directors. At the Cannes film festival in 2014, his film The Tribe won three Critics' Week prizes and was nominated for the Caméra d'Or, and the magazine Rolling Stone called it the most intense film of 2015.
Slaboshpytskyi's next project is Luxembourg, an art film about life in today's Chernobyl zone. Screening rights to the film have already been acquired in a number of European countries.
Myroslav talks about his plans for the future, his early works, the problems of Ukrainian culture and the Chernobyl zone.