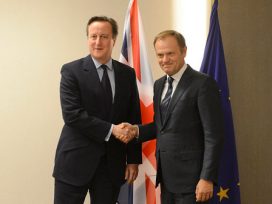 A conversation with Donald Tusk
As president of the European Council, Polish politician Donald Tusk has been at the centre of one of the most challenging years in the history of the European Union. Since taking office in December 2014, he has faced an economic crisis in Greece, the conflict in Ukraine and growing Russian aggression in the East, and, since last summer, the largest influx of migrants and refugees Europe has faced since World War II. Most recently he has struggled to reach a compromise with the British government to avert the possible withdrawal of the United Kingdom from the EU.
Born in Gdansk, the heart of the Solidarity movement, and a founder of Poland's liberal Civic Platform party, Tusk was prime minister of Poland from 2007 to 2014. As president of the European Council, one of his main tasks is to reconcile the competing views of the various EU member states whose leaders – as members of the council – are responsible for the union's most important decisions. Michal Matlak spoke to him at his office in Brussels.