New Eurozine Partner: New Eastern Europe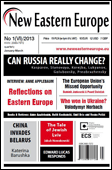 New Eastern Europe, the English language, quarterly for central and eastern European affairs, has joined the Eurozine network. The objective of New Eastern Europe based in Krakow, Poland, is "to enhance understanding, raise awareness and further dialogue surrounding issues facing the states that were once a part of the Soviet Union or under its influence". Its authors include journalists, experts, analysts, writers and historians, as well as leaders and political figures from the East and the West.
Since its launch in October 2011, New Eastern Europe has been warmly received on both sides of the Atlantic. In addition to the print version, a wide variety of content is also available on the journal's website. New Eastern Europe is a joint collaboration between the City of Gdansk, the European Solidarity Center and the Jan Nowak-Jezioranski College of Eastern Europe.
More on New Eastern Europe including the current issue