Blätter für deutsche und internationale Politik
Germany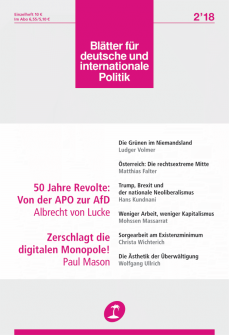 The monthly Blätter für deutsche und internationale Politik (Journal for German and International Politics) was founded in 1956. It is the most widely read politico-scientific journal published in German language. On 128 pages, Blätter publishes commentaries as well as analytical texts about contemporary political issues, focusing on institutional politics as well as social movements. Blätter is considered to be a critical voice in German media and a forum for open debate.
Staff journalists are Anne Britt Arps, Daniel Leisegang, Albrecht von Lucke, Annett Mängel, Steffen Vogel.
The journal is edited by Katajun Amirpur, Seyla Benhabib, Norman Birnbaum, Peter Bofinger, Ulrich Brand, Micha Brumlik, Dan Diner, Jürgen Habermas, Detlef Hensche, Rudolf Hickel, Claus Leggewie, Ingeborg Maus, Klaus Naumann, Jens Reich, Rainer Rilling, Irene Runge, Saskia Sassen, Karen Schönwälder, Friedrich Schorlemmer, Gerhard Stuby, Hans-Jürgen Urban, Rosemarie Will.
The theologian Karl Barth once called the journal "an island of reason in an ocean of nonsense."