It's back to the future for Eurasia
New Eastern Europe 1/2014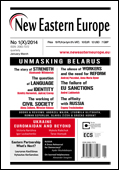 In pondering the future of Europe, Adam Reichardt, editor-in-chief of New Eastern Europe (Poland), remarks in the January issue: "A new generation is coming of age. This is a generation that is more interconnected across borders than, perhaps, the elites that represent it."
Igor Lyubashenko reinforces the sentiment in an article entitled "Euromaidan: Chronicles of a networked revolt", concerning the likely consequences in Ukraine of the digital connectivity enjoyed by a third of the population:
"It is a connected generation that does not trust traditional authorities. Whoever holds power in Ukraine in the years to come will have to learn how to legitimize his or her authority in the eyes of this generation, how to translate traditional narratives into language understood and accepted by this generation. It will not be an easy task; there are no simple recipes. Ukraine has entered the era of post-politics."

Thus, suggest Lyubashenko, the effects of digital connectivity and new forms of sharing opinions will surely play their part in "the struggle against what can be called an ancien régime".
Back to the future: As Russia and the EU jostle to gain the upper hand in relations with post-Soviet states, China looks to strengthen its position not only in central Asia but in the buffer zone between Russia and the EU. A case of back to the future for Eurasia, argues Adam Balcer. His analysis of the current state of play on the "post-Soviet chessboard" suggests that the resulting "restoration of interdependency can be described as a return to the patterns that existed in the period before the Russian conquest".
Also: A series of articles on a country that New Eastern Europe's editors brand "the biggest victim of western misconceptions": Belarus; and a review of Andrzej Wajda's latest film Walesa: Man of Hope.
The full table of contents of New Eastern Europe 1/2014

La Revue nouvelle 1/2014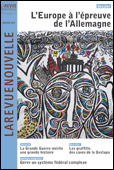 In La Revue nouvelle (Belgium), Andriy Portnov maps out the triangle of diverging misperceptions between Euromaidan protesters, the EU and Russia. On the one hand, the EU "lacks a strategic vision" concerning recent events in Ukraine. Though EU politicians have always stressed that the Association Agreement is no guarantee of future EU membership, "the message seemed not to reach the Ukrainians. The European Dream of the Euromaidan movement doesn't coincide with the visions that Brussels and Berlin have for the region."
Meanwhile, Russian public opinion ranges from support for Putin's recently articulated declaration "We [Russia and Ukraine] are a united nation!" to openly desiring an internal Ukrainian schism between Russian and European Ukraine – something that Portnov believes could only come as the result of a civil war. Though there are Russian intellectual voices free of imperial tendencies that support Ukrainian self-determination, these are isolated and few in number. Nonetheless, in an online open letter in Colta.ru, Russian writers show their solidarity: "Your fight for the right to chose your own destiny will be difficult, but we believe in your success: it will mean for us that we, in Russia, also will be able to assert our rights and liberties one day. We are with you!"
Nothing concrete: The Lampedusa disaster may have evoked grand emotions on the part of politicians, but measures undertaken by the EU to avoid such tragedies are far from sufficient, writes political analyst Yves Pascouau.
"Apart from condolences and various promises, nothing concrete happened to avoid the exiles taking their place in overcrowded, rickety boats. Nothing concrete that would allow Lampedusa's inhabitants to hope for any improvement and, most of all, for an end to these refugee dramas. […] The European Council refuses to deal with one of the central questions of our modern societies: the mobility of persons. Through inaction, the European Council also opens up a field of expression for political parties and groups for whom migration is more of a problem than a chance."
The full table of contents of La Revue nouvelle 1/2014

Soundings 55 (2013)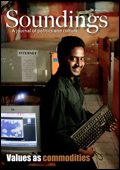 Soundings (UK) co-editor Ben Little looks at the sea change in attitudes toward political power in the post-war period, beginning in the UK in the 1940s and '50s, when, "far from being the slick electoral machines of the contemporary era, local parties would engage in intense struggles over selection of candidates and use of party resources. And people would join for entertainment as much as conviction. Parties were part of a cultural bricolage of strong institutions – church, factory, union and so forth – that helped provide identity and give people a sense of place in the world."
The contrast with today could scarcely be more spectacular:
"The idea of seeking political power has become debased. But power – political, economic, cultural – keeps on operating regardless of attitudes towards it. […] After Foucault, power is in all relationships with others, in the institutions we form and in our interactions with the natural world. […] But neoliberal culture does everything it can to mask the way in which these relationships are constituted, hiding the exercise of power in layers of representation, and constraining potential counterposing forces within regimes of surveillance."
Solutionism: Jason Wilson takes a tough line on media organization TED's attempts to sell itself as one of a new brand of "arbiters and brokers of innovation". Although its pitch, writes Wilson, "employs the rhetoric of democratized access to 'ideas worth sharing' […], paradoxically, it also makes ideas an attribute of exceptional celebrities, and depoliticizes knowledge by removing it from the sphere of contention." After all, Wilson observes, "presenters invariably canvas problems that they have already solved, or at least cracked. TED's model of thinking is not the critical delineation of problems, or the formulation of better questions, but the closure of 'solutionism'."
Also: In a further instalment of Soundings' online "Kilburn Manifesto", Stuart Hall and Alan O'Shea take on "common-sense neoliberalism".
The full table of contents of Soundings 55 (2013)

Lettera internazionale 117 (2013)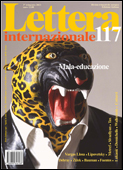 In the introduction to an issue of Lettera internazionale (Italy) on Mala-educazione, editor-in-chief Biancamaria Bruno projects the fading light of the West's hubris onto the Lampedusa tragedy. Looking beyond the staging of state funerals for the tragedy's victims, Bruno blames the western confusion between civil and commercial values for "fuelling an endemically bad education that leads even to the crumbling away of institutions like the school and the university – institutions that were once the breeding ground for the Occident."
On hold: "America is searching for itself, Europe going astray and China recovering." But be this as it may, writes French philosopher and journalist Régis Debray, the decline of the West is in fact on hold.
"The pacemaker of modernity retains the advantage. The Good that it believes it embodies is a fraud that defrauds the world around it less and less. Like it or not, at the moment, the Occident seems to hold the reins firmly enough to evade the temptation, despite being avaricious, to acquire a rope with which to hang itself – as Vladimir Ilyich Lenin somewhat frivolously imagined that it might a century ago."
"Proust is important for everyone": Novelist and Nobel laureate Mario Vargas Llosa discusses the relative merits of "high" and "mass" culture in contemporary society.
The full table of contents of Lettera internazionale 117 (2013)

Magyar Lettre 89 (2013)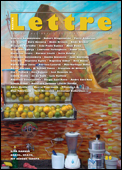 "What's Europe to us?" is the title of a collection of blog entries by Hungarian and German writers, generated by a Goethe Institute Budapest project to encourage transnational perspectives on Europe, and presented in Magyar Lettre (Hungary).
While translator and novelist Akos Doma expresses concern at Europe's water supply and food, and even political crises, being "demoted to objects of legal speculation", translator Alida Bremer wonders if, a century after the outbreak of WWI, "our continent [will] become the Europe of enmity among peoples or, mustering its strength, will survive the crisis." Bremer then offers her description of "a utopia worth fighting for":
"To my mind, 'we' refers to the inhabitants of a small continent with a turbulent history who have come to understand that the women of Srebrenica are not exotic 'others' but a part of us, while 'Europe' […] conjures up the ideal image of multiplicity coexisting in peaceful unity, a unity that will not turn into a fortress but will remain open to relationships of all kinds with the other continents – without thinking or acting like colonizers, I might add."
The Polish language: Given that up to 70 per cent of the Polish lexis consists of words borrowed from other languages, author Olga Tokarczuk conceives of her native language as "a language that absorbs a lot from the world around, an ever hungry language". Indeed, it is both a "patchwork language" and "a museum of language, full of fossils that refuse to give in to the simple principles of pragmatism".
Polish is an androcentric yet minority language, reflects Tokarczuk: the Polish phrase for "mother tongue" is jezyk ojczysty – literally "father tongue". Nonetheless, minority languages have a unique virtue: "the opportunity for sanctuary, for an escape into language, to reside in a small, well-trodden area inaccessible to the rest of the world".
The full table of contents of Magyar Lettre 89 (2013)

Multitudes 53-54 (2013)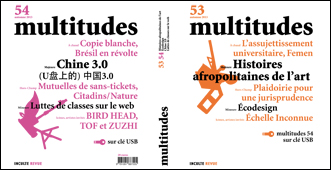 In a double issue of Multitudes (France), Kantuta Quirós and Aliocha Imhoff commence a series of articles on African art by seeking to link the reception of African artists to the theoretical framework in which they worked from the 1990s onwards.
As evidence of the change of paradigm in this period, the dossier includes the text of a speech given in 1996 by the then Nigerian political exile Olu Oguibe, arguing that criticism of African art should be delivered by Africans in Africa. Not on the grounds of cultural isolationism, but rather because, "Ultimately, a critical tradition is like the animal ability to feel pain. Without it, a society loses the ability to properly articulate its strengths and shortcomings, and perhaps much more importantly, to steer clear of harm and the propensity for self-mutilation."
China's place: In his introduction to a dossier on China's place in the modern world, Xiaoming Wang explains how each article responds to a question posed by Sun Yat-sen in 1924 (then addressed to Japan): what will China's position be in the face of western global expansion and third-world struggles against oppression?
"At the present time", writes Wang, "our world is in a contradictory situation: on the one hand, capitalism continues to seek to expand on a global scale, whilst on the other the European and American capitalist system is faltering, especially in economic terms. At the same time, a country as unique as China is emerging as a power thanks to its thriving economy."
However, Wang continues, choices remain to be made "between short-term gains for an expanding elite and the long-term consequences of abandoning the aim of enriching the entire population and establishing political stability". And while Shaoguang Wang points in a further article to the provision of health cover for 800 million Chinese citizens, the interview with François Godement is much less sanguine, reiterating the point that state investment has been to the advantage of a small elite.
The full table of contents of Multitudes 53-54 (2013)

Host 10/2013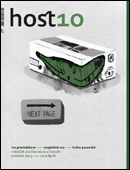 Eschewing the traditional end of the year surveys, Host (Czech Republic) concluded 2013 by reflecting on the past 50 years in literature and politics. The issue opens with some upbeat reflections from award-winning writer Iva Procházková, who emphasizes the importance of "having the courage and tenacity" to act "without always having to depend on the system": "We always seem to seek shelter under the umbrella of someone bigger, hoping to keep dry. However, anyone who has at least once dared to take the risk of running into torrential rain and ended up thoroughly soaked and with water in their shoes, but having reached their desired goal, knows how good that feels."
1963: Literary critic Petr A. Bílek looks back at the seminal year of 1963, in which "Czech literature once again springs out of literature rather than being driven by ideology". "Bravura writing" made a return with the publication of Milan Kundera's prose debut, Laughable Loves. The 49-year-old Bohumil Hrabal made his official debut, too, with the short story collection Pearls of the Deep. Vladimír Fuchs published his Holocaust novel, Mr Theodore Mundstock, the publishing ban on poet Vladimír Holan was lifted, and two remarkable new plays, The End of Carnival by Josef Topol and The Garden Party by Václav Havel, were staged in Prague.
Commitment: As part of a dossier on post-war political and literary movements, Marek Seckar interviews former Red Army Faction member Karl-Heinz Dellwo and his partner, Gabriele Rollnik, formerly of the extreme-Left "Bewegung 2. Juni", to find out what motivated them and how they view their past now. Dellwo explains: "As we saw it, we could either succeed or die. Either we would initiate a revolution, or we would sacrifice our lives. Because we didn't want to be in the same boat with those Nazis and capitalists, people who were once again taking part in mass killings, this time in Vietnam." The dossier also contains a conversation between Seckar and the Austrian revolutionary, publisher and Wespennest editor Walter Famler; a potted history of Scandinavian committed literature by Karolina Stehlikova; and Jan Horácek's survey of literature as a tool of social change in the UK during the 1980s and 1990s.
The full table of contents of Host 10/2013

L'Espill 44 (2013)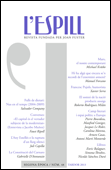 "The Valencia region probably faces one of the most critical moments in its recent history", assert the editors of L'Espill. In addition to the impact of "austericidal" policies overseen by European institutions and Spain's central government, there is the Valencian crisis itself, wrought by "a political and economic model based on cronyism, corruption and speculation". The region's much-vaunted autonomy has been reduced to a mere façade: Valencians face a regression to conditions not seen since the Franco era – with "unforeseeable consequences", conclude the editors.
Catalonia's literatures: Ahead of the "consultation" on Catalan independence due in November 2014, Antoni Martí Monterde suggests reconsidering the position of the two literatures that coexist in Catalonia, with the prospect of imminent independence in mind. The title of his article, "The Catalan writer and tradition", evokes "The Argentinian Writer and Tradition", a talk from 1951 by Jorge Luis Borges. It was here that – against the background of Madrid's continued claims to be the "capital" of all writing in Spanish and the pressure that the Peron regime put on writers to deal with national themes and "local colour" – Borges encouraged Argentinian writers to be original in taking on "the whole of western culture".
As for the qualities of Catalan literature, Monterde insists that these have been distorted by the centrality given (especially abroad) to relations with the Spanish state. Without this "state determinism", Catalan literature could easily be recognized as one among many European literatures. As to writing in Spanish, "there are many literatures in Spanish in the world, and literature in Castilian in Catalonia could be another of them".
The full table of contents of L'Espill 44 (2013)

Kulturos barai 12/2013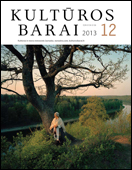 "What's different about a place is what's interesting", writes Canadian novelist Antanas Sileika in Kulturos barai (Lithuania). A proposition that raises all manner of difficulties, as well as presenting unique opportunities, when writing fiction based on Baltic history aimed at a North American audience. Yet it is often the case that difficulties can themselves present opportunities:
"While the Baltics are not very well known, the Nazi and Soviet regimes certainly are, and interest in these regimes remains lively", writes Sileika. "The Baltics lay between the hammer and the anvil, and people continue to want to read about the place where the sparks flew most hotly."
But other, somewhat lighter opportunities present themselves too, as in Sileika's telling of the following tale:
"I discovered that bridges were rare in tsarist Lithuania because they were expensive to build. What bridges there were functioned as funnels, gathering people from far and wide into a single, narrow route. Where there are travellers, there are thieves, who often hid under bridges, waiting for unsuspecting passers-by. Thus was born the myth of the trolls. In order to discourage thieves, Catholic Lithuanians would carve large wooden religious figures and place them in glassed boxes to overlook the bridges. The idea was that the saint or Christ figure would protect the travellers, or, failing that, shame the thieves into withdrawing. But thieves, it turned out, are practical and not easily frightened. In some cases, they would throw the religious statues out of their miniature houses and get in there themselves to stay out of the rain."
The full table of contents of Kulturos barai 12/2013

Nova Istra 3-4 (2013)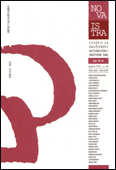 In Nova Istra (Croatia), editor Boris Biletic celebrates Mirko Kovac, one of the finest ex-Yugoslav writers, who died in August last year. A contemporary and a friend of Danilo Kis, Kovac was born in Montenegro and lived in Belgrade until the war, when he moved to Istria and lived there until his death. As Kovac put it, "this was not an exile but a return. Or a choice…" Biletic takes this thought as a trait of the works of Kovac, for whom identity was a "linguistic and not national issue". In his intimate farewell to the "master of language", Biletic remembers Kovac as a great intellectual role model who excited readers' curiosity and "remained consistent, direct, wise, honest, against imposed or false values and, above all, authentic."
Wagner at 201: Richard Wagner's Tannhäuser, writes Sinisa Vukovic, marks a point at which his music "reaches the climax of romantic zest" and branches off from "his earlier operas towards works characterized by a mythological tremor, which reaches its true apotheosis in Parsifal".
The full table of contents of Nova Istra 3-4 (2013)

Sodobnost 11/2013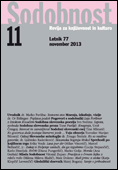 In Ljubljana-based Sodobnost's series of "Conversations with contemporaries", Leja Forstner speaks to the multi-talented Iztok Kovac. A dancer, choreographer, educator and artistic director of the EnKnapGroup dance troupe, Kovac reflects on a variety of issues concerning modern dance, which he describes as an art form "more easily experienced than described".
The 2013 revival of his 1991 performance, "How I caught the falcon", now simply entitled "Falcon!", leads Kovac to confront the inevitable process of decay of body and mind to which the dancer must adapt. However, he concludes that the passing of time between the original and the revival can also be considered "a time of maturation, exploration, a time of tireless work and discipline". The weakening of the body and mind promote the maturing and strengthening of the dancer's spirit.
The full table of contents of Sodobnost 11/2013

Syn og Segn 4/2013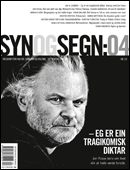 In an interview in Syn og Segn (Norway), playwright Jon Fosse tells Jan H. Landro that he has converted to Catholicism: "As long as you accept that there can be a sort of truth embedded in the theatrical itself, then Catholic mass is way superior to the Protestant, it's almost like good and bad theatre". Fosse describes himself as an anti-fundamentalist or, as he puts it, a "literaturealist" – "if such a word exists; it's the spirit that counts, not the letter, and fiction, you could even say poetry, can in its own way be just as true as non-fiction".
Fosse is not the first Scandinavian writer to have converted to Catholicism; predecessors include Nobel Prize laureates Halldór Laxness and Sigrid Undset. Since Fosse soared to the top of the bookies' lists just before last year's winner was announced, he is now on everyone's Nobel radar.
"Do you think about the Nobel Prize?" asks Landro.
"No. Well, yes, now I lied. Of course I do. As long as my name appears on the lists of the betting sites. And I'm there – far down. Otherwise I don't give it much thought. I've received many awards, including the Nordic Dobloug Prize."
"It's said that those who get the Dobloug Prize never get the Nobel Prize."
"Tranströmer got both!"
The full table of contents of Syn og Segn 4/2013