What's the gender of the crisis?
New Humanist goes on the trail of the red pilgrims; Glänta philosophizes the file-sharing debate; Blätter worries about the concept of the "male breadwinner"; NZ defines life in Russia Inc.; Merkur detects a strange, reciprocally parasitic complementarity; Samtiden finds a good word for capitalism; Arche speculates about the EU's new Belarus policy; A Prior practices the art of conversation; Host gets into steampunk; Kulturos barai publishes European histories; and Ord&Bild compares humans, cyborgs, transhumans, humanoids, androids, actroids and other forms of... being.
New Humanist 2/2009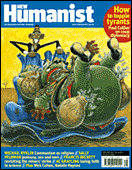 New Humanist interviews Russian philosopher Michail Ryklin about his book Communism as Religion. The book explores how the militant atheism of the Bolsheviks, far from rendering religion obsolete, created a society even more reliant on mystification. Not a new perspective, Ryklin concedes, but until now "communism has been regarded as a kind of substitute religion, or a pseudo-religion, perhaps a parody. I argue, on the other hand, that communism was in fact really a religion, perhaps the most important religion of the twentieth century."
Ryklin discusses western European intellectuals' admiration for the October Revolution, including Russell, Koestler, Benjamin and Brecht. He reads their writings on the Soviet Union for signs of religiosity, and is especially interested in how each, with the exception of Brecht, gradually became disillusioned.
"The experience these writers record was such an unusual experience, such a surprising experience, that it makes sense to single it out as a distinct genre. They record a kind of pilgrimage to the Mecca of revolution, their real-time perceptions of what was happening, and their doubts, during a time before the loss of innocence and huge disappointments of the totalitarian period. After 1939 we do not find texts that are so religiously inspired by this Soviet experience. […] How can we explain this exaltation?"
The unloveable press: A recent survey in the UK has shown that lack of trust in the press, both quality and tabloid, goes hand in hand with support for government intervention to protect privacy and correct inaccuracies. "Has British newspapers' longstanding love affair with celebrity, tittle-tattle, scandal and prurience finally reached such a pitch that most people regard them as simply no longer interested in 'getting in the face of power'?", asks Julian Petley.
Also: Paul Collier argues that the West should be prepared to harness the power of the military coup in order to ensure the emergence of a democratic Africa; and Elaine Glaser uses C.P. Snow's "two cultures" argument to critique the scientism of contemporary culture.
The full table of contents of New Humanist 2/2009

Glänta 4/2008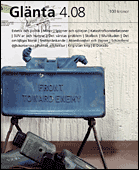 Sweden has become a test case for privacy and copyright issues linked to new technology. Recently, two high-profile debates have dominated the public sphere. Last year, the so-called FRA law, which authorizes the state to wiretap all telephone and Internet traffic that crosses Sweden's borders, was passed by the parliament. The law took effect on 1 January 2009. The second debate revolves around a court case against representatives of The Pirate Bay, a file-sharing website, accused of "promoting other people's infringements of copyright laws". The Swedish national television broadcaster SVT considered the trial to be so important that they provided a live online feed of the entire proceedings, which ended on 3 March. The verdict is expected on 17 April.
Against this backdrop, Christopher Kullenberg's and Karl Palmås' article "Contagiontology" in the new issue of Glänta is highly topical. Drawing on the French sociologist Gabriel Tarde (1843-1904), the authors develop a philosophical framework for the discussion on issues such as the FRA law and the Pirate Bay trial, but also on the large-scale collection of data that makes it possible for private companies like Google or Wal-Mart "to know what you'll want to do tomorrow".
Panopticism is waning, write Kullenberg and Palmås. Panspectrocism is the nascent social diagram that organizes our lives. The "contagiontological perspective is helpful when distinguishing panopticism from panspectrocism. In both these social diagrams, the process of contagion is construed as an object of knowledge and control. However, whereas the former endeavoured to stop and contain contagions, the latter has the twin aims of injecting and monitoring/predicting contagions."
Politics and aesthetics: The reports on Saddam's weapons of mass destruction decided that the US invasion of Iraq could start. Today, we know that these weapons were fiction, an image produced to justify the war. Discussing Hannah Arendt and the Vietnam war, Cathy Caruth shows that this type of political imagery has a long tradition in the US.
Also: German philosopher Christoph Menke on "The aesthetic critique of judgement" (and the critique of aesthetic judgment); and his US colleague Leonard Lawlor on "The Experience of powerlessness as a solution to the problem of the worst".
The full table of contents of Glänta 4/2008

Blätter für deutsche und internationale Politik 3/2009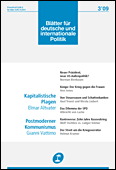 "What's the gender of the economic crisis?", asks Alexandra Scheele in Blätter. Although male dominated sectors like the car industry are currently hit by the financial crisis, women will be affected just as much. Many women work in public institutions as teachers, nurses and social workers, where redundancies will only start being made when tax revenues decline.
Yet the stimulus packages now put into action in Germany, the US and the UK are in no way gender equitable, Scheele argues. On the contrary:
"They are based on a gender-political conservatism, characterized by a concentration on industrial work and the concept of the 'male breadwinner'." They support existing inequalities in allocation, organization and valuation of labour and affect women twofold, Scheele argues. It is women who are predominantly working under bad conditions, in poorly paid jobs and on temporary contracts. A stimulus package could actually be a chance for change:
"If aimed at pay and employment equality, it could set the future direction of employment and social policy. By enhancing the status of work that is currently undervalued and underpaid, a reorganization of the relation between work and life could be initiated."
Vatican meanders: Christian Weisner reflects on the gradual reversal of the achievements of the Second Vatican Council by the current Pope (who, as a young and liberal professor, helped put it in place). By supporting the ultra-conservative and anti-Semitic Society of St. Pius and the likewise reactionary "Opus Dei", Benedikt XVI renders impossible interreligious dialogue and ignores the needs of the congregations, Weisner writes.
"Not only the Pope or Rome are the Church – we all are the Church: the leaders and the people, clerics as much as so-called laypersons, men as much as women. That's one of the core messages of the Second Vatican Council and should encourage all critical Catholics to get actively involved in the Catholic Church. For the Church's own good."
The full table of contents of Blätter for deutsche und internationale Politik 3/2009

Neprikosnovennij Zapas 63 (2009)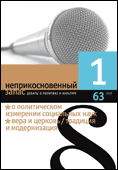 In Russian journal Neprikosnovennyi zapas, editor Ilya Kalinin writes on the culmination of the union of state, business and society in today's Russia. In a country where state power has been traditionally paternalistic, and where society has tended to gain comfort in the fantasy of a family idyll, "we are faced with the problem of the Russian Federation being transformed into the Russian Corporation". By law, a state corporation may not have shareholders – so today's state corporations are in effect closed joint-stock companies. Select citizens become "family members" and therefore informal shareholders in the corporation, while most Russians are effectively owned as "assets".
Financial crisis: Aleksandr Kustarev compares the current crisis of capitalism to the fall of communism. "Soviet economic planning, Keynesian economics and neoliberal strategies each led to a build up of social debt." We are all now caught in the trap created by debt-driven economic development, he writes. This creates an urgent need for a re-interpretation of the meaning of work and legitimate profit, and an innovative understanding of business organization and what it means to satisfy demand.
The economic crisis is testing the credibility of the multi-party system in Russia, writes Aleksey Makarkin. Polls in 2005 and 2006 indicated that 25 per cent of Russians would favour a one-party system, and that 30 per cent feel multi-party democracy is wrong for Russia. A prolonged crisis could lead to the collapse of the United Russia party, which is widely seen as responsible for the economic situation. This would create a power vacuum that might threaten to be filled by radical political forces.
"What will be the fate of the Russian middle class in the current economic crisis?" asks Aleksei Levinson. In an increasingly homogenized society aspiring to European office culture, glitz and glamour, as much as 80 per cent of the population could be defined as middle class. Will it sink under the power of state agencies or emerge revived and re-energized from the economic downturn?
Also: Alexander Pyatigorsky explores modern political thought and its visions of the future; and Nikolai Mitrokhin examines the Orthodox Church and society under Patriarch Alexis II.
The full table of contents of Neprikosnovennij Zapas 63 (2009)

Merkur 3/2009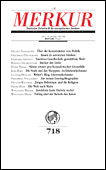 In Merkur, Helmut Fangmann uses system theory to analyse current politics. Referring to Niklas Luhmann's theory of politics, he states that in a "polycontextural" society there is no centre and therefore no privileged standpoint.
"This does not prevent politicians from insinuating at every opportunity that they are omnipotent and insisting on their claim to leadership. Because politicians depend on citizens' trust in politics to achieve social aims and to solve problems. Someone who shows impotence cannot expect to be entrusted with power. Anyone who wants to stay in power or wants to come into power constantly has to demonstrate that they know the solution for any of society's problems."
But there is no single solution, rather a set of possible ones, and politics is the art of negotiating which solution comes into effect. In Fangmann's reading of the political system, the aim of politicians is not to do the right thing, but to make their point. The systems of media and politics have developed "a strange, reciprocally parasitic complementarity"; Fangmann points out:
"The media constantly demands new information from politicians, so that almost anything can come into the focus of political interest and debate. And the media demands political information in media-compatible form: striking, pointed, superficial. In return, they offer a platform for presentation, which has become the most important prerequisite for political success and political careers."
Also to look out for: Jens Bisky on shopping centres as "pandemonium for the citizen".
The full table of contents of Merkur 3/2009

Samtiden 1/2009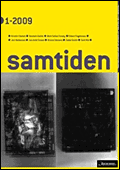 The core of capitalism is that it leads to innovation, writes Kristin Clemet, former conservative minister for education, in Oslo-based Samtiden. "It constantly makes us try to do something better or be more efficient. But the condition […] is that people have the opportunity to do so and the opportunity to succeed. We must know that the authorities will not confiscate what we own or refuse us the right to try out new ideas." Following this argument, Clemet points out that capitalism in turn is part of building democracies and that in those countries where it has been most successful, democracy is also well established.
Capitalism also leads to economic growth, which is not just used to buy surplus goods for those who have enough, but to eradicate poverty Clemet continues. "Today, the extremely poor are finally in the minority. At the same time there is a large majority who knows what things are like for the poor, who care and who can do something about it. For the first time in history we probably have the chance to wipe out poverty for good."
On the contrary: Far from Clemet's optimism, Torstein Dale, leader of the left wing party Rødt, sees a number of the arguments in defence of capitalism as flawed. For example, poverty is measured by the number of people living on less than a dollar per day. A big problem with this method, he states, is that these figures only include the people and the activities that take place within the formal economy. "What is created within the household, to be used there, is not registered within the national economy. […] When someone is torn away from a non-monetary economy and thrown into insecure and poorly paid work in the cities, it is registered as economic growth because their activities are suddenly measured in money and registered within a monetary market."
Pictures from Gaza: Samtiden has secured a series of graphic, highly disturbing images of victims of the Israeli-Palestinian conflict in Gaza taken by Bruno Stevens.
The full table of contents of Samtiden 1/2009

Arche 1-2/2009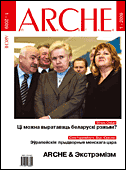 Javier Solana's visit to Minsk indicates a pragmatic turn in the EU's strategy towards Belarus. Yet many in Belarus suspect the EU of acting out of self-interest, write Lithuanian analysts Julija Narkeviciute and Vytis Jurkonis in Arche. Belarusian president Lukashenko insisted on a head-to-head meeting with Solana, excluding any representatives of the opposition; nor have the contents of the meeting been publicized. As a result, the opposition, which has long supported European values, feels let down.
Narkeviciute and Jurkonis speculate about the reasons for the change of tack. Economic factors are foremost: "Reciprocal interests determine the commercialization of mutual relations". The other main factor is Moscow: the EU fears "losing" Belarus to Moscow, something Lukashenko is very aware of (when recognizing the independence of Abkhazia and Ossetia, for example). So what should the EU do now?
"At present, the main challenge for the EU is to find ways to inform Belarusian society. To give information on what has been agreed upon. To draw attention to the fact that it is not only the elite that is important to the EU, but the ordinary people of Belarus as well. Otherwise the greater part of the Belarusian society will continue to suppose that humble EU officials arrive to pay respects to the Minsk Tsar."
A window of opportunity: According to Vital Silicki, Lukashenko's rapprochement with western political and economic powers, forced by the global financial crisis and Russian "neo-imperialism", creates a window of opportunity for the deep transformation of the nation. The dialogue between Minsk and EU does indeed marginalize the Belarusian opposition. Nevertheless, the opposition should look for ways to influence the framework of the transformation rather than attempt a new coloured revolution.
The full table of contents of Arche 1-2/2009

A Prior Magazine 18 (2009)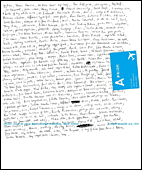 Art loses its magic if it needs to be explained, write the editors of A Prior. Talk is in many cases not appreciated in art. And yet, talk is needed, if only to prove that art is part of language, and because talking things through is the basis of good society. Most often, talk is "digested like zero-calorie sweetener. Until, that is, talk appears in the place of art. Or, to be more specific, unless someone summons the art of conversation, challenging the art/conversation binary, and giving informal talk a form charged with new responsibilities".
In collaboration with three artists, Nico Dockx, Rirkrit Tiravanija and Anton Vidokle, A Prior presents transcripts of The New York Conversations, a series of improvised talks open to the public. "The space was always full; the atmosphere sometimes uncertain, sometimes easy, at times very electric; and words continued to flow in unpredictable ways."
"from the audience: I'm trying to think of a work of art that's so tidy that across any culture at any time, or the same culture within time, it still wants to be that…
Lawrence Weiner: 'Broadway Boogie Woogie'! Put it in a fascist regime and it still functions exactly the same way that it's supposed to and it doesn't tell you a story, it presents a moment in time.
from the audience: I don't know, I don't know. It's a kind of idealism.
Lawrence Weiner: It's not idealism.
from the audience: It is…
Lawrence Weiner: You can cover yourself reasonably well. We're not geniuses, you don't have to be really smart to be a good artist. It's no joke. You just have to basically have some relationship to some materials that can become universal that nobody had noticed for universal use before. That's it. It's not a big deal. I mean, it is a big deal, but it's in fact very simple.
Sorry, I didn't mean to walk in and make big noises…"
The full table of contents of A Prior Magazine 18 (2009)

Host 2/2009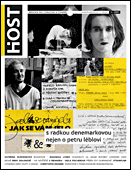 The February issue of Host can best be described by two themes: man is a child of his work (Miguel de Cervantes), and children are what anchors a mother's life (Sophocles). Both of these statements are echoed in the interview, "As if I were writing this book with a gun to my head", with Czech writer Radka Denemarkova. Her newly published book is about theatre director Petr Lebl, who hanged himself in the theatre Na zabradli (On the railing) at the age of thirty-four. Lebl was indeed a child of his work – very sensitive, sulky, egotistical, and at the same time a playful, creative and "lofty rascal". In fulfilling a personal obligation to Lebl, Denemarkova took eight years writing the book, during which she battled her own personal crises. She says it was only her children, her Sophoclean anchors, that kept her grounded. The result is a remarkable memoir, based on her scientific studies while at the same time approached as a story.
Steampunk: Markéta Straková writes on steampunk, a literary genre for children and youth, so-called because it is set in the age of steam. It is full of Victorian inspiration, allusions, and mystification taken from science fiction, and then developed into something akin to intellectual play – with textual layers offering more than "just" a story for children. According to Straková, steampunk has now spread from the realm of literature to form its own subculture, making its way into film, architecture, music, fashion and design. More a lifestyle than a literary genre.
Also: From the new narrative "miracle" to the darkly humorous "writer's novel", Daniela Strigl finds contemporary Austrian novelists at the top of their game.
The full table of contents of Host 2/2009

Kulturos barai 2/2009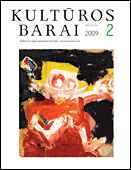 In the run-up to this year's Eurozine conference, which takes place in Vilnius 8-11 May, Kulturos barai publishes a series of articles on the topic of the meeting: "European histories". (More about the conference here.)
First is Karl Schlögel, winner of this year's Leipzig Book Award for European Understanding, that will be presented at the Leipzig Book Fair later this week. The idea of 1989 as an annus mirabilis in which everything changed is too crude, writes Schlögel. Rather, it was the result of a long incubation period that took a very different course in each Eastern Bloc country. With the twentieth anniversary celebrations already underway, Schlögel stresses the entanglements and ambiguities of postwar history and asks whether it is too soon to start talking of a "common European history".
Theatre: After visiting the theatre festival "Divine Comedy" in Krakow, Ramune Marcinkeviciute wishes Lithuanian theatre would be a bit more like the Polish, which displays "a peculiar mixture of conservative and radical features".
Also: Almantas Samalavicius criticizes the (mis-)use of public spaces in Vilnius; and Kestutis Sapoka is thrilled about "provocative" exhibitions during Vilnius: European Capital of Culture 2009, for example "The Common Code", a cooperation between ten international curators involving five continents.
The full table of contents of Kulturs barai 2/2009

Ord&Bild 5/2008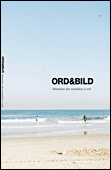 Where does humanity end and artificial intelligence start? Does intelligence need emotions? Will robots ever be self-replicating, thus replacing humans? Where does a human end and a cyborg begin? With a prosthetic leg, spectacles, or the notepaper used by someone to record their thoughts and thus relieve their brain? These are some of the questions asked in the new issue of Ord&Bild.
The fact that 4000 semi-autonomous robots were used during the Iraq-war gives Christopher Kullenberg the creeps. "Some have peaceful tasks, such as defusing mines and bombs, others are armed with weapons. […] They act on human orders." The prediction of Noel Sharkey, professor of artificial intelligence and robot-technique, frightens him: "The next step will be fully autonomous robots where the decision-making ability is completely delegated to a machine. […] In the near future we will be seeing machines taking decisions about who shall be a victim and who shall survive."
Androids: Andrés Stoopendaal returns to Masahiro Mori's model of the "uncanny valley" to discover why humans find androids so eerie. "As long as the object looks sufficiently unlike a human, its human characteristics appear uncomplicated and create empathy. But when the object seems almost completely human, its inhuman features appear in a different light and create a feeling of strangeness in the human observer." Yet the belief that in the future robots will be superior to humans is firmly anchored in industry and the academic world, notes Stoopendaal. The more anthropomorphic the design, the more questions surrounding their humanity will become central.
Also: Stefan Svallfors writes about experiments by Ernst Fehr in Zurich, suggesting that evolutionary programming has developed the human brain towards a capacity for reciprocity rather than self-interest. This has a two-way effect on politics and society, writes Svallfors. "Our perception of what one, as part of the society, should expect is to a large extent formed by the political institutions we have shaped. […] The way institutions work forms our view of what is possible and what is worth aiming for."
The full table of contents of Ord&Bild 5/2008