"Unlikely bedfellows"
Krytyka casts a wary eye at neighbouring Russia; Le Monde diplomatique (Berlin) revisits the Rose Revolution; Esprit outs Sarkozy and Gramsci as unlikely bedfellows; Lettre Internationale (Denmark) explores the space between fact and fiction; Lettera internazionale presents an alternative to unbridled economic growth; Greek Political Science Review watches Europeanization take effect; L'Homme asks who should do the dishes; Multitudes intervenes in the post-colonial narrative; and A Prior Magazine declares a state of uncertainty.
Krytyka 6/2007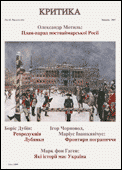 Since its first issue in 1997, the Ukrainian journal Krytyka – one of Eurozine's newest partners – has become the most important forum for political and cultural debate among Ukrainian-speaking intellectuals.
Not restricting itself to Ukraine, Krytyka seeks to situate the post-Soviet nation in the changing eastern European context. This is demonstrated in the latest issue, whose main focus is one of longstanding interest: Russia as source of historical trauma and as today's unpredictable neighbour. Russian sociologist Boris Dubin analyzes mechanisms of forgetting and repetition in Russian society and attempts to explain Russia's growing isolationism. He argues that the self-isolation and weakness of the State stem from the ruling nomenklatura, with a sense of fundamental split imbuing all spheres of society. This takes the form of a basic division of all things into "native" and "foreign", a rhetoric of alienation, and illusory attempts at restoring the past.
American political scientist Alexander J. Motyl approaches contemporary Russian authoritarianism via a comparison with Weimar Germany. As "a weak state with a strong leader", Russia poses a threat to its eastern European neighbours, writes Motyl. He goes on to criticize the nations of "old Europe" – particularly Germany – for their ambivalent policy towards Russia.
Borderlands and frontiers: Lviv historian Ihor Chornovol applies Frederic Turner's concept of the American frontier to an analysis of Russian history; and Lithuanian essayist Marius Ivaskevicius casts a nostalgic glance at a small corner of southwestern Lithuania, where at the end of the nineteenth century a Polish-German-Russian borderland existed.
The full table of contents of Krytyka 6/2007.

Le Monde diplomatique (Berlin) 7/2007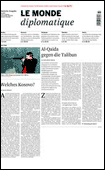 "The political leadership that resulted from the Rose Revolution, embodied by Saakashvili, has both the power and the will to bring change to Georgian society. In this sense, among the numerous 'colour' revolutions, Georgia is going through a real revolution today, with a small group of educated elite working to impose social engineering on the rest of society." Journalist Vicken Cheterian wonders just how democratic Georgian President Mikheil Saakashvili's "top-down" social transformations really are.
Although education has improved under Saakashvili and the struggle against corruption continues, torture in prisons has worsened and the media is less free, writes Cheterian. According to political scientist Marina Muskhelishvili, what is happening in Georgia "is a real revolution, but it is not about democracy. Its origins come from 'globalized' Georgian yuppies" representing a small portion of society. "The result", says Muskhelishvili, "is sharp stratification of the people. Many feel they are second-class citizens. […] The policies followed do not answer the challenges Georgian society faces today: inequality and unemployment. Fifteen years ago, the way to a Western model was through privatization and the establishment of political pluralism. Today, the way to Europe is through social justice and the fight against poverty."
Also to look out for: "Is Africa to blame?" asks Augusta Conchiglia in a detailed survey of prejudices about the continent's shortfalls; Philippe Rekacewicz uses crayons to portray the political, cultural, and symbolic meaning of borders; and Bernhard Müller wonders where art stolen during colonial occupation should be exhibited.
The full table of contents of Le Monde diplomatique (Berlin) 7/2007.

Esprit 7/2007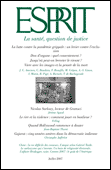 Nicolas Sarkozy as Gramsci reader? Given the tendency of politicians of a populist stripe to co-opt the rhetoric of the Left, not to mention its personnel, the idea may not be so far-fetched. Sarkozy, writes Jérôme Sgard in Esprit, has lifted the Gramscian notion of "cultural hegemony" – political domination via domination of ideas. The difference is that Sarkozy seeks hegemony not over ideas so much as values: such as those invoked by his slogan "work more, earn more", which so appealed to France's "silent majority".
He may be an economic liberal, but France's new president is also a Gaullist and a Bonapartist, for whom social change originates at the top, writes Sgard. There are a number of indicators that Sarkozy's populism is not at all hostile to "big government": the absence from his programme of any policy of decentralization, for example, or the orientation of his discourse towards individual responsibilities and rights, to which civil society barely contributes. But it remains to be seen how comfortably Sarkozy's Bonapartism will sit alongside his Thatcherite free-market rhetoric.
When Hollywood was no longer so sure: Film theorist Jean-Baptiste Thoret talks to Esprit about the shift in mood in American film-making in the first half of the 1970s. Just two years separate Easy Rider (1969) and Vanishing Point (1971), yet the films are worlds apart: in Hopper's classic, the counterculture is still alive and born to be wild; in Sarafian's film, it has been reduced to a collection of slackers and satanists. For Thoret, the run of conspiracy films produced in the US during the 1970s reflects the emerging generation's total disillusion with cultural protest given the ongoing war in Vietnam.
Also to look out for: French-Algerian stand-up comic Fellag tells Esprit how he manages to overcome the social tensions of the banlieues through humour; and journalist Rita Bassil El Ramy pays tribute to prominent Lebanese editor Samir Kassir, who was murdered earlier this year.
The full table of contents of Esprit 7/2007.

Lettre Internationale (Denmark) 15 (2007)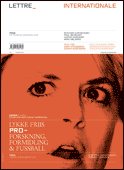 "Writers are journalists that have learned to write." One does not have to go as far as Danish journalist and writer Jan Stage to acknowledge that the strict division between objective journalism and pure fiction is artificial. Perhaps even damaging? What aspects of reality does this dichotomy help to filter out? In an exciting themed section, the Danish edition of Lettre Internationale explores the hybrid genres between fact and fiction.
After defining different genres of dramatized documentary films, media theorist Ib Bondebjerg tackles the tricky question of ethical borders in mixing fact and fiction. He takes as an example the highly controversial mockumentary AFR, in which the current Danish prime minister is murdered (see the Eurozine Review from 22 May).
"Dramatized documentarism extends the borders of documentary-making and free speech, and in doing so makes an important contribution to the overhaul that descriptions of reality badly need. It is not unethical to make use of material from reality, as is done by Morten Kapler in AFR. The film is not sensationalist but tells an important story about how society and politics work in a media-driven and globalized world. This story could not have been told as strongly in the form of pure fiction or based on facts alone."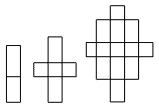 Warning! Vacation makes you stupid! In a timely article, German psychologists Siegfried Lehrl and Tanja Rommel-Sattler point to the relationship between physical activity and intelligence: "Using intelligence to face mental challenges has nothing to do with sitting down in peace and quiet." Moving around helps you think – and thinking itself is a physical activity. Just have a look at the three figures to the left (published in Danish Lettre) and try to count how many rectangles, including squares, each of them contains. Even if you don't start to move around, you will feel that you are actually very active, and the muscles in your face will get more and more tense as you take on the more difficult figures. (See bottom of page for solution.1)
The full table of contents of Lettre internationale (Denmark) 15 (2007).

Lettera internazionale 92 (2007)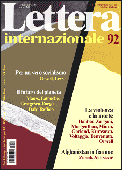 "A confusion exists between economic liberty and liberty, tout court, that is unacceptable," says economist Giorgio Ruffolo in an interview with Lettera editor Biancamaria Bruno. "The problem", argues Ruffolo, "is not that the West maintains its own wealth while holding the rest of the world in a condition of poverty. It is above all a common problem of survival. Therefore it is necessary to focus on development instead of growth."
"The economy cannot grow continuously; it is necessary to find a social and also moral equilibrium, a stationary state. This does not mean stasis [but] a condition in which the level of resources remains more or less stable, […] while the quality of progress and of human development improves." In order to reach this state, says Ruffolo, cooperation is crucial. If miracles like the EU's common currency can happen, then anything is possible.
Violence and death: Nobutaka Miura writes about "Kamikazes and the cult of death in imperial Japan": "In the vocabulary of humanity, there are terms that represent unique tragedy, and that, as such, are reserved for specific phenomena and must not be banalized. If one of these is 'Holocaust', another is 'Hiroshima'. And, in due measure, another is 'kamikaze', sacrificial death imposed by the State." Miura questions the use of the word "kamikaze" in describing Islamic suicide bombers, and traces the current use of the word to the obvious parallels between 9/11 and Pearl Harbor.
The full table of contents of Lettera internazionale 92 (2007).

Greek Political Science Review 29 (2007)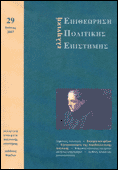 In Greece today, it is predominantly middle-aged women, and not young women as in the 1980s, who consider gender inequality to be an issue. According to M. Pantelidou-Malouta, the change in the perception of gender inequality is partly the result of the official implementation of EU policies on "equal opportunity" and "gender mainstreaming". The downside to this process has been the monopolization of the feminist sphere in Greek political culture and the legitimization of a single view of gender inequality and the struggle against it.
Y. Karayiannis writes that two main Greek political parties – New Democracy and PASOK – represent a political cartel. In the case of the socialist PASOK, the "catch-all" function is expressed through the programme of modernization, and in the centre-right New Democracy party, through the ideological position of the middle ground. This new era of cartel politics is characterized by a range of new conditions that dominate the political competition.
Also in the issue: S. Ladi analyzes Greece's environmental policy as an illustration of the model of Europeanization. While national mediating factors present serious problems, the necessity for change has been realized and environmental awareness is increasing.
The full table of contents of Greek Political Science Review 29 (2007).

L'Homme 1/2007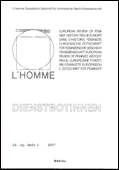 Why has the decline of working men in the OECD countries not led to a reallocation of domestic work? asks Helma Lutz in Vienna-based feminist journal L'Homme, whose new issue is devoted to a core field of gender history: female domestic servants and home helps.
A lot has changed since the traditional division of labour between the sexes was put into question in the 1970s, Lutz asserts. The number of employed women in the industrial nations has increased considerably. As a result, female migrants have been employed as household helps, with the effect that even more women can enjoy their careers. Nonetheless, the hope that the redistribution of employment would be followed by a redistribution of domestic work has been sadly disappointed.
One explanation for this might be found in the symbolic meaning of household work, writes Lutz. "Household work is the main activity in 'doing gender', which eternalizes the existing social hierarchy of the sexes." ("Doing gender" means that people know which everyday situations call for them to act as men or as women.) The reallocation of domestic work to other women remains within this logic, and the employment of women migrants as domestic servants affirms the traditional gender order, Lutz concludes. From this perspective, the failure to share household work equally between the sexes must be seen as a defeat for the Western feminist movement.
Also to look out for: Karen Diehl on Céleste Albaret, who worked for Marcel Proust from 1913 until his death in 1922 as delivery boy, cook, maid, secretary, and personal assistant. Often interviewed as prime witness for biographies and films on Proust, Albaret cast herself in the role of the perfect and only servant.
The full table of contents of L'Homme 1/2007.

Multitudes 29 (2007)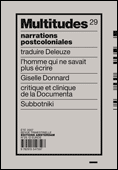 "Can the subaltern speak?" This question, posed by Gayatri Spivak in her famous 1985 essay, is a point of departure for French journal Multitudes' dossier on "postcolonial narratives". The "crisis of the postcolonial era" is especially evident in a discipline such as anthropology, write Alessandra Gribaldo and Giovanna Zapperi, because it is based on stories of the Other. The authors analyze the works of visual artists Tracey Moffat, Isaac Julien, and Fiona Tan, who in their videos and installations stage an "other" gaze capable of bringing out repressed and subaltern histories.
In the foreword to her translation of the story of Drapaudi (by Mahasweta Devi, published in Multitudes in English), Spivak makes her position concerning Western feminism clear: "We will not be able to speak about women over there if we depend entirely on conferences and anthologies of informants educated in the West." Drapaudi led a tribal revolt in the struggle for agrarian reform in the 1960s. She finally defied her enemy, an army officer of the Bengal government, who ordered her arrest and humiliation. Spivak relates the officer to the First World intellectual who is "complicit in the regimes of exploitation and domination in the Third World".
The dossier also includes a first-person narrative by Chicana Gloria Anzaldua, "a man and woman at the same time […] she asserts her mestiza culture – white, Mexican, and Indian"; three extracts from Fatimah Tobing Rony's study, "The third eye: Race, cinema, and ethnographic spectacle"; and poems by the aboriginal poet and performer Romaine Moreton, who wishes to make the voice heard of those for whom the written word is not part of their cultural tradition.
The full table of contents of Multitudes 29 (2007).

A Prior Magazine 15 (2007)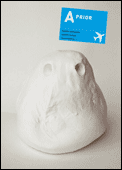 New to the Eurozine network is the journal for contemporary art A Prior Magazine. As part of the "documenta 12 magazines project", the issue takes as a starting point the documenta leitmotif "bare life" – a term which owes its topicality to Giorgio Agamben.
"How does the question of bare life resonate in art, in theory, and in our attempts to understand the contemporary?" the editors ask. The feature artist of the issue – which is set out like an exhibition – is Brussels-based Valérie Mannaerts, who is presented with a series of photographs entitled "A Monster of Loch Ness Feeling". Writer and curator Monika Szewczyk relates Mannaerts' practice to bare life "in the sense of vitality, energy, life force, and protracted experiment with organic form – a life that is not strictly human but also animal, monster, and substantiated 'ghost'".
Bringing the war home: New York artist Martha Rosler presents a version of her series of images "Bringing the War Home" (1967-72), which, "during the Vietnam War and in the wake of the recent invasion of Iraq, powerfully rearticulates domestic, everyday, 'regular' life through the lens of war".
The series is accompanied by a conversation between Martha Roesler, Dieter Roelstraete, and Anton Vidokle about the Martha Rosler Library as an artistic project in itself and Rosler's intellectual interests.
Shipwreck and workers: Last but not least, Allan Sekula (Los Angeles) offers an in-depth view of his documenta 12 project: "Shipwreck and Workers ­ Version 3 for Kassel (2007)", accompanied by an extensive commentary on this and the previous "Shipwreck and Workers" series by Hilde van Gelder.
The full table of contents of A Prior Magazine 15 (2007).

This is just a selection of the more than 60 Eurozine partners published in 33 countries. For current tables of contents, self-descriptions, and subscription and contact details of all Eurozine partners, please see the partner section.