The world's echo system
ResetDOC, July 2014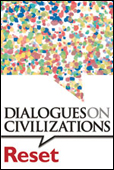 Never have there been more refugees in the world as today: an estimated 45 million in total. Writing in ResetDOC (Italy), Seyla Benhabib explains how "refugees, asylees, IDPs – internally displaced persons – PRSs (those in a 'protracted refugee situation'), stateless persons are new categories of human beings created by an international state system in turmoil and subject to a special kind of precarious existence".
"Their plight reveals the most fateful disjunction between so-called 'human rights' […] and 'the rights of the citizen'; between the universal claims to human dignity and the specificities of indignity suffered by those who possess only human rights. From Hannah Arendt's famous discussion of the 'right to have rights' in The Origins of Totalitarianism to Giorgio Agamben's homo sacer to Judith Butler's 'precarious lives' and Jacques Rancière's call to 'the enactment of rights', the asylum seeker, the stateless and the refugee have become metaphors as well as symptoms of a much deeper malaise in the politics of modernity."
In her article entitled "Critique of humanitarian reason", Benhabib calls for a "new conceptualization of the relationship between international law and emancipatory politics […] so as to create new vistas of the political."
More on ResetDOC
Blätter für deutsche und internationale Politik 7/2014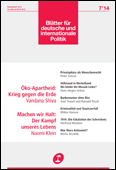 Blätter (Germany) turns its attention to Europe's new refugee movement, which has used a range of tactics in order to make the problems faced by refugees impossible for politicians to ignore. Martina Mauer reports on the marches and demonstrations, as well as hunger strikes, that have taken place across Germany since 2012. In May 2014, around a hundred activists from the German refugee movement embarked on a march from Strasburg to Brussels with a view to taking their protest to the European level.
Broad public support for its demands is growing too, writes Mauer, though policy change remains elusive. Her article follows a speech by German president Joachim Gauck expressing solidarity with the plight of refugees, which Blätter has published online.
Pax Ottomana? Dilek Zaptcioglu considers the Erdogan government's characterization of the Gezi movement as "the last major act of resistance of the hated Republic of Ataturk", participants of which are facing criminal charges in court cases that began in mid-June.
Zaptcioglu is mistrustful of Erdogan's bid to make Turkey a regional Islamic power at the cost of freedom of expression. He dismissively sums up the strategy of the ruling AKP with reference to a Turkish saying about assembling the caravan along the way: "They work out the course they are to take 'on the wing' and, as such, choose whichever allies best suit them at any given moment."
Climate and culture: Ecologists have shown that climate change is causing "mismatching", putting natural process out of sync and upsetting the ecosystem. In an article originally published in The Nation, Naomi Klein argues that mismatching is also happening in fossil-fuelled human culture, which she compares to a bullet train "hurtling forward toward the next quarterly report, the next election cycle, the next bit of diversion or piece of personal validation via our smartphones and tablets. Our changing climate is like the landscape out the window: from our racy vantage point, it can appear static, but it is moving, its slow progress measured in receding ice sheets, swelling waters and incremental temperature rises."
The full table of contents of Blätter für deutsche und internationale Politik 7/2014

openDemocracy, June-July 2014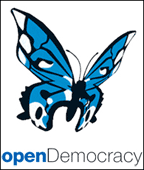 In an article in openDemocracy (UK), Saskia Sassen describes "how parts of our economies, societies and states in Europe are being stripped bare by an extreme form of predatory capitalism", a process "akin to an economic version of 'ethnic cleansing' in which specific kinds of negatives are dealt with by simply eliminating them from view".
"The unemployed who lose everything – jobs, homes, medical insurance – easily fall off the edge of what is defined as 'the economy' and counted as such. So do small shop and factory owners who lose everything and commit suicide. And so do the weakened, ill and newly poor who can no longer access basic medical services." The article is based on Sassen's new book Expulsions: Brutality and Complexity in the Global Economy.
(Re-)fortification: "Afghan Jungle", "Hazara Jungle", "Palestine House": these are some of the names that migrants have given to Calais' squats and camps, which have existed in various incarnations for years, writes Timothy Cooper. The camps, he argues, are the result of two European nations fortifying themselves against crises of their own making.
Elsewhere, Franco Galdini and Daniele Rumolo are sceptical about Matteo Renzi's confidence in the ability of Frontex to meet the challenges of immigration. The Italian prime minister voiced this opinion during his speech to the European Parliament marking the opening of the Italian presidency of the EU on 2 July.
Also: In one of several articles on the commemoration of the 1995 Srebrenica massacre, Ed Vulliamy looks at the prospects for subverting the politics of ethnicity in Bosnia; and Ali Al-Jaberi makes short shrift of the "ancient hatreds" said to be tearing Iraq apart, insisting that "it should be common sense […] that sectarianism, in Iraq and elsewhere, is an elite-constructed vehicle to channel popular dissent in a manner that maintains the status quo."
More on openDemocracy
Springerin 3/2014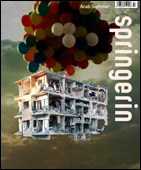 As "the ghost of a new authoritarianism rears its head across the region", Springerin (Austria) devotes an issue to contemporary culture in the Middle East three years after the Arab Spring.
Political scientist Farid Hafez examines the role that discourses of Islam and Islamism played from the beginning of the Arab Spring up until the counterrevolution. It was then, Hafez remarks, that "the general lack of response on the part of the western media and the silence of western politicians" became particularly noticeable as regards the persecution of the Muslim Brotherhood by Al-Sisi:
"Hundreds of peaceful demonstrators were murdered on the streets […], more than 1,000 people condemned to death without proper proceedings. Among the justifications for this was a radical Islamic discourse on the part of the military regime introduced to stop the feared Muslim Brotherhood, which according to the same regime wanted to turn Egypt into an Iran 2.0. That the young leaders of the revolution, the 6 April movement that had formed against Mubarak, Mursi and then al-Sisi, today sit in prison seemed to become lost in a sea of meaninglessness."
Gulf states: The Arab Spring has done nothing to stop business continuing as usual in the art markets of the Gulf states, write Nat Muller and Ferry Biedermann.
"What better way to disarm western unease about being allied to, and sometimes having to protect, often unpalatable regimes than to co-opt the very intellectuals and cultural operators that would otherwise be most vocal in their condemnation, and whose influence has a multiplier effect in the West?"
However, "importing the discourses and practices of international contemporary art also necessitates an acknowledgement that art cannot always please everyone and might be abrasive and push boundaries".
The full table of contents of Springerin 3/2014

Dérive 56 (2014)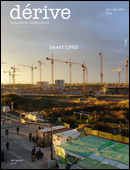 Rio de Janeiro's Intelligent Operations Centre coordinates the surveillance of the city's public spaces. Built by IBM for the World Cup and Olympic Games, it is the point of departure for an issue of Dérive (Austria) that editors Christoph Laimer and Elke Rauth hope to initiate a "long overdue critical debate on technology-driven smart city hype".
Synthetic awareness: In an excerpt from his seminal Against the Smart City, Adam Greenfield objects to the "model of optimization" presented by corporate marketing as the foundation of the smart city. The founder of design practice Urbanscale dismisses the idea that "a usefully synthetic awareness of urban processes can be garnered from sensing devices strewn throughout the built environment".
"Flawed at its very root, it betrays at best a shallow understanding of the mechanisms with which a city learns, diagnoses and repairs itself, utterly failing to account for the qualities which underlie love of place. A city whose interwoven processes actually were 'regulated and controlled' as anticipated in this literature […] would not be a terribly healthy or pleasant place to live."
Global smart vs. local clever: Judith Ryser charts the career of a concept, from the smart communities that may have evolved from ecological grass-root movements in California and elsewhere to the global smart cities industry, with a value forecast to be 400 billion dollars by 2020. And Anne-Katrin Fenk and Gesa Königstein report from India, where, aside from Electronics City in Bangalore and Cyberabad in Hyderabad, the smart city may seem a distant prospect. However, direct participation in bottom-up, online projects aimed at an equitable distribution of local resources, such as the India Water Portal or Nextbangalore, is in full swing.
Gecekondu chic? Derya Özkan reflects on the emptying of social issues of social content. Whether slum tours or the latest look of the poorgeoisie, the commodification and aestheticization of poverty is on the make.
The full table of contents of Dérive 56 (2014)

Vikerkaar 6/2014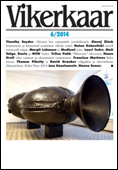 In Vikerkaar (Estonia), urban ethnographer Francisco Martínez visits post-socialist bazaars, including the Balti jaam open-air marketplace next to Tallinn central station:
"From their origin in late eighties and early nineties, a period characterized by economic shortage and political turmoil, these sites of exchange have been characterized by survival. They have been places in the making, undefined, chaotic and informal – features that have allowed minor communities and marginal individuals to find not only refuge but also a sense of belonging and a gateway to the city centre."
Stallholders at the open-air bazaar of Balti jaam have varied backgrounds. However, their native language is Russian, they are generally over 50 and they dwell in suburban areas. "Unlike shopping malls", Martínez argues, "bazaars are mechanisms of the daily production of equality. If the market disappears, the access of some groups to public space and participation in social life will become more difficult and urban diversity will decrease."
Debt cancellation vs. taxation: Alongside a translation of Thomas Piketty's interview with Esprit on the dynamics of inequality, Vikerkaar publishes a conversation between Piketty and David Graeber, in which Graeber makes the case for the cancellation of debt against Piketty's preference for a global progressive capital tax.
The full table of contents of Vikerkaar 6/2014

Magyar Lettre Internationale 92 (2014)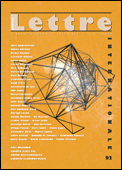 In Magyar Lettre Internationale (Hungary), the writer Endre Kukorelly looks back on his spell as a politician representing the environmental party "Politics Can Be Different" in Hungary's National Assembly.
Elected in spring 2010, it took Kukorelly a little more than two years to become disillusioned with politicians who axe state support for independent theatres and "wildly slag off gypsies and shiftily snipe at Jews".
Kukorelly's disgust is nowhere more palpable than when relating his experience of the National Assembly, which he refers to as the "law factory":
"From the corridor of the Hungarian parliament building in Budapest one can get a good view of Aurél Bernath's fresco secco, entitled Workers' State. I would always take a look at it as I went to my room. […] I would examine the corner where János Kádár and György Aczel are onlookers of the games people play, and I often resolved to give the work closer scrutiny. I never did look it all over. Neither that nor other things."
Kukorelly reckons he has done his "fair share of hauling in the galleys" but remains unsure whether he achieved anything.
Also: Texts published previously in Eurozine, in which the authors aim to influence the state of affairs in Slovenia, Turkey and Ukraine: Boris Vezjak's "Slovenia's uprising"; Osman Deniztekin's "When the feet become the head"; and Yuri Andrukhovych's "Think about us!"
The full table of contents of Magyar Lettre Internationale 92 (2014)

Letras Libres 7/2014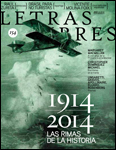 History, remarked Mark Twain, doesn't repeat itself, but it rhymes. An observation that Canadian historian Margaret MacMillan takes to heart in "The rhyme of history: Lessons from World War I" in Letras Libres (Spain).
"Then, as now", writes MacMillan, "there was a huge expansion in global trade and investment. And then, as now, waves of immigrants were finding their way to foreign lands – Indians to the Caribbean and Africa, Japanese and Chinese to North America, and millions of Europeans to the New World and the Antipodes."
MacMillan describes the rise of the middle class and a new urban plutocracy that began to shrug off the dominance of landowners, already under pressure from cheap agricultural imports from abroad:
"As a result, many of the old upper classes flocked to conservative, even reactionary, political movements. In the cities, artisans and small shopkeepers whose services were no longer needed were also drawn to radical rightwing movements. Anti-Semitism flourished as Jews were made the scapegoat for the march of capitalism and the modern world."
MacMillan continues: "The world is witnessing unsettling parallels today. Across Europe and North America, radical rightwing movements like the British National Party and the Tea Party provide outlets for the frustration and fears that many feel as the world changes around them and the jobs and security they had counted on disappear. Certain immigrants – such as Muslims – come to stand in as the enemy in some communities."
Five minutes later: In interview with Ezequiel Zaidenwerg, Chilean poet Raúl Zurita, who experienced torture and imprisonment under Pinochet, emphasizes the existential importance of poetry:
"Poetry, if we want to philosophize, is the first encounter of the being with the thing. Only then come the theories, the explanations, the reasons and the lie called truth for which many risked their lives. Poetry is the first answer to death, to the fact of knowing that you will die. Well, if poetry disappears, humanity will disappear five minutes later."
The full table of contents of Letras Libres 7/2014

L'Espill 46 (2014)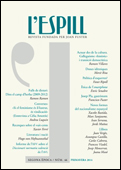 "It's an open secret: though Spanish nationalism presents itself as purely civic and democratic, it has an element that is profoundly identity-based." So claim the editors of the Catalan language journal L'Espill (València) in their introduction to a dossier on new forms of Spanish nationalism.
Much of the Spanish government's recent legislation – reducing regional powers, restricting education in minority languages – has been presented as practical policy in times of economic crisis. However, behind it lie thinly concealed historical prejudices. A large part of the Spanish intelligentsia "shares this doctrinal construction of civic nationalism that conceals a strong element of Castilian-Spanish identity, and is allergic to the pluri-national and pluri-cultural reality of Spain". For this reason, write the editors, there will be no referendum on Catalan independence in the foreseeable future.
Self-determination: "Throughout the Franco era, and the transition to democracy", writes Xacobe Bastida, "nationalist claims were synonymous with just requests and reasonable demands." The Socialist Party, the PSOE, called for the "free exercise of the right to self-determination". After the passing of the 1978 Constitution, the Socialist government resisted political proposals but allowed for cultural demands from the regions. Then, from around 2000, the governing Partido Popular began to present themselves as the impartial protectors of the interests of all Spaniards against minority nationalists, who were dismissed as "selfish".
Neo-centralism: Jordi Muñoz examines the growth of "neo-centralism" – the idea that Spain's economic problems are due to the wastefulness of its autonomous regions, which need to be reined in or abolished altogether. This orthodoxy ignores the rapid growth of public support in Catalonia for independence or, at the very least, for "the right to decide" in a referendum. Faced with this "profound change ", Spain's political and intellectual elites respond only with "a rusty legalistic vocabulary, Jacobin ideological formulae, a dose of romantic Spanish nationalism, anti-Catalan prejudice and threats of all kinds."
The full table of contents of L'Espill 46 (2014)

Fronesis 46-47 (2014)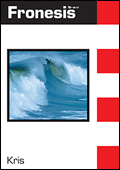 In Fronesis (Sweden), editors Kajsa Borgnäs and Johan Örestig lament the lack of historical and structural analysis in current discussions of political, social, financial and environmental crisis.
Slow and unimaginative: Economic historian Jenny Andersson takes issue with the neoliberal preference for "strong individuals, who care for nothing but their own wellbeing within a short-term perspective". Instead, we must take on "the real challenge that is long-term survival" and face the environmental and ideological problems that a futurist perspective presents.
"Climate change is just one example of how nature's time and our economic system's time are in conflict", suggests Andersson, criticizing the political system for being "too slow and unimaginative". Free from post-political paralysis, a radicalization of the political discussion must include a turn towards the future that is both "a collective responsibility and a possibility for change".
Flight into the future: Historian and writer Rasmus Fleischer explains how technological advances in the 1970s sped up the capitalist system's process of collapse by reducing the cost of labour. Given credit-funded consumption and a market constantly seeking to expand in a world of limited natural resources, Fleischer argues that the capitalist system is shaping up to be "a flight into the future, the capitalization of the hope of future growth".
The full table of contents of Fronesis 46-47 (2014)

Schweizer Monat 7-8/2014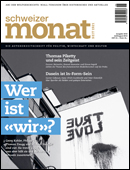 Lyricist and essayist Durs Grünbein shares his vision of an artists' colony with Schweizer Monat culture editor Michael Wiederstein. The location for the interview, Monte Veritá in Ascona, leaves its mark on the discussion:
"Some authors are very reliant on the media impact that a publishing house can have. It's all about a form of lucrative dispossession: you give us your 'self' and we give you prominence and money in return. The people here on Monte Veritá […] practice the exact opposite. They don't need interviews, exhibitions, contributions, photo-shootings or anything of the like. They need a place, a garden and some time."
But as Grünbein comments on his own life:
"I shan't succeed in making it to Patagonia or the loneliness of the South Sea. I was always attached to the cities, to life in the metropolis. Many of my poems therefore revolve around life in the cities, in the streets. There is even a kind of echo system among cities – throughout the whole world."
"This is why I wrote the poem 'Corse Triest' about how one comes across a Piazzale Roma in Venice and a Piazza Venezia in Rome and so on. So it goes, here and there, from country to country, from continent to continent […] And at some point I listened to this echo system, I received its signal."
Life-enhancing substances: In a discussion between Peter Sloterdijk, Gunter Gebauer and Hans Ulrich Gumbrecht on the place of sport in society, Sloterdijk recalls that in ancient Greece, athletes where honoured for their achievements not with medals but statues. It was even rumoured that there were more statues than people. But where once sport influenced culture, sport now interferes with the very stuff of life itself, Sloterdijk remarks. As performance-enhancing substances play an ever greater role in sport, he predicts the twenty-first will be a century of life-enhancing substances.
Also: Konrad Hummler dismisses Thomas Piketty's Capital as a "political pamphlet" and Simon Ingold considers the charity of self-made billionaires to be more reliable than a tax on wealth.
The full table of contents of Schweizer Monat 7-8/2014