The size of the cake itself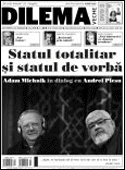 Dilema veche publishes a debate between Adam Michnik and Andrei Plesu, held in Bucharest on 14 February 2011. The two former dissidents and icons of '89 discuss the idea of "resistance through culture": whether retreat into an apolitical intellectual sphere was indeed a form of dissidence or, as Herta M¸ller argued in a previous debate with Gabriel Liiceanu, passively complicit with the dictatorships (see Eurozine Review 17 November 2010).
"At first, I too was against the idea of 'resistance through culture'," says Plesu. "I told myself that, if somebody did his or her job well, this was not tantamount to 'resistance'. If a carpenter built chairs or a surgeon operated during communism, that did not mean they 'resisted' through carpentry or surgery. But slowly I realized this was a sophism. If your profession is to write and think, and the context you find yourself in wants to impose a certain way of writing and thinking, and you do not consent to it, this means you resist through culture."
"As far as I'm concerned, any doctor who didn't violate the Hippocratic oath during the dictatorship is worthy of the highest respect," concurs Michnik, going on to talk about the delicate subject of working with former communists, where he famously tends (and tended) towards reconciliation and "forgiveness": "It is one thing to forgive a dictator who keeps people in prison, and another to forgive a dictator who tried to lead Poland out of dictatorship through non-violent means. If it hadn't been for Jaruzelski and Kiszczak we would not have had the 'round table', we would have had another Bucharest – with the Securitate, the snipers and everything else. […] For me, 1989 was the moment of truth for communism. I asked myself what the communists would do. Would they go to Moscow or act like Polish patriots? And they acted like Polish patriots. At that point it was obvious to me that we had to put a stop to the logic of revenge."
"Whispering on paper": Email, text messaging and social networks have revolutionized the way we communicate. Yet as the magic fades, George Blecher begins to miss some good old-fashioned penmanship. "A measure of civility seems to have been lost. The private transaction between what Martin Buber called 'I' and 'Thou' has been replaced by a more generalized, public exchange between 'I' and 'Whoever'."
The full table of contents of Dilema veche 369-375 (2011)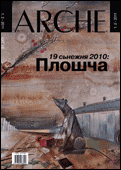 Unlike the recently banned Belarusian newspapers Nasha Niva and Narodnaya Volya, Arche is still able to publish. However, many of the contributors to an issue on the December 2010 presidential "elections" were imprisoned in the aftermath, including Andrey Pachobut, Alies Mikhalievich and Franak Viachorka. Ivan Karyzna, who blogs under the name of Silver Wraith, was one of the many to show his face on "the Square", and tells about his prison experience. '"Why did you go to the Square?' That's the central question people who weren't there ask me today. I went to overcome my fear. To do something where it seems nothing can be done. So that when I'm asked 'And what did you do on 19 December 2010?' I can reply: 'I was THERE'."
Another who was there, on the Square, was Alyaksandr Lyalikau, lecturer at the university of Hrodna. Before the vote he had collected signatures in Hrodna for two of the opposition candidates. He was able to escape the police truncheons with only a broken pair of spectacles, however a few days later received a visit from the KGB in his office. He was then repeatedly summoned, interrogated and coerced until he provided the required signatures. "How difficult it is to remain a human being in the land of unfreedom! Whoever doesn't do anything becomes a passive accessory. Whoever tries to do something is put through the grinder and turned into a traitor."
An "Arab" Belarus? Rashed Chowdury discusses the origins of the revolutions in Tunisia and Egypt and the role of social networks like Facebook or Twitter, however is sceptical that the spark will catch in Belarus. "There are several things that prevent this. Average incomes and living standards are higher in Belarus than in Tunisia or Egypt. Only 3 per cent of Belarusians use Facebook (networks like Vkontakte allow no equivalent international exchange). The problem of unemployment in Belarus is not so serious as in Egypt or even in Tunisia. The average age in Tunisia is around 30 years-old, in Egypt 24. The Belarusians, with their average age of 39, are not exactly at a revolutionary age."
The full table of contents of Arche 1-2/2011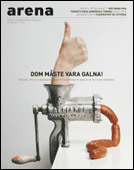 Last year, the Swedish parliament voted in favour of recognizing the 1915 Armenian genocide. This prompted Sweden's Minister of Foreign Affairs, Carl Bildt (who voted against) to warn of a "politicization of history" that "risks undermining ongoing reconciliation processes and plays into the hands of those opposing normality in Armenia and reform in Turkey".
Rober Koptas, newly appointed editor-in-chief of Turkey's only Armenian newspaper Agos, seems to side with Bildt. In a long and eye-opening interview in Arena, Koptas says that this issue belongs in the Turkish parliament, not the Swedish Riksdag. "This question can only be solved through dialogue. Third parties should get involved if they want to help to promote such dialogue, but every time there is a decision on the genocide issue in a foreign parliament, nationalism in Turkey increases. […] Personally, I'm not happy when this question is raised in other countries because I know it will only make our work more difficult."
Four years ago, Koptas' predecessor at Agos Hrant Dink was murdered (see articles by Asli Erdogan, Maureen Freely and E.Efe «akmak), while recent arrests of journalists and writers have again drawn attention to Turkey's unflattering free speech record. Yet Koptas insists that the situation is much better than in the 1980s and 90s. It's now possible to debate issues that couldn't have been mentioned ten years ago, he says. "If you focus only on individual examples, such as the case against Orhan Pamuk, you miss the bigger picture."
Also: Victor Bernhardtz challenges the Left to make concrete suggestions for reforming the UN instead of repeating that they love the idea of a unified world; Johan Lindahl on political hacktivism; and a surprisingly interesting themed section on the future of… tax.
The full table of contents of Arena 3/2011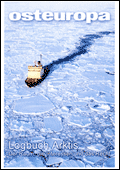 "Superlatives and subjunctives dominate the grammar of the debate about the Arctic", write the editors of Osteuropa in an issue devoted to establishing the facts about the region. Be it fear of melting ice caps, horror of environmental pollution or scenarios of resource wars, prognoses about the polar North tend towards hyperbole.
Devasting as the environmental effects of industrialized mining and oil extraction have been, signs of an ecological consciousness are emerging among Russia's politicians, as Elena Nikitina writes; and although receding sea ice could indeed be accelerated by anthropogenic warming, it is also a consequence of long-term Atlantic multidecadal oscillation, writes R¸diger Gerdes – a reversion to a cool phase is conceivable. And despite stunts like Russia planting its flag on the North Pole seabed, conflict over the Arctic is unlikely, writes Christoph Humrich. Oil and gas reserves in the region are exaggerated and those that do exist lie mostly within national territories: the real issue is not how the cake is divided but the size of the cake itself.
Soul of the North: With their abnegation of worldly affairs, the Raskolniki (Orthodox schismatics who rejected the reforms of Patriarch Nikon in 1653) found physical and spiritual refuge in the most inhospitable regions of the Russian Empire: Pomorye on the White Sea coast, the territories beyond the Urals and Siberia, "spaces inaccessible to men of the state", writes author and photographer Vasili Golovanov. Apart from some isolated burial sites and heaps of foundation stones, nothing remains of one particular group who tried to settle on Kolguyev Island in the Barents Sea in 1767. "We advised them to eat dried meat and fish, but they didn't want to," say the Nenets, who today live on the Island, speaking for their ancestors. "God forbade it."
"In the Nenets' stories about the Raskolniki there is a mixture of pity and incomprehension," writes Golovanov. "For the people of the tundra, ascetics and hermits are spiritually entirely foreign. With their belief that everything around them is living and animated, any kind of mortification of the flesh is completely incomprehensible." This incomprehension persisted after subsequent missionaries came to Kolguyev, bringing with them a very different Christ. "For the Nenets, Christ is an idol, an icon, a symbol of the strict and intolerant Russian household god."
The full table of contents of Osteuropa 2-3/2011


Immigration and asylum have become ever more pressing issues, yet "even in more liberal political circles, are mostly viewed in terms of integration and/or assimilation," write the editors of Springerin. "But what do people mean when they talk about the ideal of 'well-integrated migrants'?"
Islamophobia has become the "defining mental state of the new Europe", concentrated mainly in the image of the female Muslim immigrant, writes Rita Chin. In Germany, female immigrants became a topic of research from the late 1970s. Originally focusing on women from Italy, Greece, Yugoslavia and Turkey, research "considered structural causes to be more important than fundamental cultural differences in relation to the isolation of female migrants".
Only in the 1980s, with the emergence of the reportage genre, did the trope of the "locked-up, helpless Turkish woman" become dominant, writes Chin. "Reportage concentrated solely on the Turkish population, their social norms and their cultural environment. Citing the discrimination of women in the Qur'an, it depicted Islam as the real cause of a fundamental problem in Turkish sexual relations. […] In this view, Islamic customs and mores left no room for individual female freedom to act."
This discourse was mainly driven by feminists, Chin states: "who when it came to Nazi racism were oh so vigilant": "What began as the expression of concern for Turkish women and the wish to find the causes of their problems in West German society soon became the articulation of boundaries between East and West, between progressive politics and reactionary tradition, between feminist praxis and unreformed patriarchy."
"Citing the language of liberal democracy allowed the Left to articulate racist or ethnic difference more explicitly. Turkish women, according to this argumentation, threatened to reintroduce reactionary modes of behaviour into a country that had worked incessantly to transform itself into a modern and strictly democratic society."
The full table of contents of Springerin 2/2011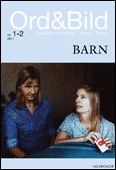 The experience of wanting to have children but not being able to is one of existential angst. The pressure felt by childless couples and individuals can't be explained only by referring to the biological drive to reproduce, writes economic historian Ann Ighe in an Ord&Bild issue on "Children". Social and cultural norms that above all stigmatize women who don't give birth is at least as important. In Sweden, more and more people are starting to criticize these norms (see the Eurozine Review 15 April 2008), but still: the pressure is there.
Reading P. D. James' dystopian novel The Children of Men, about a world where no children are born, Ighe concludes that "childless individuals are not problems, but childless societies are". Therefore, children are a common responsibility. "We don't live in a world where we have lost the ability to have children – as in The Children of Men – but we are about to lose the ability to treat the common as a resource."
Gender: It should be possible to be as gentle as a boy or as reckless as a girl, says Norwegian writer and publisher Geir Gulliksen. He feels that calling himself a man is too limiting and looks for a language of maleness that includes female qualities. But gender stereotypes have not changed as radically as we think, not even in literature:
Last autumn I noticed a critic who quoted a sentence written by a male Norwegian author my age. The sentence said that a house without a woman was just a house, not a home. What really surprised me was that the sentence was quoted as a particularly wise and noteworthy sentence. What does this tell me? It's as if we never left the schoolyard we grew up in, or as if we've been thrown straight back in. That we are as helplessly caught in ideas of what gender does to us today as were those people before the celebrated or despised 1970s.
Children and politics: Cecilia Verdinelli notes that the culture of bringing up children has moved from one extreme to the next. If radical parents in the 1970s did everything they could to introduce their children to national and international social and political conflicts (inspired by such classics as the deadly serious Swedish Manual for Child Indoctrination), today's children know nothing about the world around them.
The full table of contents of Ord&Bild 1-2/2011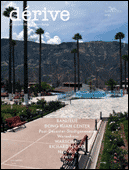 In dÈrive, sociologist Thomas Lenz explores the ambivalent German response to the emergence of the Warenhaus (department store) in the late nineteenth century and how these constituted "symbolic spaces of the modern that were admired for their technical and architectonic refinement but also feared for their social impacts."
Small to medium-sized retailers spearheaded the fight against the department store and its "culturally hostile and state-corrosive effect" (as one contemporary publicist put it). In the process, the notion developed of the Mittelstand as central pillar of society and economy, writes Lenz – a class that was also a central pillar of anti-Semitic ideology:
The English concept of the 'middle class' or the French classe moyenne signify solely social-economic (and culturally associated) categories. However the German concept of the Mittelstand combines the social economic situation of the individual with a rerefence to a Romantic past, in which each person knows their place in the national community.
Referring to the contemporary US sociologist Thorstein Veblen, Lenz argues that "rapid economic development left the Germans with no time to adapt their political and cultural system to modernity; the force of change was too much for the Empire."
Jeffrey Herf later coined the term of "reactionary modernism", Lenz adds, "to describe a cultural paradox of German society, namely the enthusiasm of the intellectual, economic and cultural elite for technological and economic progress while at the same time rejecting an enlightened, liberal attitude. He used the concept to explain the specific modernity of National Socialism."
Also: Barbara Holub and Paul Rajakovics report from the first NSK (Neue Slowenische Kunst/New Slovenian Art) Citizens Congress in Berlin: "The NSK State is a universal state in time, not a state of territory."
The full table of contents of dÈrive 43 (2011)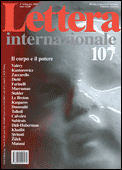 Lettera searches for a new practise of European politics at a time when the successful prototypes either seem to be the Chinese collective model or Berlusconi's spectacularized vision of democracy. From Paul Valery's modifiable body parts to the dismembering of the social body, the problem of individuality can serve as a tool for understanding society, writes Benedetta Zaccarello; while for Pilar Calveiro sex is talked about only in order to reject it as a means of development.
Italy thus becomes the paradigm of western democracy, where momentary pleasure is not only the aim of every individual, but of society as a whole, according to Giacomo Marrameo. When the sexual engine becomes the sole aim, we enter a world that "presents itself as a never-ending series of revels, but is in truth an era without revelry, a society of sad passions that leads to the eternity of the present." Drawing on Toqueville to argue that the "pursuit of daily pleasures has nothing to do with human nature (as the Right would have it), but is one of the many potentially dangerous effects of a democracy that always risks confusing equality with conformism", Marrameo states that the reactionary representation of society is neither good nor true. And so the Left must "demolish this vision and go through a process of death and resurrection by shifting its focus onto the individual".
Politics of the body: Fabio Tolledi, quoting Foucault, reminds us that the individual is not a "body to be described and modified by doctors, psychiatrists, priests or policemen. Individuality is shaped by history – never for eternity, never capable of twisting history with its new temporary identity; it is built within history, and is always and forever redefined by history".
Thus the fight could be more pleasant than expected, since a focus on the individual "could be obtained by looking for pleasures instead of illusions, sensations instead of appearances". Or, as Claudio Strinati puts it, "the naked body is the best symbol of truth". If nothing else, an enjoyable form of resistance to "the faltering idols of the new millennium".
The full table of contents of Lettera internazionale 107 (2011)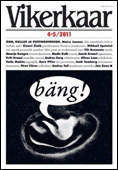 Maire Jaanus, writing in Vikerkaar, wonders whether we may all be happily mad. What lies behind the "mildly delusional sense of collective okayness and good will" exuded by the ubiquitous smiley icon? Where did human beings go for happiness before it came to mean utilitarian pleasure, and when pursuit of it became a political matter in the age of Enlightenment?
Tracing views on happiness and madness through Freud, Augustine, Cervantes, von Hofmannsthal and, of course, Lacan, Jaanus concludes on an Erasmian note: it is not wisdom but rather our follies and delusions that make us happy. Worse still, if "there are no wise men and if there is no wisdom, all that remains is the substance jouissante in all its stupidity, and a symbolic that enables us to build semblances". It seems plausible that, even if "we may not all be insane, we are very likely all mad".
Also: Mikhail Epstein examines clues to mankind's future in his manifesto DÈbut de siËcle or, From Post to Proto; and Estonian critics test the applicability of postmodernism to Estonian culture.
The full table of contents of Vikerkaar 4-5/2011