The grandmother of mass communication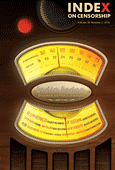 "Radio, the grandmother of modern mass communication, remains indispensable", writes editor Jo Glanville in the current issue of Index on Censorship, entitled "Radio Redux. Freedom on the airwaves". "Instead of rendering the medium obsolete, Web 2.0 has in fact breathed new life into it, with podcasts, Internet broadcasting and a level of unprecedented audience engagement".
Radio has always been the cheapest and easiest mass medium to produce, and has always been used for propaganda: in support of and against dictatorships, from inside countries and across borders. Irena Maryniak describes how during the Cold War, CIA-funded Radio Free Europe and Radio Liberty exercised a form of "soft power" in eastern Europe. Soft power "isn't about rhetoric, persuasion or argument; it is about expression and demonstration, showing not telling, providing an echo-chamber, suggesting that the ultimate agenda is human and shared". Nowadays, the same method is applied by the BBC's Persian service or the American Middle East Network – and now extended by all the means Web 2.0 provides.
A bastion of free speech: "The first thing to say is that, in terms of formalities, we are rigorously law abiding", says Alexei Venediktov, editor-in-chief of radio station Ekho Moskvy, in interview. But there is another reason for the fact that Ekho Moskvy has remained the last bastion of free speech in Russia, or as Venediktov puts it, still does "a professional job": "In the eyes of the authorities we are a showcase for the West, demonstrating that Russia has free speech. And of course we exploit our position."
In Russia, this attitude inevitably leads to trouble, intimidation and, in Venediktov's case, death threats: "I think people carry a huge burden of self-censorship in Russia. […] The fact that people who were working freely in the 1990s now work in a way that is no longer free is the result of fear. People who came into the business after 2000 see the self-censorship, they understand that one shouldn't allow oneself to do it, but they don't think why. This shouldn't be happening."
The full table of contents of Index on Censorship 2/2010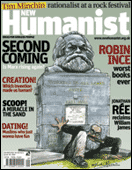 Ophelia Benson and New Humanist editor Paul Sims – both confirmed secularists – debate whether the recent conviction of atheist Harry Taylor is an attack on free speech. Taylor was sentenced for placing allegedly offensive cartoons in Liverpool airport's prayer room.
Yes, says Benson. "If being deeply offended is sufficient reason to call the police […] and punish the offender with a harsh sentence, then soon there will be nothing left. Nothing at all. No books, no TV, no magazines, no Internet, no conversation; nothing. Putting up with being offended is the price we pay for having ideas."
No, says Sims. "By deliberately and repeatedly targeting users of a prayer room, who have basic rights to go about their business unharried, I think it can be argued that he crossed the line between free speech and harassment. […] We need to keep our powder dry so we are ready to fight the real struggles ahead, the genuine threats to free and public speech – attempts to smuggle the blasphemy law in by the back door and the use of libel and other legal means to silence the inconvenient truth. Making Harry Taylor a martyr will be no help with this."
Paying attention: Les Back learns a few lessons about the importance of listening from Primo Levi, radioman Studs Terkel and literary traveller Flemming Røgilds. One of them is about politics:
The task of thinking is to live with doubt in the service of understanding, rather than living with certainty in the preservation of ignorance. […] Dismissing racist views, for example, as drivel does nothing to evaluate and understand their resonance or reach. It is for this reason that, though I've spent much of my adult life fighting against racism, I no longer subscribe to the 'no platform' argument with regard to racists. We need to know what a racist argument sounds like. This is not the same as saying that organizations like the British National Party or the Danish People's Party or Jobbik in Hungary should be given a comfortable seat at the debate table. Rather, it means paying close attention to what they say and subjecting these sentiments to critical judgment. For reducing opposing views to rubbish produces encamped positions that actually stop listening.
The second coming of Marx? Laurie Taylor meets geographer and prominent Marx exegete David Harvey to discuss the resurgence in Marxist theory after the financial crash.
The full table of contents of New Humanist 4/2010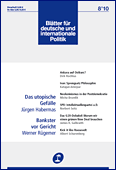 Blätter publishes a speech by Jürgen Habermas on "The concept of human dignity and the realistic Utopia of human rights".
Despite the fact that the term "human dignity" was not part of the classical human rights declarations of the eighteenth and nineteenth centuries, and only introduced in the Universal Declaration of Human Rights in 1948, Habermas, roaming through legal theory and intellectual, social and political history, argues that human rights have their origins "in the moral source of human dignity":
The experience of exclusion, misery and discrimination teaches us that classical human rights only obtain the 'same value' (John Rawls) for all citizens when social and cultural rights are also acknowledged. The entitlement to an appropriate share in wealth and culture tightly restricts systematically produced costs and risks being shifted onto individual biographies. A politics such as the one that has dominated throughout the whole world in the last decades, which pretends to guarantee citizens a self-determined life primarily through providing economic freedoms, upsets the balance between the various categories of fundamental rights such as freedom of speech, the right to vote or access to independent courts. The same human dignity for each and every person justifies the indivisibility of all human rights. Violated 'human dignity' is a seismograph that shows what is constitutive for a democratic legal order – i.e. precisely those rights that must endow citizens with a common political sphere, so that they are able to respect one another as members of a voluntary association of free and equal persons.
Also: Micha Brumlik criticizes Alain Badiou's and Slavoj Zizek's undemocratic "neo-Leninism"; and James K. Galbraith analyses the "G-20 debacle" and lends his voice to the Green New Deal.
The full table of contents of Blätter für deutsche und internationale Politik 8/2010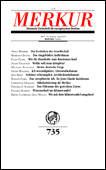 The release of previously unpublished writings by system theorist Niklas Luhmann provides Niels Werber with new ways to approach the question as to why democratic competition produces a convergence of party political programmes rather than diversity.
Luhmann refuted the view that politics was influenced by privately acting citizens, whether at the urn or in the public sphere. Rather, he thought that social systems – the political system included – exist to reduce complexity and evolve hermetically. Thus, "while regular elections solve the problem of removing rulers from office" they "probably serve less to establish the will of the people than to remind the ruling parties that they could become the opposition."
In the constant alternation of political office, government and opposition policy come to approximate one another. Cross-party consensus, supposed to produce political balance, instead resembles inaction. Meanwhile, "the rhetoric of representation" conceals the fact that the general public has no involvement in political decision-making: Werber calls this deception "a central achievement of the political system".
Political opportunism, something Luhmann considered the trademark of multi-party systems, maintains the flexibility of politics in a society more complex than itself. "This might satisfy sociologists, who identify the rationality of absence of political profile with a certain Schadenfreude," writes Werber, "but not voters: they want differences." Enter the individual politician, who, "with the help of professional advice, is staged as the personification of political values."
Shrinking cities: Reviewing the Internationale Bauaustellung Sachsen Anhalt 2010 – 19 towns and cities are showcasing responses to changes in urban demographics, above all the phenomenon of shrinkage – Jens Bisky criticizes attempts to hark back to "what once was". "Growth will not return in the foreseeable future. This results in a range of questions and problems: How does one organize inequality? How does one shape it in an aesthetically pleasing manner, so that public space, which lives from the ideal of equality, is not destroyed?"
The full table of contents of Merkur 8/2010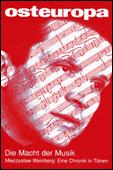 Osteuropa dedicates an issue to the Soviet composer Mieczyslaw Weinberg (1919-1996). Long considered in the West to be a mere epigone of Shostakovich, Weinberg's reputation is now in the ascent. A prolific composer, his oeuvre consists of 26 symphonies, 7 operas, an operetta, 3 ballets, 6 concertos, 30 song cycles, 6 cantatas, 28 sonatas, and over 60 scores for film, theatre, radio and even the circus. "It is a mystery as to how the music of one of the most creative composers of the twentieth century could be ignored for so long", write the Osteuropa editors.
Not only was Weinberg an exceedingly modest character who did little to promote his work, the hurdles to reception were also high, writes David Fanning, author of a new biography of the composer. Weinberg's Jewish influences made him an object of suspicion during the Stalinist purges; the numerous works missing from his archives are likely to have been submitted to the authorities for approval, considered unsuitable and never returned.
Political repression not only affected Weinberg's music. Having escaped his native Poland in 1939, where his sister and parents perished, he was briefly imprisoned in connection with the "Doctor's Plot" of 1953. "Later in life, Weinberg had plenty of opportunity to claim the status of victim or hero. However he never did so," writes Fanning. "I think that Weinberg continued to believe in the fundamental justice of the Soviet system, while simultaneously being fully aware of the absurdities and the human horrors that it gave rise to. He tried to find a way to retain his individuality […] and to deal with the moral themes that burned in his soul."
Also: Jascha Nemtsov accounts for the non-reception of Weinberg's work in its rootedness in Polish-Jewish musical culture; Verena Mogl explains the mastery of Weinberg's music for film, television and animation; and the recollections of Zofia Posmysz, on whose novel The Passenger Weinberg's opera of the same name (currently being performed at the Bregenzer Festspiele) was based.
The full table of contents of Osteuropa 7/2010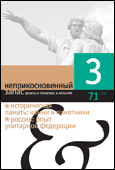 In NZ, Zuzanna Bogumil applies Foucault's concept of anti-history to the Stalinist repressions. She focuses on two projects launched in the 1990s to commemorate the victims of Gulag. The first is an initiative by Memorial to install stones from the Solovetsky Islands, once the site of a labour camp, in a number of Russian cities. The second is the idea of the Russian Orthodox Church to erect crosses that symbolize the sufferings of the "martyrs" who perished in the camps.
In both cases, writes Bogumil, "the location of the monuments is chosen specifically […] to demarcate the symbolic space". She talks of "a network of special signs" whose meaning is not necessarily clear to passers-by. Despite the absence of any information on their origin, "the very fact of [their] existence […] makes people find out more about them". Bogumil concludes that, "the problem with the memory of Gulag is not that people have forgotten about [it], but that the history of Gulag has never become a memory formed and preserved by the state".
Reform: Aleksey Makarkin traces the history of liberal bureaucracy in Russia from its birth in the nineteenth century to its latter-day incarnations. Historically, liberal reforms have been difficult to implement because of the absence of democratic traditions, he writes. A lesson for modern Russia is that reforms are successful only if they are integrated into the life of the society as a whole, rather than merely being discussed among a small group of liberal bureaucrats.
Literary theory: Society cannot afford to tolerate literary theorists who have turned their hobby into a trade, writes editor-in-chief Ilya Kalinin ambiguously. The choice any philologist faces today is between "love for the written word and a marriage contract with a dictionary". Those who preserve their love after years of marriage are, needless to say, few. Yet all is not lost for Kalinin's fellow literary scholars: left to their own devices, they become freer. Since their work has less impact on society, they have a right to make mistakes.
The full table of contents of Neprikosnovennij Zapas (NZ) 3/2010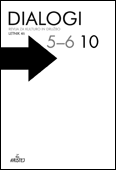 In Dialogi, editor Robert Petrovich discusses copyright in an advancing technological age. The digitalization of content exacerbates the already fragile balance between ownership interests and public access, he writes. The response has been drastic and frequently counter to the principles and purpose of copyright law itself. The most vocal advocates of the new legal order are the financially powerful lobbies of copyright holders, who in defence of their business models proclaim the new technologies as a threat to authors and anyone traditionally dependent on exclusive copyrights.
"Is copyright law in the digital age capable of carrying out its role?" asks Petrovich. Contributors agree that a change in attitude towards intellectual property is urgently needed. They include legal expert Maja Bogataj Janchich, who has brought the Creative Commons license to Slovenia; sociologogist and cultural historian Maja Breznik, researcher on the position of cognitive workers; and philosophers Franci Pivec and Jan Babnik.
Borders: "As the best of Slovenia's politicians and civil society were dealing with the issue of the border", writes Ciril Oberstar, referring to a recent "all-Yugoslav conference on borders in the Balkans", "others were forced to cross it heading south, from Slovenia through Croatia and towards Bosnia and Herzegovina. Shortchanged Bosnian workers, who build Slovenia's houses, shopping centres and football stadiums, were forced by the letter of the law to leave Slovenia, their grievances unredressed. They left with empty pockets, denied several months' wages for their hard labour. Against the scrum of political events all vying for the attention of television cameras, this was one issue related to the economic crisis that did not succeed in commanding the attention of prime time news programmes."
The full table of contents of Dialogi 5-6/2010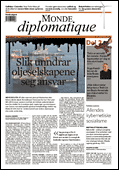 The Belgian comic Tintin, or rather the volume Tintin in the Congo, has been charged with racism by a civil court in Brussels. The case has become big news; Norwegian papers have also laughingly featured how Tintin may be found guilty of racism. But, writes Morten Harper in Le Monde diplomatique (Oslo), when Bienvenu Mbutu Mondondo cries out "J'accuse" in French speaking media, he is right.
When Harper himself recently travelled to Tana in northern Norway to teach students about comics, he experienced a vague parallel to the Tintin case. Using the comic strip The Deep Shit Junkies, created by Frode Øverli, he wanted to demonstrate the use of speech bubbles.
We hate poodles and ladies in wigs!
we hate scooter Sámis and pigs!
we shit in loos and on the gays!
we play the guitar and we play the bass!
we dig farting and public puking –
'cause we are the
DEEP SHIT JUNKIES!!!
The leader of the band featured in the comic strip belts out these eloquent lines to everyone's amusement. Except the Sámi students. "Why does he hate the Sámi?" one asked, and for the first time Harper really noticed the actual words and realized how many comics rely on prejudices to score points. "Øverli's strips featuring for example gays, artists and car mechanics are based on an instinctive recognition of one's own prejudices. The humour does not problematize the attitudes, but rather confirms in its graphic way that there is a core of truth to these jokes."
And still Mondondo should not win his court case, writes Harper. "Tintin expresses a colonial view of Congo and Africans that was common in the 1930s. We can't prohibit historic truths, no matter how uncomfortable, but we must criticize and discuss them."
Also: Truls Lie on documentaries with an impact and on the Norwegian filmmaker Beate Arnestad, whose revealing films about genocide and other crimes against humanity have made her an internationally renown documentarist.
The full table of contents of Le Monde diplomatique (Oslo) 7/2010