The better secularism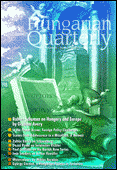 In The Hungarian Quarterly, László Borhi offers new perspectives on US-Hungarian relations between 1942 and 1989. US diplomatic documents show that "between 1941 and 1989 Hungary was at the mercy of the Great Powers and their struggle for hegemony in Europe." While Hungary had a say on minor issues of national interest, "national independence or sovereignty was clearly not in Hungary's gift," writes Borhi. He urges that the foreign policy decisions of Hungary's hand-tied politicians must hence be judged with due moderation.
In WWII, Hungary was encouraged to surrender to the western Allies despite their having no intention to occupy the Danube Basin. Hungary declined to take this "suicidal step" but was invaded by Germany anyway; the subsequent deportations in 1944, for which Hungary received major censure, could perhaps have been prevented, suggests Borhi. Another example of western realpolitik: after 1956, the US froze cultural and commercial ties with Hungary, making their resumption conditional upon the amnestying of political prisoners. Yet US support of national independence was based more upon a wish to undermine the Soviet Union than anything else, writes Borhi. In the 1970s, when US policy began to favour stability in the region, the US made Hungary a "privileged partner" and underwrote Kádár's economic reforms with massive loans.
Expansionist avant la lettre: Robert Schuman (1886-1963), French statesman and "founding father" of European integration, was practically the only politician in the West prior to '89 to predict that the European Union would one day expand to eastern Europe, writes Graham Avery. In a speech given in Luxembourg in November 1956, as news of the Hungarian uprising was filtering through, Shuman said: "We must make Europe not only in the interest of the free countries, but also to be able to welcome the peoples of the East who, freed from the subjection that they have suffered until now, will ask to join us and request our moral support. […] They need us in the immense task of adaptation that they will need to complete." With these words, writes Avery, "Schuman effectively forecast the situation that came about more than 30 years later, when the Iron Curtain finally disappeared."
The full table of contents of The Hungarian Quarterly 198 (2010)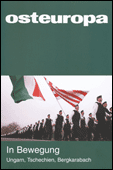 In Osteuropa, theatre director and translator Laszlo Kornitzer paints a dark picture of Hungary today. The condition of democracy and the rise of the radical-right Jobbik as the third strongest party in many respects recalls the late Weimar Republic, Kornitzer states in an explicit interview: the rightwing conservative Fidesz acted for years as a radical opposition and pursued a "programme of destructiveness", while the governing Social Democrats proved incapable of keeping extremist excesses at bay. Now, with Fidesz in charge, the floodgates for racism and anti-Semitism have been thrown open.
"Individual politicians from Fidesz and Jobbik can be assured of receiving applause for their racist and anti-Semitic theses. No one calls them to order. Their slanderous campaigns against non-conformists have become normality. The mood of aggression has given the hoards on the street a head start and incited them, which leads to murder attacks on gypsies. In 2008 and 2009, almost sixty attacks on Roma were registered officially. Eleven people were killed, many more severely wounded."
Intellectuals like Imre Kertész, György Konrád or Péter Esterházy are insulted and an influential weekly calls for a "cultural police" to rid cultural institutions of "anti-Hungarian filth". While prime-minister Orbán declares himself responsible for "all Hungarians in the Carpathian Basin", Jobbik¹s paramilitary organization "Magyar Gárda" agitates the Hungarian minority in Vojvodina (but is kicked out by Serbian skinheads).
"It's not easy for me to say whether Hungary is my home. I think that home is the place one feels culturally attached to and that in a political sense doesn't directly repel one. The election results […] are shocking. For people like myself, home is beginning to cease being home."
The full table of contents of Osteuropa 6/2010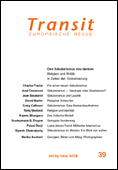 "Would we not be doing our society irreparable damage if we were to banish religion from it entirely?" ask the editors of the new issue of Transit, entitled "Rethinking secularism". For Rajeev Bhargava and Tariq Modood, two eminent theorists of multiculturalism, the question is not whether but how to reconcile religion and state.
For Bhargava, the two mainstream concepts of western secularism – the American mutual exclusion of religion and state and the French one-sided right to interfere – "mask majoritarian, ethno-religious biases". Both models, he argues, are unlikely to meet the challenge of the public presence of religion or of increasing religious diversity. "If secularism is to survive as a trans-cultural normative perspective, it must be de-Christianized, de-westernized, de-privatized and de-individualized." Indian secularism might prove instructive: as "an ethically sensitive settlement between diverse groups and divergent values", it "interprets separation [of state and religion] to mean not strict exclusion or strict neutrality but rather 'principled distance'."
Bhargava is mistaken in saying that the US and France are "the best that the West has got to offer", or even that they are mainstream concepts, counters Modood. The British model, he argues, is a good example of a moderate secularism typical of northwestern Europe. Here, secularism "has developed a historical practice in which, explicitly or implicitly, organized religion is treated as a public good". The institutionalization of religious pluralism, such as the Lords reform of 2000 that admitted non-Christians into the Upper House, is a policy based on respect for religion. "There is an image of religion as organizations or communities around competing truths, which are mutually intolerant, which perhaps even hate each other's guts. There is some truth in that in some times and places but the opposite is more important."
Loving the enemy: Faisal Devji examines how Islamist militants make extensive use of liberal categories and ideals familiar to the West. An analysis of the court transcripts of Khalid Sheikh Mohammed reveals how the 9/11 organizer's formal admission of guilt functioned "like a gift that establishes relations even in the absence of recognition". The Quranic injunction to "care for the enemy's goodness" prompted Khalid to spend his hearing "trying to get his American captors to be true to their own principles, which he took to be those of the promotion and protection of human rights".
The full table of contents of Transit 39 (2010)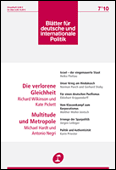 The "American Power Act" now before the US Senate might represent the last chance for a legislative breakthrough in US climate policy before the Senate elections in November, write Jens Kendzia and Arne Jungjohann in Blätter. The emissions targets set by the Act (17 per cent in 2020 rising to 83 per cent in 2050, against a base line of 2005) might be lower than hoped for; still, the EU's targets are barely more ambitious, and moreover are binding only up to 2020. The Act also has some elements Europe would do well to copy: a bottom limit for CO2 certificates to avoid prices collapsing as happened in Europe in 2007, as well as strict regulations to prevent speculative bubbles. Less good news for environmentalists is the billion dollar funding for coal and nuclear power.
If the Act fails it will mean a bitter defeat but will not kill off US climate policy entirely, write Kendzia and Jungjohann. Obama has initiated a number of positive developments already: stipulations in last year's stimulus package for the expansion of renewable energy has caused a wind energy boom in the US. However, the outcome will be decisive for the success of the UN Climate Conference in Mexico in December, write the authors. While the Obama administration is working on alternatives should the Act fail, "a genuine national effort commensurate to the challenges posed by climate change will only come on the basis of a new law".
Kitchen-table politics: The times are long gone since the "small man" was content to leave politics to the "higher-ups", writes Albrecht von Lucke. The crisis of legitimacy facing party politics in Germany has everything to do with material decline since the Wirtschaftswunder: today, over 50 per cent of Germans think their living standards will get worse in the coming years and two-thirds think politics is unable to assert control over the economy anyway.
"The harder the times," writes von Lucke, "the more politics must work to gain the endorsement of the public via democratic procedures. Angela Merkel's kitchen-table politics is quite clearly not in a position to do this. Her bunker mentality and her narrow party horizon are hastening the twilight of the parties. Merkel's methods are coming up against their own limits: her obsession with power in party-political matters is matched by her obliviousness towards the functioning of the party-political system as a whole."
Also: Heiko Flottau, former Middle-East correspondent for the Süddeutsche Zeitung, criticizes the "iron wall" with which Israel has surrounded itself as the expression of misguided policy.
The full table of contents of Blätter für deutsche und internationale Politik 7/2010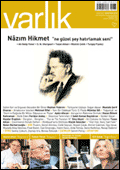 Varlik dedicates an issue to one of Turkey's literary legends, poet and "romantic revolutionary" Nazim Hikmet (1902-1963). Nazim Hikmet was a university in his own right, writes S. N. Uturgauri. "He discovered talent where no one looked for it. He converted prison into a university, pointing out the aesthetic direction of writers such as Kemal Tahir, Orhan Kemal and A. Kadir."
Nazim Hikmet discovered the narrative talent of Orhan Kemal in the early 1940s, when they shared a cell for three years. Hikmet's realist approach was quickly adopted by Kemal, who made the critique of the social conditions deforming peoples lives and "inner worlds" his own. When Hikmet stressed that when scrutinizing "the evil face of reality", one should "not neglect even the faintest hope of enlightenment", Kemal immediately invited his writer friends to join the movement of "open realism", notes Uturgauri.
In fact, Orhan Kemal continued to be "a student of the Nazim University" long after he was released from prison. Not only did Nazim Hikmet read and assess every work Kemal published in terms of the "artistic portrayal of reality", he also offered suggestions concerning "the correct use of adjectives, differentiation of spelling based on content, and even the quality of the paper, the book cover and the framing of the author's photo."
Elif Safak on literature for bankers: In interview, Elif Safak, author of The Flea Palace and The Bastard of Istanbul, talks about her recent book Kagit Helva (The Wafer), which consists of passages from her previous works. "After The Forty Rules of Love, I decided to take a break and look into myself. Both inside myself and towards the past. What roads did I travel, what lines did I write, what books did I publish? I created a roadmap. It's not something a writer may do very often. Yet I think it should be done once every ten, fifteen years."
A more concrete motivation for compiling this anthology of sorts seems to have been that Safak wants to cater to a new group of (non-)readers: "Bankers, civil servants and businessmen lead hectic lives and cannot concentrate on reading a novel. They love the idea and the format."
Asked what she has neglected in her writing so far, Safak, a confirmed feminist, answers: "manhood".
The full table of contents of Varlik 6/2010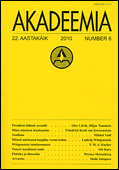 Alongside an Estonian translation of Ludwig Wittgenstein's "Some Remarks on Logical Form", Akadeemia publishes P. M. S. Hacker's famous introduction to Wittgenstein's philosophy of mind: "Wittgenstein on Human Nature".
Wittgenstein's philosophical psychology undermined the Cartesian, empiricist and behaviourist traditions, writes Hacker. Replacing the Cartesian res cogitans ("a spiritual substance that is the bearer of psychological properties") with the human being ("a psychophysical unity, not an embodied anima"), Wittgenstein stressed that, "it is human beings, not minds, who perceive and think, have desires and act, feel joy and sorrow".
While Cartesians and empiricists alike "thought of the inner as 'private', truly known only to its introspecting subject, Wittgenstein denied that introspection is a faculty of 'inner sense' or a source of knowledge of private experience at all. On the other hand, he insisted that others could often know perfectly well about what is thus 'private' to oneself." And while Cartesians and behaviourists "represented behaviour as bare bodily movement, Wittgenstein emphasized that human behaviour is, and is experienced as being, suffused with meaning, thought, passion and will."
More classics: Akadeemia continues its serialization of Werner Heisenberg's Physics and philosophy in Estonian translation. This issue features the fifth instalment of the 1958 book that describes the birth of quantum theory, discusses the formation of the notion of the atom in Ancient Greece, interprets Descartes and Kant through the lenses of quantum theory, examines the meaning of language and reality in modern physics, and analyses the role of modern physics in human thought.
Also: Olev Liivik and Hiljar Tammela on the last public appearance, on 21 June 1940, of Konstantin Päts, the head of state of the Republic of Estonia prior to the Soviet occupation; and Ott Kurs on divergent theories about how homo sapiens made it from the cradle of mankind in eastern Africa to the North and South American continents.
The full table of contents of Akadeemia 6/2010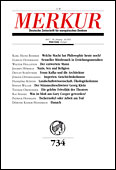 In Merkur, Thomas Oberender, theatrical director of the Salzburg Festival, considers the relation between democracy and theatre. Why, Oberender wonders, are the democracies of the German speaking countries so well-disposed towards a socially committed art form that at the same time is deeply hierarchical? Is there a historical specificity that assigns special significance to culture and the "transitory mode of self-reflection"?
"Switzerland, Austria and Germany are societies that themselves remain highly fictive and that have emphasized particularly strongly the severing of their connection to authoritarian elites. The culturally determined fiction of identity develops an attraction particularly when the fragile now of a society demands dependencies that in absolute terms it increasingly refuses to tolerate and bring forth."
This is essentially the reason why German cities, though exorbitantly indebted, never close down their public theatres, writes Oberender. As the sociologist Helmuth Plessner once said, Germans are less the citizens of a state than of a culture.
Also: Jochen Hörisch detects incorrect constellations in Bernhard Schlink's The Reader and Jonathan Littell's The Kindly Ones; and Walter Hollstein knows who is actually the victim of industrialization and, ultimately, feminism: the devalued man.
The full table of contents of Merkur 7/2010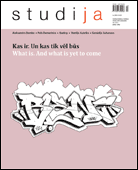 It's tough being an art critic, complains Vilnis Vejs: not only do artists and critics fight among themselves, none of them look at the full spectrum of painting over a given period. Instead, they confine their attention – and therefore their publicity and praise – to a specific style or "school" of their choice. As a result, those who are "marginalized and discriminated against" enter the fray. It's a battlefield says Vejs – but one he is more than capable of negotiating his way through.
Vejs charts the past 20 years and more in Latvian art and, having run through the various styles, innovations, experiments and phenomena of these years – many of them dictated by slavish imitation of Soviet artistic trends – he arrives at what he calls the "new simplicity" of the twenty-first century: a return to painting and a measure of realism! It's ironic, he says, that it took the advances of the digital world to drive artists back to older forms of representation; shameful that for at least 20 years at the end of the past century, "painting might as well not have existed" for all the attention that was paid to it.
It is, Vejs admits with customary irony, "an arbitrary interpretation of history with tendentiously selected examples and a display of subjective personal interest with misconceptions woven into its fabric". It is also an illuminating tour of a lesser-known aspect of European art.
Also: Philosopher Ainars Kamolins joins microbiologist Janis Liepins to interpret the latest advances in biotechnology; Linda Vebere and artist Paul DeMarinis "translate" the voices of machines; and a look at Stanley Kubrick as photographer and the ever changing graffiti of Paris.
The full table of contents of Studija 3/2010
A note to our readers: The next Eurozine Review will be on 4 August