Stories that products tell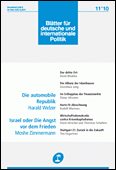 In Blätter, Harald Welzer attempts a cultural history of auto-mobility, tracing the car's transformation into fetish and component of collective emotional wellbeing. "In our small and meanwhile 'flat' world, […] the car is nothing but an anachronism. Yet its days are far from over. The car is anchored in our cultural identity like almost nothing else." Like all products, writes Welzer, the car tells a story about the "libidinal needs" of its users; if history is to show us how our status quo is "constructed", it needs to take account of "the stories that products and their infrastructures have always told".
"The world of the homo economicus is a world of feelings, desires and acquired needs, upon which rationality has only limited impact," Welzer argues. The Enlightenment version of history, however, takes place at the intentional and moral levels. Hence, regardless of "rational" warnings, modern societies do not change course. "We exist in a society in which we are construed by the concepts of progress, competition and growth. Before we can do anything about this history, it has already told us." The alternative? "We need products that tell us stories in other formats, […] and we need a car industry that tells another story about itself and its products and thus about us."
Railways: Stuttgart's residents are furious over plans to convert the city's existing rail terminus into an underground through-station. In October, 150 000 demonstrators gathered in the city's central park, which will disappear if building goes ahead. Supporters of the prestige project argue that the conversion of the station, together with the construction of a new high-speed stretch, is essential if Stuttgart is to become a stopping point on the new high-speed route between Paris and Budapest. Yet critics point to exorbitant costs, misguided rail policy and misuse of public funds.
Investment in the creation of new connections loses out to prestige projects like Stuttgart 21, writes Tim Engartner. "The back-down from blanket rail coverage accompanies the targeting of a specific clientele: business passengers who, as (potential) first-class customers, want WLAN connections and mobile telephone reception as well as exclusive service in the Deutsche Bahn 'lounges'. […] The self-styled 'company of the future' has given up on blanket rail coverage that democratizes fast travel for all instead of monopolizing it for a small minority."
The full table of contents of Blätter für deutsche und internationale Politik 11/2010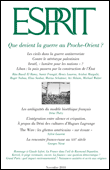 A dossier in Esprit on the Middle East feautures a dialogue between Avi Shlaim and Henry Laurens, historians of Israel and Palestine respectively. They discuss the challenges of academic writing on emotive topics, the impact of history on society, and the interaction between local and global powers. Laurens considers that, "in general, the great power is more often the prisoner of its local allies than the other way round." Shlaim agrees: "Most western historians study the history of the Middle East as an aspect of the foreign policy of America, Europe or (during the Cold War) of the USSR […] My approach is very different because, even if my area of study involves foreign relations, I believe one must recognize the importance of local forces."
Arab multiculturalism: In interview, Lebanese politician Samir Frangié finds his country more divided than ever. Now, though, the battle is not between different communities but between those supporting and those rejecting violence. The latter movement is rooted in the "Cedar Revolution", which followed the murder of former president Rafic Hariri in 2005. It represents the emergence of "a Lebanese national identity not determined by a particular community: an identity that transcends communal identities without substituting itself for them, which bases co-existence on demands for a state involving all of Lebanon, and not on the demands of the dominant community".
This identity, though rarely expressed in practical politics, underpins the idea of Lebanon as a multicultural state in a region where this is unusual. It also matters for the wider Arab world: "This is where a new vision of Arab identity develops, an 'Arabness of coexistence' […] that absorbs diversity and pluralism, that advocates a culture of tolerance; that finds its historical basis in the experience of Andalusia, where for centuries Jews, Christians and Muslims lived together."
Exclusion and culture: A book by sociologist Hugues Lagrange, entitled The Denial of Culture, has sparked controversy by offering a cultural explanation of criminality among immigrant populations. Marc-Olivier Padis defends the book, which, he says, is not a "taboo-breaking" broadside, but an academic investigation based on research in disadvantaged communities before and after the 2005 riots in the banlieues. Lagrange considers indicators such as education, employment, housing and mobility, and finds, in each case, correspondence between family culture and social-economic exclusion.
The full table of contents of Esprit 11/2010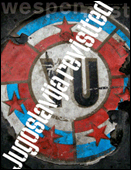 To counter the lie "cultivated in all Yugoslavia's successor states, according to which the country never actually existed", the current issue of Wespennest, entitled "Jugoslavija revisited", is dedicated to the state that disappeared 19 years ago. "The authors compiled here see things with their own eyes, beyond sweeping judgements and without claiming to be telling the only, universally valid truth," writes guest-editor Alida Bremer. "Their texts form a collage that is open for further contributions and new interpretations."
Slavenka Drakulic remembers her trips abroad as a child and young adult and realizes how the freedom to travel corrupted a whole generation: "In retrospect, it seems to me there was a connection between the fact that we didn't suffer as much from the repressions of socialism 'with a human face', and the fact that, unlike in the countries of the Eastern Bloc, no liberal opposition ever formed. […] Yes, my generation lived too well and obviously confused democratic freedom with the freedom to shop in the West. The wars that followed were the almost medieval retribution for that."
Lexicon of YU-mythology: A small online initiative calling for contributions to a "Lexicon of YU-mythology" became an unexpected success: hundreds of authors contributed to the collective endeavour to "explore the topography of a cultural environment we established and shared for over fifty years". Wespennest publishes excerpts. One example:
The seven wonders of communism
Everyone had work.
Although everyone had work, no one worked.
Although no one worked, we fulfilled all targets by at least 100 per cent.
Although the targets were fulfilled by over 100 per cent, the shops were empty.
Although the shops were empty, everyone had everything.
Although everyone had everything, everyone stole.
Although everyone stole, there was never a lack of anything.
More "Jugoslavija revisited": David Albahari on the lost language of Serbo-Croatian; Beqe Cufaj on why he still hangs onto Tito's books; and Dzevad Karahasan on how memory leads to melancholy.
Also: Kenan Malik argues that fear of causing offence undermines progressive trends in Islam and strengthens the hand of religious bigots.
The full table of contents of Wespennest 159 (2010)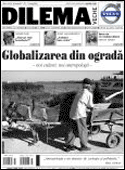 Dilema Veche publishes a dialogue between Herta Müller and her Romanian publisher Gabriel Liiceanu, one of the most prominent intellectuals in post-communist Romania (347). Talking before a large public in September, the two clashed over what it meant to "resist communism through culture". Liiceanu argued that resistance entailed "not acting and not speaking as was demanded by the norms of the repressive society, writing differently to how it was written, speaking differently to how it was spoken, never using words against our consciences". Why, he demanded, did Müller consider resistance through culture "a guilty, apolitical attitude"?
Müller's unshaken conviction: "It was a personal achievement – not getting stained. But it was not something that could have upset the omnipresent clan of Ceausescu and the Securitate. If the dictatorship had indeed been opposed by so many people, it wouldn't have become so sinister."
Horses: Things are not looking good for horses and horse culture in Romania, writes Marius Chivu (346): equestrian sports are neglected by the authorities, wild horses in the Danube Delta region are captured and sold for meat by locals, and even legal horsemeat production fails to observe hygiene and safety standards. However, there are also positive developments: Marin Malaicu-Hondrari writes about a refuge for horses rescued from an abattoir in Bistrita that now serves as an equestrian centre; Maria Ardelea describes how a Bucharest-based stable has started running horse therapy sessions for children with autism, Asperger syndrome and epilepsy; and Alexandru Iavorovski reports on how young middle-class Romanians are discovering equestrianism and hopes this will lead to the creation of an institutional framework to support the sport.
Anthropology: After communism, anthropology went through a "vindictive period", during which it rapidly absorbed post-modernism: scholars deconstructed all grand narratives and concentrated almost entirely on methodologies of the particular. According to Vintila Mihailescu (349), it is now time to move on from the description of local diversity to reconstruct theories of contemporary social life. Studies include Mihaela Tantas on allotments in Bucharest and the evolution of urban communities, and Catalin Berescu on the use of communications technologies among migrants as ways to satisfy the need to belong.
The full table of contents of Dilema veche 346-349 (2010)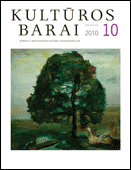 In Kulturos barai, Tomas Kavaliauskas and Ivaylo Ditchev discuss cultural, political and historical parallels between Lithuania and Bulgaria. Despite its size, says Kavaliauskas, Lithuania has been able to act as ambassador of democracy in regions that, in the thirteenth century, belonged to the Lithuanian Grand Duchy – particularly Belarus and Ukraine. Can one speak of a similar geopolitical role for Bulgaria?
"The territorial phantasm has a purely symbolic value", says Ditchev. "I would instead see a tendency towards the dissolution of territorial solidarity and redistribution within the states themselves, a feudalization so to speak. […] The tensions between the rich municipality of Sofia and the rest of the country are telling. The disappearance of solidarity within the national territory is screened off by nationalist, quasi-fascist discourses: this seems to me a general trend of the neoliberal world. […] No country in the region has become a hub of inter-Balkan exchange, certainly not Bulgaria. There is just one old bridge over the 470 km stretch of the Danube to connect two EU member countries, Bulgaria and Romania."
What was the mood in Bulgaria in 2004, asks Kavaliauskas, when Bulgaria was left out of the first intake of new member states? Did Bulgarian self-perception change dramatically in 2007? And what about today?
"At best, Europe is a tool for public opinion to exercise pressure over the political class: there is always a directive that has not been followed, a principle not observed. At worst, the EU becomes a laughing stock for the enlightened elites, who identify much more with the US. There one sees more clearly the centre of power and political will. The EU is a highly regulated space, whereas Bulgaria and eastern Europe is a jungle, engaging in social and fiscal dumping. The clash is inevitable and the US is usually taken as the better (more liberal) example."
The bonfire of the universities: Ioana Bot on the "entrepreneurial university" and other myths of Bologna. What in the US has been a tradition of collaboration between universities and prosperous private business, in Europe risks turning into an acceptance of the dictates of the economy.
The full table of contents of Kulturos barai 10/2010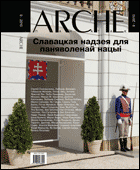 The current issue of Belarusian journal Arche is devoted entirely to Slovakia. Peter Zajac, literary scholar and member of the Slovak National Council, traces the genesis of the twentieth-century Slovak intellectual. Starting in the early twentieth century with Ján Lajciak, then moving on to Tido Jozef Gaspar, Michal Chorvát and the varieties of the communist intellectual, Zajac arrives at the Slovak intellectual after 1989.
The first type in this category quickly found their feet and put themselves at the service of the new system. The second type has two varieties. On the one hand there are those who reject all forms of politics and even, in the mould of Martin M. Simecka, are above politics entirely. Then there are those (among whom Zajac would probably count himself) who take on political responsibility. "In doing so, intellectuals in politics tread a fine line between visions and illusions. […] If he or she wishes to retain their human and intellectual integrity in a society that understands politics as a pure instrument of power, they will either suffer political defeat or leave politics entirely."
Poetry: Ján Gavura looks at Slovak poetry after 1989 and notes that, "It may be that the Velvet Revolution was so velvety that many people didn't even notice the political system change. For the arts, however, it was a fundamental turnaround." Gavura enthuses that "Contemporary Slovak poetry is exceedingly rich. It offers spirituality, spontaneity and playfulness as much as it does wisdom, humility and experience. Pluralism returned after forty years (1948-1989), and today we can already recognize its positive influence. I would even be so bold as to claim that today, every reader will be able to find in Slovak poetry one writer, or at least one collection, that they find moving, inspiring or instructive."
Also: Marta Soucková completes a detailed survey of contemporary Slovak prose and attempts a typology of pluralism.
The full table of contents of Arche 9/2010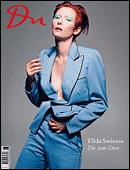 There is something elusive about Tilda Swinton that lies at the centre of her fascination, writes Du editor Stefan Kaiser in the latest issue of the Swiss journal. This quality, whatever it is, resides "in and between the opposites she unites rather than in the poles themselves: it is the contradiction between extreme artificiality and aura of authenticity, between aristocratic background and strong political commitment, between sharp business sense and radical avant-garde incarnation, between chameleon-like art of transformation and unmistakeability."
On the occasion of the actress's and performer's fiftieth birthday, Du dedicates an issue to the "anti-diva". Film critic Martina Knoben describes Swinton as the "queen of transformation" who invariably remains herself: "Like no other contemporary actress, she embodies the 'I' that in all respects is special and unique, which asserts itself through metamorphosis and adaptation. For this, she is loved and admired in an era of conformity and biographies forced to be flexible." The intensity and complexity of the characters she plays, Knoben suggests, originates in her conception of the acting profession: Tilda Swinton is "a protagonist who perceives herself as an author".
"As an artist, I was born with and through [Derek] Jarman," says Swinton in interview with Daniele Muscionico. "There was no script, absolutely nothing. There was nothing for him to correct and nothing for me to interpret. Derek just set up the camera and filmed whatever I did. And I decided independently, I decided right down to the text. […] Directors I work with want the same as me: to do things together and to share the load. No, I'm no interpreter."
Also: Thomas David talks to US author Peter Matthiessen, whose Great American Novel Shadow Country still has not been translated into German; and Kenyan photographer James Mollison shows images of children's rooms from all parts of the world – from the pink, overstuffed Japanese toy-room to the abandoned sofa of the Rio street kid.
The full table of contents of Du 11/2010