Spectacular pinkness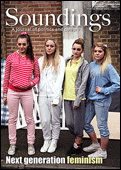 "To construct a narrative of progress, or a broad argument about 'gender equality', is to ignore the ways in which the economic, social and political changes of the past thirty years have been experienced very differently by women from different backgrounds." In Soundings (UK), Tess Lanning calls for a revival of the socialist feminist tradition, with its emphasis on structural causes of inequality over formalistic markers of success.
"Paid work is not a liberating or fulfilling experience for all women. UK workplaces have never been particularly democratic, and space for autonomy, creativity and influence in work has declined as corporate power has grown." Lanning proposes a "radical re-imagination of work" that "allows everybody to fulfil their potential, in home and community life as well as the workplace, and to lift the institutional and cultural barriers that prevent men from taking on more responsibility for domestic work".
"Recognizing the needs of children and the value of healthy family and community life need not be nostalgic, or constitute a call for a return to a rose-tinted past when men could count on a family wage and their wives dedicated themselves to bringing up children and building community spirit. Instead it means protecting social and personal life from both economic insecurity and long-hours cultures, while challenging the notion that family and community need be the female realm."
The girlfriend gaze: "In what is a relentlessly visual landscape, the feminine ideal is the girl, and the girled body is an asset," writes Alison Winch. "To look like a mature woman becomes a failure of self-marketing. For the spectacular pinkness of the girl is in no way a return to an essentialized femininity. There is a strong performative aspect to this striving to become the embodiment of the teenager. Girlhood is sold as a consumer choice and a form of self-definition that points up affluence and exclusivity. In an aggressive job market, the perfected girly self leverages a competitive edge."
The full table of contents of Soundings 52 (2012)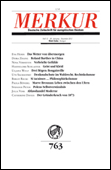 Acting on Beate Rößler's appeal, carried in its own pages earlier this year, Merkur (Germany) publishes an issue with more female contributors than in the eleven preceding issues of 2012 in total (and not a single male contributor). Literary scholar Eva Horn offers a concise history of how contemporary culture dealt with the prospect of catastrophic climate change at the turn of the twenty-first century.
The "fantasy of an Earth without humans" has taken on many forms of late. These range from novels such as Thomas Glavinic's Night Work (2006), in which the citizens of Vienna disappear overnight, to films such as I am Legend (2007), in which Will Smith plays the last surviving New Yorker. The parameters of fantasy and non-fiction then begin to overlap in Alan Weisman's bestseller The World without Us (2007), and geologist Jan Zalasiewicz's Die Erde nach Uns [The earth after us] (2009). In fact, Horn finds that what Jacques Derrida identified as the "apocalyptic tone" looming over the 1980s returns time and again. Glancing back to Romantic nineteenth-century apocalyptical literary visions adds another dimension to her analysis.
Survival: However, the issue is far from being all doom and gloom. Nina Verheyen surveys a unique collection of love letters that the daughter of a well-to-do manufacturer from an Austrian spa town exchanged with a psychiatrist working in the Berlin area at the beginning of the twentieth century. With reference to the "collage" of sources that these love letters provide, Verheyen examines the role that the correspondence played, both as "processer of [the couple's] feelings, and as generator of feeling". Survival is once again a keyword: the letters have been passed from one generation to another, surviving both world wars and the emigration of the woman during WWII via China to the United States.
State of a nation: Ethnologist Stefanie Peter explores the role that conceptions of aristocrat and peasant play in shaping Polish self-understanding. She discovers a complex relation between the "construction and deconstruction of the Polish theme, [such that] not only is it difficult to convey, there is a lack of opportunity to do so, as well as a lack of knowledge of the country, and it is therefore that one must always begin the story anew". Her reflections take into consideration a range of cultural phenomena, from the mode of greeting another by kissing their hand, through contemporary rap, to the performance in 30 cities throughout Poland in 2012 of the national epic Pan Tadeusz by the Romantic poet Adam Mickiewicz.
The full table of contents of Merkur 12/2012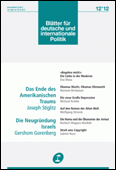 Creators, consumers, prosumers, publishers, hardware manufacturers and Internet service providers all have different interests when it comes to intellectual property. "At the end of the day, all participants in the debate on intellectual property know this," writes Sabine Nuss in Blätter. "That's why they're right always to talk only of a 'balance' of interests, and not about overcoming conflicting interests altogether."
But there is a second set of much more general fault lines: the ideological controversy between a predominantly capitalist society and alternative models that cannot be put into practice in isolation. Although a property approach to intellectual goods has major disadvantages, it remains the lesser of many evils.
Anyone interested in the free flow of information has no option but to strengthen the rights of the author. This means reducing the power imbalance between authors and publishers. First, powerful publishers must be forced to adopt higher and binding payment rates; second, the levy system needs to be expanded. For example, a way of legalizing downloads could be to introduce a blanket fee on broadband access or so-called 'culture flat-rate'."
Joseph Stiglitz: Since the crisis of 2008, if not before, poverty seems more like a sentence than an incentive for upward mobility, writes Joseph Stiglitz. In an excerpt from his new book The Price of Inequality, the Nobel Prize winner explains that while a certain amount of inequality is inherent to the concept of supply and demand, an increase in inequality does not result in overall economic gain.
"According to conventional economic wisdom, flexible labour markets contribute to economic strength. I argue the contrary: that stronger employment law corrects what otherwise is an economic power imbalance. Securities for employees increases their loyalty towards the company, their level of commitment and their motivation to make an investment in themselves and their workplace."
The full table of contents of Blätter für deutsche und internationale Politik 12 (2012)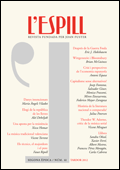 "It seems that the logic of democracy, which implies an acceptance of the people's will, has not been entirely assimilated by the dominant Hispanic mentality."
So says L'Espill's (Valencia) editorial, commenting on the reactions of the Spanish central government and conservative media to recent demands for a referendum on Catalan independence, leading up to the Catalan parliamentary elections on 25 November. Their response had been to try to discredit the campaign and declare it illegal; yet this can only hinder the development of new, more flexible solutions to Spain's administrative structure, such as federalism, argue the editors.
Spanish economic prospects: Economist Antoni Espasa summarizes the story of Spain's vast accumulation of bank and private debt in the credit boom prior to 2007. Neither individual banks, the Bank of Spain nor the European Central Bank exercised close supervision. "The predominant idea was that to put off gaining real knowledge of the state of the banking system was to win time for solving its problems". When the scale of private debt became clear and the state bailed out its banks, Spain entered a "pernicious loop", in which bank debt was transferred to the public deficit. This caused its credit rating to collapse, intensifying austerity and adding in turn to private debt. This loop has now been "cut" via recent Eurozone bank bailouts, though the "phantom" of an ongoing crisis still looms. Espasa foresees a lost decade and does not expect GDP to regain its 2007 level until at least 2017.
The crisis has also brought a notorious increase in inequality. Though unrest has so far been limited, Espasa perceives the task of establishing where the responsibility for the crisis lies as essential: "not only with reference to corrupt behaviour, but also bad management practices that have caused enormous social costs". Spain must also make rapid progress in terms of competitiveness, productivity and administrative reform. This can only be achieved, Espasa believes, on the basis of a "very solid political and social consensus", and a series of completely transparent social pacts. If, on the other hand, "all this is considered too complex and difficult in a society like Spain […] the alternative – to carry on without a pact – will be a much longer and harder road".
The full table of contents of L'Espill 41 (2012)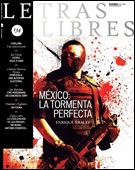 Ramón González Ferríz talks to young "non-nationalist Catalans" about the separatist drift of Catalan president Artur Mas and the elections held on 25 November (from which Mas emerged weakened). One political activist, Marc López Plana, calls the so-called independence wave a media creation: "There are no more independentistas than before". Still, a shift has occurred, he says:
"If voters nowadays opt for independence, it is for economic reasons rather than national sentiment. […] We must think in terms of interdependencies. Today it's impossible to talk about independence, since even Spain is no longer as independent as it was once."
Mexico: Every day is a Día de Muertos in Sinaloa, one of the regions of Mexico suffering from the omnipresence of the drugs trade, says historian and Letras Libres director Enrique Krauze. Ever since the Mexican War of Independence a century ago, the country has been confronted with a bloodbath, he writes: "Mexico can neither solve nor contain the problem of organized crime by centralizing absolute power in the hands of a dictator or an omnipotent president. Mexico must face the problem within the legal frame of democracy."
The twenty-first century inaugurated a democratic turn in the country, with the defeat of the Revolutionary Party bringing positive developments such as the separation of powers, free elections and freedom of expression. Yet there were also unforeseen, negative effects: "Without centralized political and police control […], the conditions of a Hobbesian war of all against all were established." Paramilitary groups like Los Zetas now occupy territories, adopting "tactics of terror" like mass executions and decapitations. It is now the turn of the new president Enrique Peña Nieto to try to stem "the global danger", Krauze warns.
The full table of contents of Letras Libres 11/2012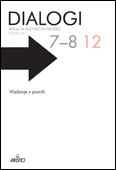 Revelations of political and financial deal-making beyond the public view make assumptions about democratization look like wishful thinking, writes Ciril Oberstar in Dialogi (Slovenia). Commenting on the recent LIBOR scandal, sparked by emails revealing share price-fixing among traders, Oberstar comments that "the crucial disclosure in all this is not so much the chummy way in which business was conducted within and among banks, but rather that the manipulation of one of the most important financial standards in the EU is not classified as a crime."
A recent leaked communiqué from the EU-ECB-IMF troika provides another glimpse behind power's public facade. Addressed to the Greek Ministry of Employment, it warned against backtracking on labour reforms while encouraging "social dialogue" and "consultation" with "social partners". "Everywhere else in Europe it was believed that social dialogue was a negotiation between equal partners," comments Oberstar. Yet "the troika considered it important to stress the merely consultative nature of the dialogue."
Film: Editor Matic Majcen interviews filmmaker Marko Nabersnik, whose new film Shanghai is the most expensive Slovenian film since independence. Nabersnik and Majcen discuss the interests of foreign distributors, the transnationalization of Slovenian film and the education of film directors in Slovenia.
The full table of contents of Dialogi 7-8 (2012)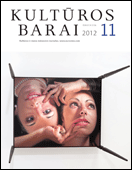 An interview with American ecological economist Joshua Farley in Kulturos barai (Lithuania) focuses on economic growth. Farley addresses why scholars of neoclassical economics remain resistant to the insights of ecological economics – which hold that growth must end and the economic paradigm undergo radical revision if life on Earth is to have any chance of continuing. As Farley observes:
"The single feature that most clearly distinguishes ecological economics from other schools of economic thought is the recognition that we now live on a 'full' planet – one on which rates of resource extraction, waste emissions and human population growth threaten the life support functions of planetary ecosystems. Increasingly, the scarcest resources are nature's goods and services, not human-made artefacts."
Originally trained as a biologist, Farley begins by explaining what compelled him to reject the principles of neoclassical economics: "First because I did not believe that people were perfectly selfish, second because I did not believe that the goal of ever greater consumption was appropriate, and third because I believed that the physiological needs of the poor should take precedence over the luxury consumption of the rich." However, Farley remains confident that "human nature is in fact well suited to developing the cooperative institutions required to confront the problems of a full planet".
Cultural policy: Art critic and curator Virginija Vitkiene, and cultural resources manager Egle Deltuvaite discuss the finer points of European cultural policy, with special reference to audience participation. They examine issues that go to the heart of what the cultural sector has to offer and why audiences choose to frequent certain events over others. All of which feeds into how cultural policy is framed – and, needless to add, it is in accordance with policy that funding decisions are made.
The full table of contents of Kulturos barai 11/2012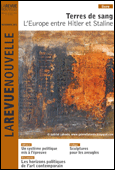 "However banal they may appear, in democracy elections always represent some sort of test." Introducing La Revue Nouvelle, editor Michel Molitor comments on the pressure on Belgium's federal government following the local elections last October. "The victory of the New Flemish Alliance in Antwerp and its presence in numerous communities will bring major changes for political life in the months and years to come". In terms of the political agenda, the interpretation of events by political representatives such as Socialist prime minister Elio Di Rupo and Bart de Wever, president of the secessionist NFA, are perhaps more important than the election results themselves, comments Molitor.
Homelessness: Despite a wide variety of public service and emergency organizations in Brussels, there is no coordinated service for the homeless. Martin Wagener discusses issues regarding territory and support for homeless immigrants and "the complex institutional context of urban policy in Brussels". "The worst scenario would be to create a service without joint action between political leaders, associations and people representing the homeless. That would risk causing a rupture between politics and civil society."
Cri-fi: "When viewed more closely, one realizes that this is not the crisis as we know it." Michel André discusses Luc Delisse's characters, narration and the economic crisis reinvented in his latest novel 2013 Année – terminus. "The director of the 'World Bank Monetary Fund' (WBMF) Claude Krieger-Cohen (CKC), brought to justice for accusations of sexual assault in a Miami hotel […] should not be confused with DSK".
Palestine: The Israeli government's territorial policy is "based on an 'Emmental principle': all territory is Israeli, expect for the holes". Paul-Émile Durant offers a vivid account of Palestinian cities in the West Bank and the effects of "illegal Israeli settlements", based on interviews made in February 2012.
The full table of contents of La Revue Nouvelle 11/2012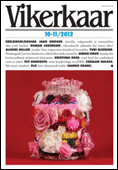 In Vikerkaar (Estonia), Sergei Kruk identifies conflicting notions of integration in Latvian public discourse: "Social and political scientists treat integration as social interaction; the role of the state is maintenance of a legal framework enabling the functioning of social structures. […] The second concept, which might be called 'culturological', refers to a peculiar branch of local cultural studies that borrows its notion of society from German historicism." This approach, he comments, is marked by a "lack of definitions and an abundance of semantically overloaded notions and axiomatic postulates".
The policy guidelines currently in force in Latvia, writes Kruk, combine Enlightenment universalism and counter-Enlightenment ethno-cultural particularism, with its underlying linguistic notions of a common language that automatically results in common values. Regardless of the official discourse and the media focus on traditional ethnic identity, Kruk finds that people tend in their daily life to choose the language that best enables them to communicate. It would seem, he concludes, that a gap exists between official policy and everyday practice.
Also: Jaan Undusk discusses Lutheran, Enlightenment and Romantic language ideologies in Estonian literary culture; and Kristiina Ross studies the evolution of the modern Estonian language, largely through Bible translations, and the current state of Estonian academic discourse in the humanities.
The full table of contents of Vikerkaar 10-11/2012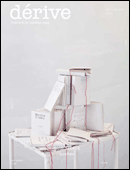 On the occasion of its third "Urbanize!" festival, entitled "Stadt selber machen" (DIY City), Austrian journal dérive publishes an issue focussing on the "right to the city" movement. Editor Christoph Laimer confirms that the movement "now provides inspiration and a focus point for numerous initiatives that are trying to deal with the fact that in their towns and cities it is to a great extent, if not exclusively, profit forecasts that determine the course of urban development." The movement's diversity is nowhere more obvious than in Hamburg. Here, Nicole Vrenegor presents a variety of contested urban projects located along bus route number three. Everywhere residents have organized themselves with a view to influencing the city's plans; their specific aims and motivations often vary, but they all identify with the right to the city initiative:
"One of the most common criticisms of Right to the City is that 'all it ever does is oppose'. It's true, every participant starts by saying no to something – no, we don't want to be governed this way; no, we don't want another city-branding project that enriches a handful while the losses are spread across the board. Yet this collective 'No' shouldn't be understood as a 'No' to change in general. Relations and networks in the city are constantly altering and differences and contrasts are what make up the very stuff of urban life. By contrast, it's the neoliberal city that wants stasis; that plans to steamroll all these differences with its dreams of value appreciation. […] 'All of a sudden the city stopped moving. It became property.'"
Movement for justice: Activist Juan Haro talks about the "Movement for Justice in El Barrio", a self-organized initiative started mainly by immigrants in East Harlem, New York City. "Decisions are made by the community itself", says Haro when explaining how the main issues to be tackled next were resolved via ballot:
"The consulta del barrio process […] took about six months in order to identify these issues […]. People in New York, other groups, where like, 'Hey, you guys have members, why don't you just figure it out in meetings?' But our members thought this was not the way we should practice. […] So here is an organization made up of neighbours asking their fellow neighbours, 'Tell us what your problems are because we want to tackle them. We want to tackle the most pressing problems. But in order for us to determine that, your voice counts!' This is the way we believe democracy should be practiced."
The full table of contents of dérive 49 (2012)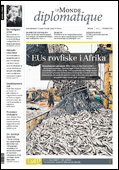 On 10 December, the EU will formally receive the Nobel Peace Prize at a ceremony at the Oslo City Hall. Remi Nilsen, editor of the Norwegian edition of Le Monde diplomatique, calls the decision to award a political entity in which "a permanent state of emergency" reigns "incomprehensible".
What does Torbjørn Jagland, chairman of the Norwegian Nobel Committee, really mean when he says that the prize should be a reminder of what has been achieved, and that this can be lost again? "Is it an attack on those who protest against a flawed economic regime that threatens to undermine the entire EU project?" In any case, argues Nilsen, "it's hard to see that the EU will ever reform itself and become a more democratic and socially responsible project unless it is forced to do so by precisely these protest movements."
More EU critique: Cédric Duran and Razmig Keucheyan are just as baffled. They point to what they perceive as a development towards authoritarianism on the part of the EU and criticize those who, they think, misrepresent what is at stake: "The choice we must make is not between further European integration or a return to the national level, as the dominant media and euro-liberal commentators would have us believe. The choice is between two opposing alternatives: Caesarism or democracy."
Olof Palme on the big screen: Truls Lie is thrilled by a new documentary about former Swedish prime minister Olof Palme (1927-1986). And he is not alone: already celebrated by the press in both Sweden and Denmark, it was seen by more than 200,000 Swedes during the first two weeks. Why, asks Lie, has the reception been so overwhelmingly positive? His guess is because there are no men and women of principles in politics any more: no visionaries.
When Palme stood up against the US war in Vietnam, the Soviet invasion of Czechoslovakia, or apartheid in South Africa, he took considerable political risks. But though Sweden was a small country, Palme talked from a position of strength founded on decades of economic growth. There was hardly any unemployment and Sweden was a model for the rest of the world. Just like Norway today, writes Lie, and urges Norwegian politicians to make better use of their privileged position.
The full table of contents of Le Monde diplomatique 11/2012