"Reality check"
Reality-check
Cogito (Greece) searches for the role of philosophy in public life; Merkur says goodbye to Clausewitz; Kulturos barai bemoans Europe's most apathetic electorate; Mittelweg 36 grapples with definitions of genocide; Le Monde diplomatique (Oslo) gives conspiracy theorists a reality check; Host talks to Leo Pavlát; and Revolver Revue reads young German poetry.
Cogito (Greece) 5 (2006)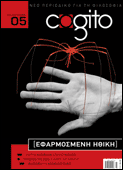 In the US, says Martha Nussbaum in an interview in the Greek journal Cogito, philosophy has a hard time playing any major role in public life "because the media are so sensationalist and anti-intellectual". In Europe things work differently. In the Netherlands, for instance, she experienced a lively public culture of philosophy. This is even cultivated through TV programmes. And it is not just political philosophy that is talked about, but philosophy of mind and of emotions.
Together with economist Amartya Sen, Martha Nussbaum's ideas have brought about a change in the way social problems are discussed by governmental organizations. Certain countries now compare the "well-being" of their population with that of other countries with reference to Sen and Nussbaum's "capability approach". However, beyond the comparative, she argues that all citizens have certain fundamental entitlements which the state should provide for. "The state is the one that bears the final responsibility. Its job is to promote justice and well-being for humans."
Applied ethics: In a focus on applied ethics, Pavlos K. Sourlas and Stavroula Tsinorema discuss the question of bioethics; Constantinos Papageorgiou writes about "Cloning – from myth to reason"; and Eleni M. Kalokairinou asks whether prenatal diagnoses are a form of eugenics. Environmental ethics, reflections on anti-terrorist warfare, the liberal regulation of electronic media, and business ethics in the modern world are further topics covered in the focus.
Also: Kyriaki Fetfatzi sees Uma Thurman in Kill Bill and Angelina Jolie in Tomb Raider as the "female eunuchs of Hollywood". "The physical strength of these heroines, their speed, and their capability as fighters are always accompanied by beauty," she writes. However, do they question constructed female identity? And do they manage to escape the dominating male gaze?
The full table of contents of Cogito (Greece) 5 (2006).

Merkur 1/2007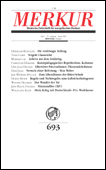 "Forget Clausewitz", says former State Department analyst Tony Corn in Merkur's January issue. In his article, a longer version of which was published in a "Web special" of Policy Review, he emphatically argues that the global war on terrorism can no longer be dealt with in terms of Clausewitz's famous observation that "war is merely a continuation of politics by other means", made more than 175 years ago.
"At the tactical and operational levels at least", writes Corn, "it is anthropology, not Clausewitzology, that will shed light on the grammar and logic of tribal warfare and provide the conceptual weapons necessary to return fire. […] It is only through anthropological 'distanciation' that the US military will become aware of its own cultural quirks – including a monomaniacal obsession with Clausewitz – and adapt its military culture to the new enemy."
"Good idea, badly implemented?" Mariam Lau, chief correspondent of the German daily Die Welt, writes about lessons learned from the Iraq war. The central mistake in this "war of ideas", she says, was the belief that just as in eastern Europe a relieved civil society would pop up as soon as the regime had been done away with. However, the analogy between eastern Europe and Iraq is not quite as straightforward: eastern Europe had long been involved in an unhappy love affair with western European democracies, and the Soviet Union had to prevent the consummation of this love. In Iraq, on the other hand, Saddam Hussein had been keeping the lid on people far more fanatically anti-Western than he was. The idea that the good society will arise as soon as the bad state has been disposed of doesn't work in the Middle East.
Also of note: Hermann Rudolph, editor of the Berlin daily Tagesspiegel, writes on the "suppressed division": "For four decades, Germans lived in a state that one couldn't have imagined before – nor, as it turns out, afterwards."
The full table of contents of Merkur 1/2007.

Kulturos barai 12/2006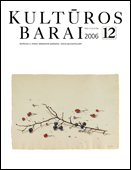 Where did Lithuanian society go? asks Rasa Balockaite in Kulturos barai. Once able to rock the Soviet Union, Lithuanians are now Europe's most politically apathetic nation. They prefer to mock political power rather than to vote, and when they do, it's for strange, comic personalities. Balockaite draws on a number of sociologists in an attempt to answer this unsettling question.
On an equally frustrated note, editor Almantas Samalavicius responds to a recent paper on the humanities and social sciences in Lithuania drafted by a committee of scholars chaired by the president. Samalavicius notes that the document is full of abstract appeals urging for the humanities to be limited to Lithuania. Ideologically based bias against the international context recalls the ritual of the rain dance performed in primitive societies, writes Samalavicius.
Just such an international context is provided by a translation of architectural historian Michelle Provoost's article "New towns on the Cold War frontier". US-sponsored modernist architecture in the Middle East and Africa was used as a weapon in the ideological armoury of Cold War policy. Today, writes Provoost, only one thing speaks in its favour: it was pursuing an ideal – precisely what US policy in contemporary Iraq lacks.
Also to look out for: the transcript of a discussion between the curators of "Gaida 06", the international festival of contemporary music; Vytautas Landsbergis remembers Jerzy Giedroyc, editor of influential Polish quarterly Kultura; and Grazina Mareckaite reconsiders the history of Lithuanian theatre with the help of a new journal, Lithuanian Stage.
The full table of contents of Kulturos barai 12/2006.

Mittelweg 36 6/2006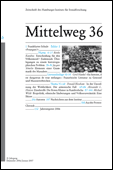 When the French national assembly decided to make it illegal to deny the Armenian genocide, many immediately pointed to French crimes in Algeria. The controversy demonstrated that few other terms are as loaded as "genocide". Social scientists researching genocide grapple with extant definitions of the term as much as with the phenomenon itself. Running through an issue of Mittelweg 36 devoted to genocide is dissatisfaction with the requirement, first stipulated by the UN in 1948, that intention on the part of the perpetrators be present in order for mass murder to become genocide.
The UN definition "contains assumptions that sometimes block insights into the empirically highly varied substance of limitless violence", asserts Birthe Kundrus. "Contemporary research emphasizes violence's interactive, processual, contingent character […] The events in the Abu-Ghraib prison, indispensable to which are photographing and filming as heroic self-mirroring […] make clear the multidimensionality of practices of violence."
Jacques Sémelin's "Elements of a grammar of genocide" proposes an understanding of genocide as a series of existential-psychological phenomena. He refers to his analysis as a model "at whose centre lies the imaginary, which forms and reforms the social body according to the measurements of its fears, resentments, and utopias, and in doing so eliminates the enemy. […] A model that starts out from a central impulse but is nevertheless not determined and that allows for departures or unplanned developments. […] Undoubtedly, social scientists can trace the outlines of this black hole more precisely. […] However, there will always remain an indissoluble moment of the unknown: a realm of impenetrable darkness."
Plus: Michael Wildt on biopolitics, ethnic cleansing, and the sovereignty of the Volk; Donald Bloxham on the Armenian genocide; Gerd Hankel on French literature on genocide and mass crime; and Alexander L. Hinton on the Khmer Rouge.
The full table of contents of Mittelweg 36 6/2006.

Le Monde diplomatique (Oslo) 1/2007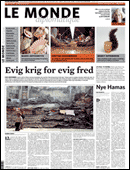 In 2006, the Norwegian edition of Le Monde diplomatique published a series of controversial articles on the conspiracy theories flourishing after 9/11 (see the Eurozine Review from 8 August 2006). None of these articles advocated any specific theory, but the general tone was sympathetic. Against this background, Alexander Cockburn's broadside on leftist conspiracy theories in the latest issue is especially interesting.
Cockburn, editor of the political newsletter CounterPunch, is merciless in his critique of those struck by the "conspiracy virus" and thus immune to any reality check:
These days a dwindling number of leftists learn their political economy from Marx. Into the theoretical and strategic void has crept a diffuse, peripatetic conspiracist view of the world that tends to locate ruling class devilry not in the crises of capital accumulation, the falling rate of profit, or inter-imperial competition, but in […] supposedly 'rogue' agencies, with the CIA still at the head of the list. The 9/11 'conspiracy' is the summa of all this foolishness.
What's the purpose of all this? asks Cockburn. "To prove that Bush and Cheney are capable of almost anything? Even though they haven't shown the slightest degree of competence in anything?" In fact, the most dangerous deception of all might be that "the Bush/Cheney gang represents a new breed of evil […] for it fosters the fantasy that a new administration, a Hilary Clinton or Al Gore administration, would pursue more humane policies."
Soft cinema: In the "Critique" section, Trond Lundemo writes about Russian media theorist and digital filmmaker Lev Manovich. In his theoretical writings, Manovich has called the "vision machines" – film and video/TV – a parenthesis in the history of art. Digital media, on the other hand, bring the artist's fantasy and intention back into the artistic act. But, writes Lundemo, in Manovich's own films, the references to fixed points in film history, such as Chris Marker's La jetée or Godard's Alphaville, are absolutely central.
Philosophy: The Oslo-based paper also publishes a Norwegian translation of Cogito's interview with Martha Nussbaum (see above).
The full table of contents of Le Monde diplomatique (Oslo) 1/2007.

Host 10/2006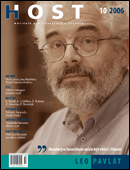 In the latest edition of Czech literary journal Host, Leo Pavlát talks about Israel, anti-Semitism, the "Jewish character", and his vision of America. Pavlát is a former Czech ambassador to Israel and since 1994 director of the Jewish Museum in Prague. Pavlát tries to clear up what he calls an over-simplified view of the US:
We [the Czech Republic] are a small country that struggled with Soviet power for a long time; now the role is occupied by Americans in many people's eyes. Quite undeservedly, because while America is a superpower, it is a democratic power too, which deserves a lot of credit for making Europe free: they crucially helped to defeat the Nazis as well as to bring down the communist regime. However, according to a simplified, primitive vision held by many, they are but another overlord that draws us into his games, including the war on terror.
Pavlát is less blatantly pro-American later in his interview, claiming that "I do not mind another view, another attitude as long as it does not lay claim to me, as long as I am not assaulted because I think differently. […] It doesn't mean much if someone claims to be tolerant and open to everything. Both a believer and a liberal can be a malignant fanatic."
Also to look out for: Eliska Jurikova on Jan Balaban's prose, which "captures my attention, but doesn't enchant me"; Pavel Ondracka on poet Jiri Kubena's book Memory of a Poet, written to commemorate his seventieth birthday; and translator Marianna Taymanova on her experiences translating Milan Kundera's Testaments Betrayed into Russian.
The full table of contents of Host 10/2006.

Revolver Revue 65 (2006)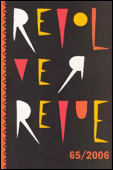 Czech journal Revolver Revue interviews Uljana Wolf, the young winner of the 2006 Peter Huchel Prize (former winners include Ernst Jandl, Sarah Kirsch, and Oskar Pastior).
In interview, Wolf explains the final poem in her collection wald herr schaft, "postscript to the kreisau dogs": "As far as Kreisau dogs are concerned, there was both the village where I spent the winter and the dogs – there was not much more to it. I toyed with the idea of writing a poem about the dogs and wondered whether they would bite me. When one of them finally did bite me, the game turned serious." The interview is accompanied by a bilingual (Czech-German) version of wald herr schaft, where "postscript to the kreisau dogs" appears:
who says that poems are like these dogs
surrounded by their own echo at the village core

their waiting and pawing at half moon
their stubborn marking of language terrains –

[…]

together as if a leg were but a leaf

and the order of things a trade:

in one of my boots still the imprint
of your teeth, a gnarly four nips

that's your reward for a pursuant verse
thus the world follows poetry at heel

(trans. Brian Currid)
Holocaust survival: In "To survive the Holocaust and live", Judita Hruzova presents not a documentary of the Holocaust, although all facts are exact and events are real, but instead her perception of those events, while trying to identify the factors which played a role in her survival.
The full table of contents of Revolver Revue 65 (2006).

This is just a selection of the more than 60 Eurozine partners published in 33 countries. For current tables of contents, self-descriptions, and subscription and contact details of all Eurozine partners, please see the partner section.