"Presidents, apostles, and poets"
Mittelweg 36 re-examines Nixon's Vietnam policy; Akadeemia translates the Austrian greats; Glänta reads the philosophers' apostle; Kulturos barai asks unpleasant questions about the destruction of heritage; Revista Crítica analyzes social movements; Helicon opens the gate to poetry; Osteuropa traces 80 years of eastern European studies in Germany.
Mittelweg 36 6/2005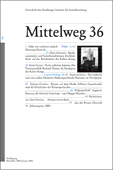 Among the articles on Cold War military history in the latest issue of Mittelweg 36 is a discussion by historian and political scientist Bernd Greiner of Richard Nixon's refusal to withdraw troops from Vietnam. "The history of American wartime leaders," Greiner writes, "is the history of men who talked themselves and those around them into believing, contrary to all evidence, that they had a solution at hand."
Greiner argues that power's most important resource is credibility, which is based on the demonstration of resolve. In Cold War foreign policy, credibility meant showing the Communist enemy that the United States would not hesitate to use military force; in domestic policy, it meant not losing face before the American public. Nixon's obsession with victory in Vietnam was also personal, says Greiner: from a rural Californian background, Nixon was waging "a personal Cold War" against the East Coast elites. Greiner writes that had he been able, Nixon would have prolonged the Vietnam conflict until the end of his second presidential term in 1977. In the event, Watergate intervened to hasten the US withdrawal.
Elsewhere in the issue: "Bodies are not only text and category; nor are they only sensitivity, subjectivity, and starting-point for institutional classification. They are simultaneously something else, namely goods […] Quite literally, they are on the market." Thus begins historian Valentin Groebner's examination of the commodification of the body in the fifteenth and sixteenth centuries, including slave trading and mercenaries. He suggests this as a framework for a history of the body in the contemporary context of private military enterprise and organ trading.
Wolfang Knöbl, sociologist at the University of Erfurt, writes on the Polish-British octogenarian sociologist Zygmunt Bauman. Knöbl places the trajectory of Bauman's thought alongside the rise of conservatism in Britain in the late 1970s. It was the defeat of the Labour party, Knöbl argues, that led Bauman and others to abandon a class-analysis of society and turn to postmodernism. "A number of sociologists, Bauman included, were drawn onto a path that was all too slippery. Bauman is distinguished in that he seldom went astray. Even critics must concede that he has produced groundbreaking work. Precisely because Bauman has always had the ability to surprise in a positive way, we await with excitement the books that he will write in his ninetieth year."
Also to look out for: Raymond Geuss on "Order-forming fantasies in 'Don Quixote'"; photo-portraits of postwar German generals, first printed in Stern magazine in 1970; and Wolfgang Kraushaar on one ban-the-bomb demonstrator who took his protest to fatal extremes.
The full table of contents of Mittelweg 36 6/2005.

Akadeemia 1/2006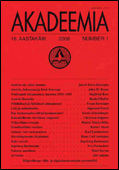 The newest journal to join the Eurozine network is the Estonian journal of academic culture Akadeemia. Following the idea of "universitas", Akadeemia attempts to embrace as many academic disciplines as possible: philosophy, the humanities, the social and natural sciences.
The focus of the latest issue is Austria, but the range of authors and topics is extremely diverse: from Jakub Forst-Battaglia, the Austrian ambassador to Estonia, with a look at Austria's past and its future prospects in relation to public and cultural events celebrated in 2005 and 2006, to "Unfriendly observations" by Robert Musil. From Erwin Schrödinger on subjectivity in the exact sciences to historian Siegfried Beer on the Soviet occupation of Austria after World War II.
The issue continues with translations of classical works by famous Austrians such as philosopher Franz Brentano's argument for why psychical phenomena are more "truthful" than physical ones; Sigmund Freud on mourning and melancholy; mathematician and physicist Christian Doppler on the effects movement has on the intensity of sound and light waves; and chemist Karl Landsteiner's Nobel lecture given in 1930 upon receiving the prize for his discovery of the blood groups.
Also to look out for: two essays by Ingeborg Bachmann on cathartic art and the interrelations between poetry and music, followed by an essay on this "Unavoidable poet and hesitant hoper"; and professor of German philology Mari Tarvas looks at how women and femininity are depicted in the works of Ilse Aichinger, Marlen Haushofer, and Marlene Streeruwitz.
This outstanding compilation is complemented by essays on Austrian politics and philosophy, making it a timely issue as Austria begins its term of EU presidency.
The full table of contents of Akadeemia 1/2006.

Glänta 4/2005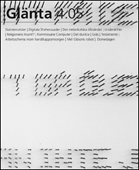 The return of religion is noticeable not only in public life and politics but also in contemporary philosophy. In Glänta, Ola Sigurdson, Gothenburg-based theologian and author of an introduction to postmodern theology, looks at what lies behind the renewed interest in Paul the Apostle from such decidedly secular philosophers as Alain Badiou, Giorgio Agamben, and Slavoj Zizek. For Badiou, St Paul is the founder of a universalism highly relevant in the contemporary debate on globalization; Agamben sees in him the formulation of "the messianic subject", which can be placed against today's totalizing biopolitics; and for Zizek, St Paul offers an alternative to post-secular and post-political trends.
The fact that a religious classic like St Paul can be read as a general classic indicates that the border between the religious and philosophical is becoming less important. "The religious content in a text no longer has to be defined in contrast to the secular, as in modernist thought", writes Sigurdson, whose article is accompanied by further comments on the return of religion by some of Sweden's most interesting theologians and literary scholars, including Anders Olsson, Carin Franzén, and Mattias Martinson.
The issue also features translations into Swedish of texts previously published in Eurozine: in "Melancholy and the 'other'", Turkish architect Esra Akcan describes the non-Western experience of melancholy and how this feeling is deeply dependent on notions of East and West; and in "Digital Scheherazades", Moroccan author Fatima Mernissi says that the tension between East and West is to be found in communication strategies rather than in headscarves and terrorism. As the digital revolution hits the Arab world, says Mernissi, the traditional border between the public space of men and the private space of women can no longer be upheld. The result is the return of an updated version of the female storyteller, an online Scheherazade.
Finally, we have to mention the cover, which shows graphic designer Pascal Prosek's installation at the poetry festival in Bergen last October: the letters of a poem by Swedish author Ulf Karl Olov Nilsson meticulously copied with the help of a hammer and 8500 nails. A pointed statement in the ongoing Swedish literary debate about language as material and poetry as matter.
The full table of contents of Glänta 4/2005.

Kulturos barai 12/2005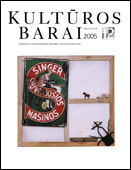 The articles in the most recent issue of Lithuanian journal Kulturos barai take a clearly post-Soviet stance. Valdamaras Klumbys writes on "The tradition of living without tradition". "The devastation of heritage has not just started. In the Soviet era, estates were destroyed or devastated. This was the action of natives, not foreigners […] Soviet ideology may have insisted that we destroy 'the old world completely'. But why was this met with so little resistance?" This is one of the many "unpleasant questions" Klumbys attempts answer.
"What are the prospects of Lithuanian-Russian relations?" asks Andrius Martinkus. Russia's failure to apologize to Lithuania for the Soviet occupation leaves the author with little hope for improved relations. Russia's disinterest in reconciliation, he says, only feeds speculations in Lithuania that were it not for Nato, Russia would not recognize the country's independence.
Rimantas Jokimaitas discusses recent Lithuanian history textbook writing. After independence, textbook authors were forced to begin from scratch. Now there is a broad diversity of historical positions: and that's a good thing, says Jokimaitas. Critics who say that all textbooks should follow Victor Suvorov (the Soviet intelligence agent who turned dissident, informer, and author) echo those who a few years ago said that all textbooks should follow Marx and Engels.
Moving into art and literature: Laima Kreivyte argues for the enduring importance of 1970s Lithuanian painter Marija Terese Rozanskaite. "She never looked for exterior beauty; on the contrary, her colours were drab and muted, sometimes dissonant and wailing." And part II of Tamas Berkes' article on "The grotesque in central and eastern European literature of the 1970s". Comparing plays by Mrozek, Rózewicz, Havel, and Orkeny with their Western counterparts Beckett, Ionesco, and Genet, Berkes argues that the eastern European playwrights remained closer to real life.
Also in this issue: Skaidra Trilupaityte on cultural diversity; Italian linguist Pietro U. Dini on his correspondence with Lithuanian priest Vincas Mincevicius during the Soviet occupation of Lithuania; and Algirdas Grigaravicius on disenchantment in a Lithuanian literary classic.
The full table of contents of Kulturos barai 12/2005.

Revísta Critica de Ciências Sociais 72 (2005)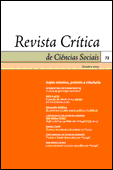 The latest issue of Portuguese journal Revista Crítica de Ciências Sociais draws together essays on "Collective action, protest, and citizenship". Boaventura de Sousa Santos, co-author of the recent "Law and Globalization from Below" (CUP 2005), writes a "Critique of neo-liberal governance". De Sousa Santos explores commonalities between the social governance paradigm and neo-liberalism, arguing that some aspects of governance can be detected in the anti-globalization movement.
Benjamín Tejerina, professor of sociology at the University of País Vasco and author of articles on the sociology of identity and social movements, writes on "The paths of Utopia". Tejerina brings private space into a discussion traditionally concerned with the occupation of public space. He proposes a view of citizenship as private social networks that, when politically mobilized, become visible in public spaces.
Turning to Portugal, José Manuel de Oliveira Mendes and Ana Maria Seixas, sociologists at the University of Coimbra, write on "Collective action and protest in Portugal: Social movements in the mirror of the media (1992-2002)". The authors argue that localism is a radical force in Portuguese protest. The proximity of citizens to power structures and the political mobilization of secondary school pupils can produce social mobility and democratize political life in Portugal.
Daniel Cefai, sociology professor at the University of Nanterre, writes on "The new protest movements in France. The articulation of new public arenas". Cefai applauds the rise of the "NPMs" in France since the 1980s to the point where they have become for the public authorities either essential partners or unavoidable opponents. However, warns Cefai, these movements should beware of slipping into institutionalized party politics.
Also in this issue: Dick Flacks on the "Relevance of social movement studies". In order to regain social relevance, Flacks writes, the field must re-establish dialogue with movement activists.
The full table of contents of Revísta Critica de Ciências Sociais 72 (2005).

Helicon 69 (2005)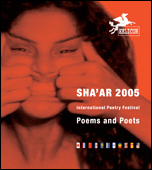 For the past five years, the Sha'ar festival has been a major poetry event in Israel. Sha'ar means "poem" in Arabic and "gate" in Hebrew; the festival's main aim is to open a gate to "thought, beauty, and human dialogue". The Sha'ar festival is unique in its ability to promote three different kinds of dialogue: between Arab and Hebrew cultures; between artists, languages, and cultures; and between poetry and other fields of art.
The festival this year played host to poets writing in Hebrew and Arabic as well as several international guests, including Fiona Sampson, Yasuhiro Yotsumoto, Li Qing, Richard Jackson, Ronni Someck, Nurit Zarhi, Salman Masalha, and Taha Mohannad Ali. The latest issue of "Helicon" reviews this year's festival, featuring poems in their original language along with Hebrew and English translations.
The full table of contents of Helicon 69 (2005).

Osteuropa 12/2005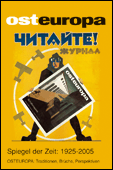 Eighty years of Osteuropa provide an occasion for the editors to look into the history of eastern European studies in Germany and the interwoven story of the journal – both well connected with German history and that of eastern and central Europe. In the mid-1920s, when the first issue of Osteuropa appeared in Berlin, the city was the acknowledged centre for Russian and eastern European studies worldwide. At a time when there was little press coverage of international relations and foreign politics, the timeliness, topicality, and the depth of the articles in Osteuropa were unique.
After 1933, as the historical studies in Osteuropa show, the journal's combination of politics and science, of insight and interest, had precarious consequences. Eastern Europe-expert Karl Schlögel traces the "futility of a professor's life": Otto Hoetzsch, politician, academic, and founder of Osteuropa was denounced by the National Socialists as a "Salon Bolshevik" and forced to resign; the academic research on Russia and eastern Europe was destroyed.
Dietrich Beyrau, historian in Tübingen, has been able to look into files of the German Foreign Office that have lain in the Moscow Special Archives since 1945. The documents shed light on the work of the German Association for the Study of Eastern Europe and the journal Osteuropa between 1933 and 1939. The editor-in-chief at the time, Werner Markert, who later became well known for his engagement in the development of eastern European studies in West Germany, acquiesced to National Socialism. The real tragedy, however, struck others: several of Otto Hoetzsch's students who were engaged in Osteuropa fell victim to National Socialist racial politics and were murdered in concentration camps.
In the 1950s, eastern European studies was strongly promoted in West Germany, benefiting from the start of the Cold War, as Thekla Kleindienst shows in her article "Endurance Test". German détente policy of the 1960s and 1970s influenced eastern European studies so profoundly that the field's entire structure of institutions and content was shaken to the core.
Also to look out for: Katharina Raabe, editor of eastern European literature at Suhrkamp Verlag, on the difficulties connected to eastern Europe, not only regarding the book market; and Bodo von Greiff, editor of the social science journal Leviathan, on overcoming the Weberian divide between science and politics and on the challenges of making journals.
The full table of contents of Osteuropa 12/2005.
This is just a selection of the more than 50 Eurozine partners published in 32 countries. For current tables of contents, self-descriptions, and subscription and contact details of all Eurozine partners, please see the partner section.