Perfectly lacquered lives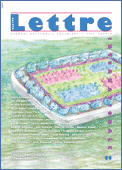 In Magyar Lettre, Yudit Kiss relates biographical encounters that have caused her to examine her prejudices and those of others, be they racist, nationalist, communist or simply childish. Having her papers stolen in Havana, meeting an Afghan woman in detention in Moscow, hitching a lift from a Turkish man in Bulgaria, or being sworn at as a Jew by children in Poland: her experiences bring the past alive and remind her of the diversity of the past and the beauty of the "other".
"Every country has bright and dark chapters in its history. One can consciously choose which ones to identify with and which ones to refuse. You may refuse the heritage of Talat Pasha and identify with the military commander of Smyrna, who refused to deport the inhabitants of Armenian origin from his town. Or the other way around. The heroes of my national history are certainly those who understood that fighting for the freedom of a nation – or a particular social group – must mean freedom for all, not simply those who used the notions of nation and freedom to exclude others."
Fiction: The narrator of Gabor Nemeth's story "senigallia", while holidaying on Italy's east coast, strikes up an acquaintance with a middle-class, middle-aged couple and their young and intensely guarded daughter. Looking down from his balcony at the market below, he notices the mother and daughter. It is the tourist season and the market is full of African traders. Suddenly the daughter gets a nosebleed and the mother screams; the narrator starts filming, expecting the Caribinieri. But the young African traders expertly stem the bleeding with a practiced technique, and the scene turns out differently than expected:
The man eventually quietly began to explain like someone who was facing up to the fact that maybe outside their own perfectly lacquered lives there was another reality which, on this evidence, was a good deal mightier than their own, so much mightier that for all practical purposes it left theirs standing, his wife nodded in agreement, and they waited for their child¹s return with the same rapturous smile as i had seen when first meeting them…
Also: Subjected to neoliberal forces of disintegration, historical identities re-pattern along new lines of conflict. Ivaylo Ditchev and Tomas Kavaliauskas share Baltic-Balkan perspectives on the present.
The full table of contents of Magyar Lettre Internationale 80 (2011)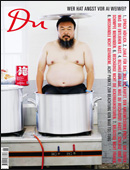 Swiss journal Du's concept for its June issue had to be drastically revised after the arrest of Ai Weiwei in early April. The plan to work with the artist to include other dissidents into an issue on "art and power" was dropped and Ai himself became the core focus of the issue, entitled "Who's afraid of Ai Weiwei?"
German expert on China Frank Sieren points to the conflicting powers of reformers and hardliners in the Chinese government currently shaping the public sphere:
[Ai] is part of the international conceptual art scene, even a part of global pop culture. […] At the same time no public figure in China had greater critical freedom than he. He was able to get away with a lot because reformers in the leadership protected him. That is ultimately something to be grateful to the liberal cadres for. Ai was a living promise that independent thinkers in China would not be silenced regardless the circumstances.
Why are the hardliners prevailing right now? It is less due to the fear of a "jasmine revolution", Sieren suggests, but on the contrary, "a new nationalistic self-confidence among part of the elite prior to the imminent power changeover next year. Following the motto: we aren't going to let ourselves be led by the nose by artists and intellectuals. We won't let the West tell us any longer what's right and wrong."
A big beast: Sinologist Tilman Spengler – who was recently denied a visa because of his laudation for Liu Xiaobo – is worried:
Among the countless Chinese sayings […] you can always find a small animal slaughtered in order to remind a bigger animal of its mortality. What is worrying is that Ai, sticking with the metaphor, is a pretty big animal. However this regime faces no real threat from artists and intellectuals, the aversion in China to all things political is still to widespread for that."
Ai Weiwei: "Art and politics are fragments of the same thing – they're about an understanding of our surroundings. Sometimes my work is political, sometimes it's architectural, sometimes it's artistic. I don't think I'm a dissident artist; I see them as a dissident government." (from New Statesman, October 2010)
The full table of contents of Du 6/2011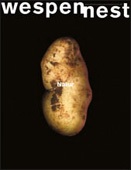 Wespennest publishes an issue on "nature" and illustrates that nature cannot be analysed without a discussion of its cultivation – and destruction – by humans.
In a fierce polemic, Sergej Kara-Mursa holds the current elites responsible for the 2010 draughts in Russia: had they not destroyed the huge system of protective forests and irrigation plants constructed during Soviet USSR, and abandoned the production and use of artificial fertilizers, it would simply not have happened. "A position", Erich Klein points out in his editorial, "that follows a pattern of argument employed worldwide."
40 000 wales p.a.: In an excerpt from Ilija Trojanow's new novel EisTau (Icethaw), due to be published in August, glaciologist Zeno despairs of the death of "his" glacier and the destructiveness of man, for example in Antarctica:
First the fur seals were skinned until the seals ran out, then the elephant seals were slain for their oil and the ovens heated with penguins because there was no fuel, and when the elephant seals ran out the penguins were cooked for their oil. Everything was made use of – enterprising humans can always demonstrate to nature their wasteful and pointless treatment of their own resources.
The Russian expanses: Felix Philipp Ingold describes a drive through the vast landscapes of Russia and how this helped him understand the way philosophical and political thinking in Russia is shaped by "the mythically embellished Russian expanses". "The enormity of the Russian expanses has not contributed to the self-discipline and initiative of the Russian people," he writes, quoting the philosopher Nikolai Berdyaev. "Rather, they have dissipated in these expanses."
Also: "Nature poetry" by Michail Eisenberg, Oswald Egger and Franz Josef Czernin; an essay "On freedom" by György Konrád; and a portrait of writer and radio journalist Igor Pomerantsev.
The full table of contents of Wespennest 160 (2011)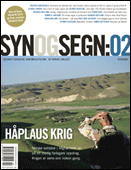 "There's a big difference between how the war is reported in Norway an how it's experienced in Afghanistan," writes Bente Riise in Syn og Segn, Norway's oldest cultural journal in Nynorsk, the second official language in Norway. Quoting journalist Anders Sømme Hammer, who was recently awarded the prestigious Fritt Ord Prize for his reportage from Afghanistan, Riise notes that this results in a domestic debate about the war that has little or nothing to do with reality.
Governmental and military representatives don't really have a choice, writes Riise: they have to be optimistic, "otherwise people might get the impression that Norwegian soldiers are dying in a meaningless war". The internal embassy reports paint a darker, much more nuanced picture, but these are kept from the public and written by people who aren't allowed to speak to the media.
Photos from Afghanistan: In a long photo essay, Håvard Bjelland documents Norwegian soldiers in the Faryab province in northern Afghanistan. One of the most striking images shows John Peter, second commander of the Norwegian Task Unit, looking out over a vast landscape: "It's like putting out a fire with a fly swat," he says, clasping his shaved head with his hand.
Journalists under pressure: Journalists are especially susceptible to what psychologists call "secondary trauma", writes Trond Idås in an article on the gap between professional ethics and the moral of the individual journalist. "The fundamental dilemma for journalists who arrive at the scene of an accident or a natural disaster is that they have not been sent there to help the victims. They have come to take pictures of them or take interviews – not to help."
Exposed to the suffering of others, journalists often become victims themselves. This happens to people in other professions too, but while policemen, priests, aid workers and others have taken measures to deal with this, journalists are mostly left alone, writes Idås, basing his article on research done on journalists covering the 2004 Tsunami in Thailand. That they also step over the line of what is good ethical behaviour, pressed to report for different platforms (print, Internet, radio, television) on short deadlines, only adds to the problem.
The full table of contents of Syn og Segn 2/2011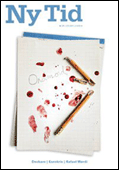 In Ny Tid, Fredrik Sonck reports from the Eurozine conference "Changing Media – Media in Change" (see our summary of the conference). He also talks to Iryna Vidanava, founder and editor of 34 Multimedia Magazine and one of the speakers at the conference, about the state of free speech in Belarus after the "elections" last December.
"Following a carefully laid out strategy of attack, the KGB – the secret police are still called that in Belarus – has assailed more than a dozen editorial offices and journalists' private apartments. Of all its electronic devices, only a tea kettle was left in the editorial office of the local newspaper Borisovskiye Novosti after a raid in January," says Vidanava. "Yet its next issue was published on time, thanks to assistance from colleagues and readers. When the offices of Nasha Niva, Belarus' oldest independent newspaper, was stripped of equipment, more than 40 computers were donated by loyal readers."
Despite the difficult situation, Vidanava is optimistic. "The regime is losing its war on objective information and truth. Not a single independent newspaper or website has surrendered and stopped publishing because of the raids. The attacks on independent media are nothing more than manifestations of a faltering regime fearful of losing its popularity amidst a sudden economic and political crisis. […] The more the authorities try to cut off access to independent information, the more citizens seek it."
Asked if she's not afraid to raise her voice, Vidanava says that it's important that the Belarusian government realizes that there are people who are not afraid to say what they think, both abroad and at home. "I hope that what I've said here in Linz will not have any serious consequences, but whenever I travel abroad I can't be sure that I can return back to Belarus. You live with this fear, but I still believe that the feeling of freedom you get when you say what you think is stronger and more important."
In June, Eurozine will publish an article based on Iryna Vidanava's speech in Linz.
The full table of contents of Ny Tid 21/2011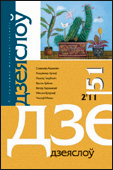 Belarusian Dziejaslou celebrates the hundredth anniversary of the birth of Czeslaw Milosz (1911-2004), whose collected works are due to appear in Belarusian translation in four volumes. Dziejaslou advance publishes a selection of Milosz's poems in Andrei Chadanovich's translation (among them central texts such as A Theological Treatise and "A Poor Christian Looks at the Ghetto"), along with his Nobel Prize speech and Harvard lecture "Ruins and poetry".
Vasil Bykau: The largely unknown filmscripts and dramas of the Belarusian novelist Vasil Bykau are also due to appear soon. Siarhiej Shapran sets out to trace the changes made to the texts under pressure from the censor: "The author was essentially a hostage of the Soviet film system, where censorship was merciless, stricter even than in literature. Whoever studies the minutes, decrees, assessments, recommendations and so on will understand why almost all films 'based on texts by Bykau' have practically nothing to do with his prose." Shapran demonstrates his thesis on the basis of the script to the film The Third Rocket: a continuation of the essay will appear in the next issue.
Novelist, collector and publisher: Anatol Butevich attempts to understand the novelist Barys Sachanka (1936-1995), the "tireless seeker after truth and guardian of books" who would have been 75 years-old this year. Not only was Sachanka a renowned author with a deep knowledge of banned literature, he also kept an impressive library in which he systematically collected Belarusian and Russian authors that were otherwise impossible to get hold of. Sachanka's daughter Halina Bahdanava remembers: "When nobody was at home, I removed from the secret drawer in my father's desk the books he and his friends had obtained from abroad. Thus I read Solzhenitsyn, Pasternak's Doctor Zhivago, Nabokov, Bulgakov and many more." However Sachanka was not only an enthusiastic collector, he also did great things as a publisher. For example, he retrieved forgotten or unknown national classics from oblivion or published an anthology of Belarusian poets in exile.
The full table of contents of Dziejaslou 51 (2011)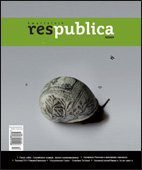 The new issue of Res Publica Nowa considers the psychological implications of migration and real and mythologized ways of re-creating home. In Anton Chekhov's play The Three Sisters, the recurring motif of an idealized, faraway Moscow reflects an unfulfilled yearning to discover the Self, Leonard Neuger writes. Until the last decade of the twentieth century, many Polish migrants clung to the idea of an imagined homeland, forming tightly knit communities and support networks based on shared memory, taste and an overwhelming urge to turn back the clock. Equally, people trapped in communist Poland, and locked into a sense of provincial inferiority, devised fantasies of self-fulfilment – not in a Chekhovian Moscow but in the US, Europe or in worlds beyond the grave.
Today, attitudes seem more pragmatic: migrants work abroad, shop in Poland, and may plan to return home for a new job or comfortable retirement. The increasing attractiveness of this kind of oscillating lifestyle "will force a complete restructuring of the imagined community of Poles and of the notion of home territory", writes Magdalena Malinska. The border – symbol of imagined nationhood – is losing its meaning.
Immobile Europe: Internal European migrations "help to reconcile old nations with a new, nascent community of Europeans", says the French philosopher Pierre Manent in an interview with Ariadna Lewanska. The change is best seen in political, social and cultural terms, rather than solely as a liberalization of the labour market. Europe needs a common political aim to give it meaningful identity. History has given Europeans an overwhelming longing for innocence and non-action: "Organized immobility. So we are left with nothing but rules […]. Europe longs to find a route out of history because history implies action with criminal deeds, at times, and long-lasting, irredeemable consequences."
Also: Artur Celinski and Aleksandra Nizynska examine the functioning of Polish urban cultural policy. Rebranding cities and encouraging tourism appears to be taking precedence over projects that encourage urban populations to participate in planning and creating their own cultural environment, they write.
The full table of contents of Res Publica Nowa 13 (2011)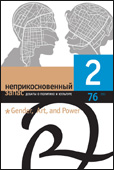 In an issue on gender, art and power, Elena Gapova discusses the recent porno-chic calendar featuring underwear-clad admirers of Vladimir Putin, all students of journalism at the Moscow State University. It proves, she writes, that Russia is going through a sexual revolution, which instead of levelling creates further social stratification.
That Putin, "the most promoted brand in Russia today", is seen by many as a James Bond figure is one half of the equation; the other is the position of women in the post-Soviet society, many of whom "can only become visible by means of undressing". "Pleasure", the word used by the models in a promotional video, is, as Foucault argued, not opposed to power but exists within its framework, writes Gapova.
Disability: Writing on the iconography of physical disability in post-Soviet Cinema, Pavel Romanov and Elena Yarskaya-Smirnova note that old clichés have not been completely rejected by the film-makers of the naughties. Particularly prevalent is disability as metaphor for heroic masculinity: the image of a war invalid fighting for "the erection of his status" is still common. However cinema's take on disability has also changed: while in Soviet films, invalids – always male, often war veterans – could rely on official institutional support as a reward for their sacrifice, this is no longer the case. The change points to a resurgence of conservative ideology: in today's Russia, the restoration of traditional family values and gender roles is often seen as the solution to social problems, a view reflected in film through the depiction of physical "otherness".
Piatigorsky: A series of articles mark the publication of the first volume of the collected works of Alexander Piatigorsky (1929-2009), among them Bats of Philosophy (and on Liberalism), written by the prominent philosopher in his late years. In it he argues about the differences between two popular concepts: "If you haven't got democracy, you can import it, pre-packaged and ready to use. Liberalism is not a commodity". His friends' tributes include a piece by Igor Smirnov, who reflects on Piatigorsky's personality and influence on philosophical thought. "To remember [him] is to touch upon philosophy as a whole", says Smirnov. "As a philosopher, [he] fought, together with his contemporaries, for individuality, the right to de different and defy norms".
The full table of contents of Neprikosnovennij Zapas 76 (2011)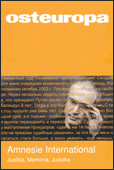 The conviction of Mikhail Khodorkovsky and Platon Lebedev to a further six years' imprisonment rightly met with worldwide condemnation, writes Otto Luchterhandt in Osteuropa. His account of the legal travesties in the second trial of the two former Yukos bosses begins with the relocation of Khodorkovsky and Lebedev to the furthest reaches of Siberia in 2006, making work exceedingly difficult for their lawyers. It ends with the sudden postponement of the verdict to 30 December 2010, in the middle of the Christmas holidays, and the subsequent interview by court clerk Natalia Vasilyeva, who described how the judge Viktor Danilkin prepared a very different verdict from the one he read out.
Especially glaring among the multitude of legal absurdities was the definition of "appropriation" of state property, explains Luchterhandt: having first been defined as the physical removal of oil, it was later revised as the mere sale of oil at below the market rate. "Serious observers agree that the authorities and the courts did nothing else than to criminalize and penalize business activities that in market economies are commonplace and legal. This was done partly in breach of the law and despite better knowledge, and partly in order to prevent activities considered illegal because of an ideological bias inherited from the communist period."
Worse still, there are indications that a third case is being prepared against Khodorkovsky, this time for implication in the alleged murder of Yukos opponents by former security chief Alexei Pichugin. Luchterhandt cites Khodorkovsky's defence lawyer Yuri Schmidt: "When you bear in mind the psychological state of Putin and his personal attitude towards Khodorkovsky, which in my opinion has obtained a manic stage, I wouldn't be surprised if our acquiescent legal system were to fulfil any arbitrary order, with no consideration for the law or even common sense."
Remembering to forget: Forgetting violence was long seen as a condition for sustainable peace after war or civil war. But the amnesty clause is only realistic where certain rules of war were upheld, writes Helmut König. Wherever people cannot forget, only remembrance remains. Remembrance, however, stands in a paradoxical relationship with forgetting: only what is previously known – remembered – can actively be forgotten.
The full table of contents of Osteuropa 4/2011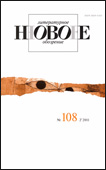 In the new issue of NLO, Valery Viugin discusses the use of weather and landscape imagery in early Socialist Realist prose, noting that images of turbulence in the natural world (especially storms, floods and whirlwinds) become direct metaphors for the changing state of society. These representations are also frequently bound up with religious imagery in a way that paradoxically both veils and supports Christian ideals. In Maxim Gorky's novel Mother (1907), for example, the climate contributes to the construction of a coded system of metaphors linked to the image of the Christian Messiah as well as to the revolutionary idea.
In the literature of the 1920s, writes Viugin, biblical images of water and flooding become key metaphors for depicting social and political upheaval, often challenged by an individual personality outside the life-giving flow of revolutionary energy. In A. S. Serafimovich's Iron Flood (1924), heat and sun prepare the way for an apocalyptic deluge, while a merging, chaotic mass of human beings undergoes a collective spiritual rebirth and a transformation into a revolutionary "iron flood". In some prose works, the stereotypical use of Judaeo-Christian metaphor is also associated with a pantheistic or pre-Christian vision. In V. V. Ivanov's Armoured Train no. 14-69 or Fyodor Gladkov's Cement, the victory of socialism is metaphorically associated with the release of sexual energy. Wind, sea, storms and open landscapes participate in the violent rebirth of a new world.
Theatre: Ilya Veniavkin examines the banning of Aleksandr Afinogenov's play The Lie (1933). As a crucial medium for the propagation of state ideology, theatre came under particularly strict Party scrutiny. Indeed, Stalin cultivated acute dramatic sensibilities of his own, reflected in his carefully staged public humiliations of enemies such as Nikolai Bukharin. Afinogenov's play not only responded to a continuing debate about Socialist Realism, exposing tensions between fact and fantasy in Soviet politics, but also touched indirectly on Stalin's personal life – in particular the death of his wife, Nadezhda Alliluyeva. The first draft of The Lie was read and edited by both Stalin and Gorky, but when Afinogenov failed to incorporate the required changes, its staging was forbidden. In the context of a rising threat from German fascism, the playwright survived the failure of the work – although its fate proved an effective warning to other aspiring writers of his generation.
The full table of contents of New Literary Observer 108 (2011)