Of power vacuums and pressure points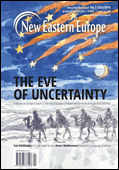 In New Eastern Europe (Poland), Adam Balcer confirms the increasing redundancy of the term "post-Soviet space" in the wake of China's ascendency. Balcer considers the unveiling of China's plans for a new Silk Road economic belt in 2013 a sign of things to come. "If the European Union wants to remain relevant in global affairs", he writes, "it needs to be active along the whole new Silk Road and define its eastern policy as a policy towards Eurasia, one that goes beyond relations with Russia and the former Soviet republics, and is instead aimed primarily at China, Turkey and Iran".
Future of Europe: As the details of a deal on refugees between the EU and Turkey continue to be hammered out in Brussels this month, the refugee crisis remains central to this issue's series of opinions on the future of Europe. Samuel Abrahám observes that "paradoxically, fortress Europe might be the only chance for Europe to preserve the political structure of liberal democracies".
Luiza Bialasiewicz, on the other hand, critiques the Europe of "countless small and large acts of kindness demonstrated by individual Europeans", as portrayed for example by Jean-Claude Juncker in his State of the Union Address last autumn, entitled "Time for unity, honesty and solidarity". Bialasiewicz insists: "To make sure that the debate in Europe over refugee reception and migration more broadly does not become defined by events such as those of Cologne […], we need to return to the language of European rights and legal responsibilities, not compassion and charity".
With billions of euros of extra EU aid at stake should a deal be struck with Turkey, the Turkish writer and human rights activist Asli Erdogan can scarcely believe the course the EU is taking. For years, the EU rightly told Turkey "you are not democratic enough", observes Erdogan. But now, she concludes, "when Turkey is further away from democracy than it has been for years, the EU is bribing it".
Also: Basil Kerski and Wolfgang Templin mark 25 years of Polish-German cooperation, since the Treaty of Good Neighbourhood.
More articles from New Eastern Europe; neweasterneurope.eu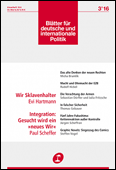 In Blätter, Daniel Leisegang critiques the latest chapter in Facebook's attempts to connect the whole world; for which read "new digital colonialism". 2015 was a record year for the Internet giant, which doubled its profits on 2014 and enjoyed a turnover of 18 billion US dollars. But it only increased its number of users by 14 per cent, to 1.6 billion. Hence it's intensified efforts to corner the Indian market, which Leisegang compares to colonists trading glass beads for gold in fifteenth-century North America; this time round though, the company offered free but radically restricted Internet access in return for the data of the (unwitting) masses. The Indian investor Mahesh Murthy accused Facebook of "economic racism".
The trade in psychographic profiles generated by Facebook, as implemented for example in the run up to US elections, could appeal to autocratic regimes in the Global South too, observes Leisegang: "Those who want to safeguard their power and suppress democratic protest may well be interested in a digital public that's so transparent and easy to influence". However, he sides instead with the likes of Nigerian web activist Nnenna Nwakanma, who demands "The whole Internet. For all people. At all times".
Globalization under pressure: Evi Hartmann considers the disjuncture between globalization and morality in the light of a growing awareness of the scale of exploitation inherent in the production of cheap goods – particularly after the 2013 Savar factory fire that claimed the lives of 1100 garment workers in Bangladesh.
In the first of a two-part series based on her new book on the subject, Hartmann writes: "Globalization has no need of morality. On the contrary, it functions instead through the application of pressure. Under the pressure of market prices, manufacturers place orders with sweatshops instead of domestic textile factories. Sweatshop workers work under the pressure of terrible poverty. Consumers, the 'victims' of ubiquitous consumer pressure, protest under the pressure of pictures of factories in ruins. Manufacturers respond to public pressure, which the media, operating under the pressure of shrinking print runs, consciously amplifies in order to create sensation. If logistics is the motor of globalization, then pressure is the motor of the global economy".
More articles from Blätter für deutsche und internationale Politik; blaetter.de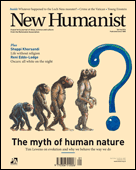 Appeals to human nature won't aid complex decisions about new technologies like genome editing, writes Tim Lewens in New Humanist (UK). Lewens' approach is informed by a long tradition of thought concerning evolution that spans Darwin's Origin of Species to recent research that stresses how cultural differences drive human psychological variability. Indeed, it may well be that our perceptual capacities are subject to the same variation that Darwin saw in his barnacles. All of which leads Lewens to underline the drawbacks and dangers of essentialist thinking.
Age of extremes: Samira Shackle questions whether the UK's current anti-radicalization strategy amounts to a defence against terrorism or a threat to free speech. Quoting from the government guidelines that comprise the so-called "Prevent" strategy, Shackle writes: "Since summer 2015 […], schools, prisons, local authorities and NHS trusts have been under a legal obligation to 'have due regard to the need to prevent people from being drawn into terrorism' and spot signs of radicalization." She comments that this equates to moving "steadily away from a holistic approach, towards a futile attempt to stamp out 'bad' ideas entirely".
#OscarsSoWhite: Reni-Eddo Lodge reflects on the resurfacing of the #OscarsSoWhite hashtag upon the occasion of February's award ceremony – yet another clear sign that we are nowhere near a "post-racial" society.
The hashtag was first coined by former lawyer April Reign in January 2015 in response to an all-white cast of actor and actress nominees – just a year after 12 Years a Slave won three Oscars in 2012. Lodge awaits with interest the impact of reforms to Oscar voting due to take effect 2017, under the leadership of the Academy's first black president, Cheryl Boone Isaacs.
More articles from New Humanist; newhumanist.org.uk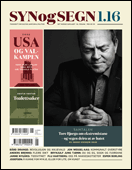 "There is a very small chance of any one of us becoming victims of terrorism, but there is a very significant possibility that Norway will experience terror again", states social anthropologist Tore Bjrgo in interview in Syn og Segn (Norway). After Anders Breivik's terror attack on Oslo's government quarter and a youth summer camp in 2011, claiming 77 lives, Norway established a new research centre on right-wing terrorism.
The centre officially opened in February 2016 at the University of Oslo, with Bjrgo as its director. "In recent years, we have increasingly seen right-wing extremism expand in different forms in Europe. Even though militant extremist groups aren't widespread in Norway at the moment, the 2011 attacks show that this type of violent extremism remains a latent threat", says Bjrgo.
Cultural journals: The lifespan of journals may vary but "those that are published over a long period of time can be read as the memory of a country's cultural development", writes cultural historian Janne Nygrd. Syn og Segn itself,first published in 1894, provides an important resource for tracing how Norwegians witnessed a century of social change.

Journals in general played an important role in building an enlightened democracy in the 1900s, not least in being accessible to people who couldn't afford to buy books. Through the publication of multiple issues each year, they created a unique space for both topical discussion and in-depth analysis. Yet journals must now redefine the role they play in a much more diverse and fragmented mediascape, even if "there will always be a demand for well-written, in-depth articles, as the mass media drowns in click-bait journalism".
Investing in the digitalization of Norwegian journals and ensuring their presence in public libraries are also important tasks. Meanwhile, Nygrd remains confident that, by continuing to experiment with new formats, journals will find ways of coping with the decline in the number of subscribers to paper issues.
More articles from Syn og Segn; synogsegn.no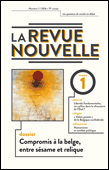 La Revue nouvelle (Belgium) explores attempts in the journal's home country to deal with the erosion of the post-war consensus on the welfare state. Pierre Reman sees the traditional model and its compromise between employers and workers as teetering "on a knife edge". Reman argues that the principle of sharing the profits of growth universally is "no longer considered one of the preconditions of economic progress, but as a consequence of progress, or worse as an actual hindrance. The interventions of the welfare state are perceived as creating – even if unintentionally – imperfections which harm growth".
Reman is clear about exactly what is at stake: not just budgetary concerns, but cultural and social ones too, including issues such as inter-generational solidarity and the quality of employment for older workers.
A little charity and human warmth: Continuing the theme of solidarity, Pierre Coopman turns his attention to the streams of refugees fleeing the Syrian civil war. Coopman insists that the undeniable complexity of and shared culpability for such conflicts should not blind us to the need for a response, even if it seems too late. After all, he wonders, where were the humanitarian protesters prior to 2015? The turnout to receive refugees in Parc Maximilien in Brussels in September 2015 for instance, greatly outstripped demonstrations calling for an end to violence in Syria during the preceding five years of civil war.
The future looks bleak to Coopman, who questions the sacrifice of whole populaces on the altar of realpolitik in 2016. Surely "a little charity and human warmth" is preferable, Coopman concludes.
Also: Marie Peltier argues that in a world of ideological extremes, religious radicalism and conspiracy theories, we need to take the quest for meaning seriously and not leave it to extremists; and Christophe Mincke asks whether fundamental liberties have become a thorn in the side of nation-states.
More articles from La Revue nouvelle; revuenouvelle.be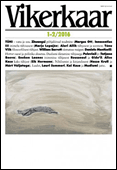 Vikerkaar (Estonia) explores themes of nothingness, nihilism, the void and emptiness, in many of their historical and cultural shades. In an essay entitled "The vacuity of politics and the politics arising from emptiness", Daniele Monticelli considers how radical thinkers – such as Agamben, Badiou, Laclau, Mouffe, Ranciere and Zizek – offer an alternative to received views of politics as either technocratic administration or the consolidation of established identities.
The common feature of both these traditional outlooks is horror vacui, or the fear of power vacuums and resulting anarchy. Instead of solid common ground for forms of politics, these radical thinkers emphasize the interminable, groundless and universal quest for equality.
How do these highly abstract visions translate into practical politics? Perhaps in forms of action that dispel the fear of power vacuums by creating alternative political spaces and returning to the ideal of equality. Monticelli concludes: "To create alternative political spaces, to activate the radical origins of democracy and to restore equality at the very heart of politics – these ideas do not constitute a political programme, but they at least provide stimulation for thinking about politics."
Also: Tatjana Boeva writes about the trope of the void in the oevre of the Russian Buddhist novelist Viktor Pelevin; and, Eneken Laanes compares and contrasts renderings of the (in)authentic self in Jean-Jacques Rousseau's Confessions (1782-89) and André Gide's semi-autobiographical novel Counterfeiters (1925).
More articles from Vikerkaar; vikerkaar.ee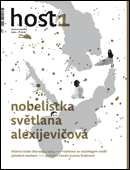 In Host (Czech Republic), critics and translators from Belarus and the Czech Republic weigh in on the controversy sparked by the award of the Nobel Prize for Literature to the Belarusian writer Svetlana Alexievich, whose books are dismissed by some as mere journalism, while others accuse her of being more Russian and even Soviet than truly Belarusian.
The Belarusian canon: Literary scholar Cichan Charnyakevich situates Svetlana Alexievich's oeuvre firmly within the canon of the finest Belarusian literature. In addition to the polyphonic character of her books, he praises her for deconstructing the masculine myth of World War II, debunking the "international duty" myth of war in Afghanistan, and, in her Chernobyl Prayer, dealing a blow to the Soviet belief in the power of science. For Charnyakevich, what matters is "not so much the accuracy of what [Alexievich] records or its factual value, but the fact that by presenting individual's encounters with the illusory abyss of human nature, she warns the reader against the temptation of 'the sole right idea'".
World vs Belarusian literature: Translator Syarhyj Smatrychenko has assembled Belarussian writers' and critics' responses, ranging from admirers – who regard Alexievich as a literary giant comparable to Kundera or Saramago, one who has planted the Belarusian flag on the Everest of world literature – to detractors who believe that a Belarusian writer would never have written books such as Secondhand Time: The Last of the Soviets, and that the award to her of the Nobel is a disaster for literature written in Belarusian.
Smatrychenko's own, more balanced view is that both the Soviet legacy and local culture and tradition form two of the facets of Belarusian identity, with Alexievich's work representing mainly the former. He hopes that the Nobel Prize, which "Svetlana Alexievich undoubtedly deserves, will pave the way to international acclaim for works by other Belarusian writers, who represent the other facet."
More articles from Host; casopis.hostbrno.cz