New Eurozine Partner: Prostory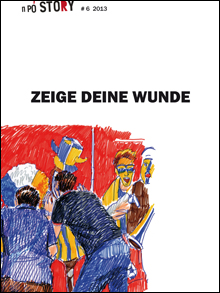 Prostory, the biannual Ukrainian magazine for literature, art and social critique, has joined the Eurozine network. The publication was launched in 2009, the year after the online platform of the same name. Its editorial team of independent young authors, translators and artists is dedicated to "rethinking the Ukrainian public sphere".
Each issue of Prostory presents a unique mixture of media, styles and genres clustered around a single theme, and an event organized with a view to discussing this theme accompanies the publication of every issue. The incorporation of the print material into the online platform within three months of publication allows young authors writing in Ukrainian and Russian to significantly widen their audiences and prompt new dialogue.
Indeed, Prostory sets great store by connecting "the local analysis of current social issues with the cultural translation of foreign narratives". Its output is complemented by translations of modern and classical literature and philosophy as yet unrepresented in the Ukrainian context.
More on Prostory including the current issue