New Eurozine partner: Krytyka Polityczna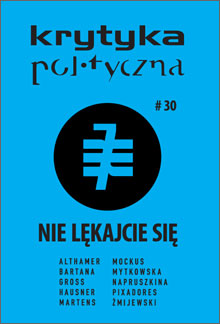 Polish journal Krytyka Polityczna (Political Critique) has joined the Eurozine network. First published in 2002, Krytyka Polityczna has become a major voice on the Polish Left. It publishes journalism, political philosophy, sociology, literature and literary criticism, contemporary art, film and theatre. Each issue is devoted to a single core topic, combining contributions by international and Polish authors, also featuring regular columns, photo-essays and interviews.
Krytyka Polityczna also runs a publishing house, website, think-tank and network of clubs throughout Poland; it employs 120 staff members and is supported by 2000 activists, with branches in Ukraine and London. Writing in New Republic in June 2012, Michael Kazin credited Krytyka Polityczna with having "accomplished something their American counterparts have been unable to achieve since the heyday of the feminist movement in the 1970s: They have begun to make cultural and political radicalism seem a pleasurable, intellectually exciting, even moral way to live."
The editor-in-chief of Krytyka Polityczna is Slawomir Sierakowski.
More about Krytyka Polityczna, including the current table of contents