New Eurozine partner: Frakcija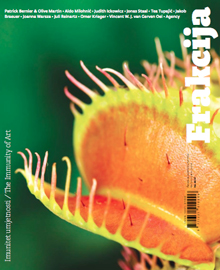 Croatian performing arts journal Frakcija has joined the Eurozine network. A mainstay of Croatia's independent scene, the journal works in partnership with an impressive range of production units, performing arts centres and festivals throughout Europe.
Frakcija publishes articles in English and Croatian. The journal is devoted to covering both theory and artistic practice, as reflected in contributions by both scholars and artists. Guest-editors collaborate on each themed issue, making for a truly international and interdisciplinary product.
The journal's flexible structure and dynamic content means it is well equipped to deal with the pressing questions facing the contemporary arts today. The latest issue on "The immunity of art" being a case in point:
"The basic currency of the post-disciplinary society is freedom and art is its embodied ideal. If this is the reason that art is often criticized as an autonomous sphere where critical operations have been displaced, and thus paralyzed, and if everything that is ever done in art is bound to remain merely art, is this not its main weapon rather than its weakness?"
More on Frakcija including the latest issue