"Mr Mohammadi's smile"
Esprit sheds light on the failure of anti-terrorism; Le Monde diplomatique (Berlin) watches the sun set on the American century; Index on Censorship reports on reporting the Middle East; Le Monde diplomatique (Oslo) casts doubt on Michael Moore's method; Ord&Bild goes to France, via Québec; Akadeemia warns against confusing law with ethics; and Revolver Revue wonders if there's ever been a demonstration in favour of contemporary architecture.
Esprit 10/2007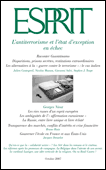 French public opinion has been keeping out of the strategic debates on the war on terrorism that have pervaded Europe and the US since 9/11, write the editors of Esprit. This is due, in part, to the fact that France already developed its legal strategy towards terrorism in the wake of 1986, when it was hit – as the first country in Europe – by the new form of terrorism borne from a mixture of local resentment and international, deterritorialized Islamism.
Nonetheless, the French are not immune to certain developments. The internationalization of the war on terror has made the protection of rights more complex. Anti-terrorist measures are less perceptible and have become more difficult to control, such as abductions, secret prisons, or extraordinary renditions.
In a feature on the failure of anti-terrorism and the state of exception, Nicolas Masson analyzes three accounts from former detainees from Guantanamo, shedding more light on this extra-judiciary prison. Canadian lawyer Stephen Toope demonstrates how extraordinary procedures are maltreating basic principles. And Italian judge Giovanni Salvi discusses the doctrine that evolved in Italy when dealing with the Mafia and the Red Brigades.
Voyage through Russia: Georges Nivat, author of numerous books that lay out a voyage of discovery across Russia's language, history, spirituality, and literature, talks in interview about those who have contributed to his dynamic rapport with Russia: Pierre Pascal, who introduced him to Old Believers; Boris Pasternak, who once lent him the manuscript of Doctor Zhivago to read; the Russian Formalists (Jakobson and Trubetskoy), who at some point came under the spell of Asian theories; Solzhenitsyn, Joseph Brodsky… to name but a few.
Also to look out for: Bruno Biais reviews market transparency, conflicts of interest and this summer's financial crisis; and Jaques Donzelot compares French and American school systems, finding that they diverge less with regard to what one learns than to the degree of confidence vested in the institution – with optimism being largely dominant across the Atlantic.
The full table of contents of Esprit 10/2007.

Le Monde diplomatique (Berlin) 10/2007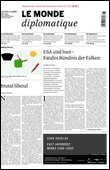 The most significant opposition to the Iraq War has come not from the US public but from within the national security establishment, notes Philip S. Golub in Le Monde diplomatique (Berlin). Yet none of these critics can be considered doves. Rather than addressing the fundamental issue of the invasion itself, they have focused on the way the war in Iraq has been mismanaged. Why?
"The cause of their dissent lies […] in the rational realization that the war in Iraq has nearly 'broken the US army', weakened the national security state, and severely if not irreparably undermined 'America's global legitimacy' – its ability to shape world preferences and set the global agenda."
International opinion is increasingly defiant of US foreign policy. Yet the invasion and occupation of Iraq is not the sole cause of this trend. Rather, Iraq merely accentuated it at a time when US hegemony is already in decline: "As the shift in the world economy towards Asia matures, the US is stuck in a conflict that is absorbing its total energies. History is moving on and the world is slipping, slowly but inexorably, out of US hands."
André Gorz: Sitting in a new café in a Berlin cemetery, Mathias Greffrath remembers theorist André Gorz, who committed suicide in September with his wife, aged 84. Gorz argued for a basic income for everyone, together with reduced working hours that would free "human activities" from the "rationality of the market". With consumerism promising to postpone death indefinitely, Greffrath says we must heed Gorz's warning not to forget what's most valuable: living.
Don't miss: Despite the furore over "rendition" – the secret and usually illegal transfer of suspects across national borders to face often extreme questioning without legal process – the system is still in operation. Stephen Grey hears from some of those whose lives have been upturned by rendition.
The full table of contents of Le Monde diplomatique (Berlin) 10/2007.

Index on Censorship 3/2007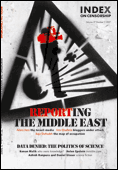 Writing in Index on Censorship, Iranian documentary filmmaker and Newsweek correspondent Maziar Bahari tells of his frequent meetings with a certain Mr Mohammadi. Mr Mohammadi is a good listener, smiles a lot, prefers hotel lobbies, and always pays the drinks. Such is the new, caring face of the Iranian secret police.
"I get tired of talking after a while. Then, like Mohammed Ali in the seventh round of his fight with George Foreman, Mr Mohammadi snaps and starts to challenge me. […] Why do I think an American publication is interested in talking to Iranian dissidents? Was I given a list of questions by American paymasters? Have I ever been to any conferences in the US or Europe?"
Had these meetings taken place a few years ago, Bahari would be preparing for prison. But things are changing slowly in Iran and Mr Mohammadi "knows that he's wasting his time and mine. He knows that his government should reform itself if it wants to survive." If only Mr Mohammadi could overcome his hang-up about the US…
Syria's secret: Lingerie is part of Syria's transition from pan-Arab Socialism to an economic system dominated by the commercial monopolies of the ruling elite, writes Malu Halasa. In the course of research for her forthcoming book on Syrian lingerie, Halasa was exhorted by the owners of a bra factory in Damascus to "dance for her husband". "[They] were adamant: their religion had prepared them for sex. If there were problems, they stemmed from our own misconceptions about Muslim life."
Also to look out for: Raja Shehadeh writes that occupation has changed the face of Palestine's landscape; Kenan Malik argues that scientists are losing out to the guardians of indigenous culture; and Helen Epstein explains how years of misguided AIDS policy in Africa could have been avoided.
The full table of contents of Index on Censorship 3/2007.

Le Monde diplomatique (Oslo) 10/2007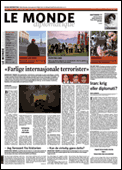 "Moore is best in capital letters", writes Arnstein Bjørkly in his critique of Michael Moore's documentary Sicko, presently hitting the European cinemas. As in his previous films, Moore mixes satire with old newsreels, interviews with politicians and journalists, cheekily interspersed with fictional material from film and TV. "Fiction is used to characterize false representations of reality."
The US private insurance-based health care system is this time at the receiving end of Moore's focus. "Does Moore have a method?" asks Bjørkly. "His main cinematic effect is the use of contrasting montage. He contrasts views. And he moralizes." But does his method of juxtaposing the US system with an idealized version of health services around the world support his argument? Bjørkly is sceptical.
Anarchic atheism: Remi Nilsen met with the French philosopher Michel Onfray on the occasion of the release of his Atheist Manifesto in Norwegian. "True enjoyment is to be free, free in one's own desires", says Onfray. "This is freedom and resistance: I don't need things and am therefore able to refuse what repulses me. Many do not understand this because they have been told that all can be bought. This type of hedonism, a social-anarchistic hedonism, is a form of micro-resistance – a micro-political act of resistance."
Also to look out for: Steffen Moestrup on the project Why Democracy – a series of documentaries and short films currently screened by no less than 42 different TV stations all over the world, including Norwegian NRK: "Norway is known for a touch of self-satisfaction, so a global perspective will do it good."
The full table of contents of Le Monde diplomatique (Oslo) 10/2007.

Ord&Bild 3-4/2007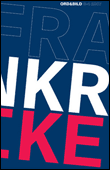 Within the next few years, Paris will no longer be the biggest francophone city in the world. Anytime soon, the twin cities Kinshasa and Brazzaville will count more French-speaking inhabitants than the French capital. Even though Paris is still the undisputed centre of the francophone world, anyone who wants to understand France and French politics and culture must go beyond the borders of Europe.
Swedish journal Ord&Bild embarks on this journey in a bulging double issue on France. Going to Québec, literary scholar Svante Lindberg traces the history of French-Canadian literature from idealistic rural novels, through feminism and formalism, to today's urban stories about modern nomads: "The American dimension, migration, transcultural issues, the return of the male perspective, and the new subjectivity have all played an important role in this cultural process. At the same time, the position of the French language has grown stronger and stronger. Today, French is undoubtedly the first lanuage of the new multicultural society in Québec."
Alongside Québécois writers such as Nicole Brossard, Régine Robin, Maurice G. Dantec, and Wajdi Mouawad, Ord&Bild also publishes the very French-French literary phenomenon Michel Houellebecq. However, not the novelist Houellebecq – whose works have been extensively translated into Swedish (and almost every other European language) – but the poet! Via the traditional French metres octosyllabe and alexandrin, Houllebecq comes across as a yearning romantic listening to the echoes of a dying world.
French politics and philosophy: The issue presents a multitude of analyses of French society – from the colonial past, through the recent battle between Nicolas Sarkozy and Ségolène Royal, to contemporary social movements such as "Les Panthères Roses" and "Le Gouvernement OFF" – as well as translations of influential but lesser known texts by Gilles Deleuze, Félix Guattari, Michel Foucault, and the queer feminist philosopher Monique Wittig.
The full table of contents of Ord&Bild3-4/2007.

Akadeemia 10/2007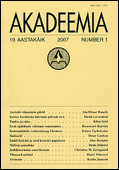 Estonians tend to confuse law with ethics, writes Jüri Eitalu in an article debating the Public Service Act, which was recently passed in Estonia. One of the characteristic features of the ethical crisis in Estonian society is the misconception that everything allowed by law is also morally acceptable. The fact that the law regulating public services actually has a special annex attached to it, spelling out a "public service code of ethics", is just another representation of this deep crisis.
John Gray in Estonian: In one and the same issue, Akadeemia publishes no less than five essays by British political philospher John Gray. The topics range from biotechnology and the post-human future to animal rights ("The best hope for animal liberation is that humans kill each other in wars"), and "America's war on evil".
The full table of contents of Akadeemia10/2007.

Revolver Revue 68/2007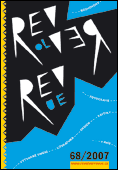 "The debate around the new National Library at Letná is not about to quieten down", writes Zdenek Lukes in Revolver Revue, summing up the controversial reactions towards the award-winning project for the new library in Prague: Czech-born and London-based architect Jan Kaplicky's design for the expansion of the national library resembles, for many, a purple octopus.
"The verdict of the jury should perhaps be printed out in a million copies and distributed to all literate households to shatter and break the incredible apathy and lethargy on matters of Czech culture, which is combined with parochial malice", seconds art historian and critic Ludmila Vachtová.
"Today, no one utters a word if one of the most eminent art historians, curators, and authors gets sacked unexpectedly, or if the entire editorial board of one of the few art magazines disappears without trace. Everyone, however, is prepared to babble angrily if someone – and even worse, a British Czech – designs a building-poem, a paragon of architecture of the twenty-first century. He will, surely, suffer enough before his erotic mountain becomes reality in the plains of Letná. […] I wonder: Has there ever been, in this globalized world, a demonstration in favour of contemporary architecture?"
Also to look out for: Michal Kosák on Anna Politkovskaya's Russian Diary; Czech artist Jan Cumlivski's "Osteographia": a selection of bones covered with mysterious engravings; an assortment of ladders photographed by Jan Sekal; and a homage to Josef Honys, "one of the most original representatives of Czech experimental art of the 1960s".
The full table of contents of Revolver Revue 68 (2007).

This is just a selection of the more than 60 Eurozine partners published in 33 countries. For current tables of contents, self-descriptions, and subscription and contact details of all Eurozine partners, please see the partner section.