Let's consider cute
Index isn't sure it knows obscenity when it sees it; Dilema Veche puts morality back in business; Osteuropa salutes the producers of Lenin busts 20 years after '89; Le Monde diplomatique (Berlin) follows the vodka trail; Wespennest tells stories from the Wild East; Mute exhumes the human; Esprit meets Homo numericus; Le Monde diplomatique (Oslo) dreads the seventy hour week; Varlik discusses the Turkish military's urge to intervene; Akadeemia sees artificial man only a step away; and Semicerchio asks what's next for Italian poetry.
Index on Censorship 1/2009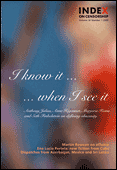 On the thirtieth anniversary of a report in the UK reviewing definitions of obscenity, Index on Censorship discusses the renewed significance of obscenity laws as the Internet enables greater accessibility of pornography and images of extreme violence. "This is going to be a critical year for our perception of obscenity", writes Index editor Jo Glanville, referring to an ongoing case in the UK in which a civil servant has been charged for uploading a violent sexual fantasy, and a new law that makes it an offence to possess "extreme pornography".
"A re-moralization of society is taking place", writes Anthony Julius. "It's a lesson to those of us who still […] take it for granted that things become only more liberal, that society moves in an ever upward arc towards greater social and personal freedom. But in reality it just doesn't work like that. On the contrary, we seem to judder from one period of relative repression to another with brief moments of liberating freedom in between."
Self-regulation on the Internet: Julian Petley discusses how semi-official watchdog bodies are causing the "privatization of censorship". The Internet Watch Foundation, initially set up in the UK by ISPs as a self-regulatory body, was re-launched with government support and is now the Internet equivalent of the British Board of Film Censors. "Its existence," writes Petley, "disguises and obscures the fact that the state is involved in the censorship of the Internet, albeit covertly and at one remove, and its workings make it largely impossible for the authors of online material deemed illegal to defend themselves in court."
Pretty babies: Anne Higonnet discusses how an escalating definition of obscenity is on a collision course with art representing children. In the 1980s, "intimate" portraits of children had already caused controversy and damaged reputations. At the end of the 1990s, digital photography allowed the ambiguities of childhood sexuality to be depicted with even greater intensity; concurrently, legal debates began over whether a real child needs to be represented for an image to be pornographic. Higonnet urges caution:
"If the sexualisation of children is what shocks us about child pornography, then let us appraise the images of children we consider to be normal more carefully. If it is the objectification of children that shocks us about child pornography, then let us consider cute."
The full table of contents of Index on Censorship 1/2009

Dilema veche 258-263 (2009)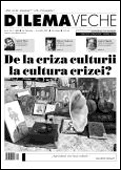 With Romania negotiating with the EU and the IMF over credit conditions, Dilema veche's attention is focused on the country's financial situation. In issue 263, Daniel Daianu, Romanian MEP and former chief economist of the Romanian Central Bank, comes out against neoliberal development policies that are too general, unqualified, and divorced from "concrete local conditions". Instead, he pleads for market reforms that, while stimulating growth in poorer countries, are implemented "pragmatically".
"I lived for a substantial part of my life under communism and I value economic and political freedom in ways which those who were fortunate to live in liberal democracies may not understand fully. […] For me, individual liberties coexist with concepts of social solidarity, social equity, public goods and moral values (trust, honesty, trustworthiness, sense of accountability). […] Frequently, I hear people (in the European Parliament, too) claim that morality is meaningless in business. I would argue that this is so only for those for whom society is quite meaningless."
Writing in the same issue, editor Mircea Vasilescu considers what it means to have a nationality in a Europe hit by financial crisis. Take, for example, Austria: it's banks have invested massively in eastern Europe and the Austrian state will be in no position to bale them out should those debts turn bad. The Austrian financial crisis is not just a national one, but will also affect the many non-Austrian borrowers from Austrian banks. In terms of consumption, comments Vasilescu, the EU spirit urges us to feel European, but when it comes to sharing risks, national discourse dominates.
Prandial politics: In a dossier on national foods (issue 259), Smaranda Vultur discusses how, during the last, hungry decade of Ceausescu's rule, meat products gained social and political significance; Stela Giurgeanu suggests that Romania suffers from an inferiority complex when it comes to its traditional dishes; and Selma Iusuf looks at how – post-89 – Romanian taste became accustomed to global food products such as hamburger, pizza and kebab.
The full table of contents of Dilema veche 258-263 (2009)

Osteuropa 2-3/2009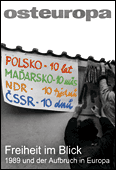 In Osteuropa, Adam Michnik describes the end of communism and 20 years of democratization in eastern Europe as a history of simultaneities and paradoxes. Still, he draws positive conclusions:
"Although many bad things have happened, I have the feeling that, with the exception of Russia and the Balkans, the post-communist countries have never had a better 20 years in recent history, in the case of Poland even in the last 300 years."
Yet the paradoxical effects of transition make it hard to see what was really achieved:
"Who overturned communism? In Poland it was done by the working class, however they were the first victims of transition. Let's picture a big industrial plant, where, through strikes, the power-holders were induced to make concessions. The plant produced Lenin busts for desks. The workers worked well. In 1989 they did not stop working well. But now nobody needs Lenin busts. The market destroyed this plant. The workers, with whose help it was possible to win freedom, fell victim to that very freedom."
A growing cynicism towards democratic values is what concerns Michnik most in a present-day "Europe without utopias": "My obsession is the defence of the republic. The essence of debate in all of our countries is: do you defend liberal values or do you consent to a Putinist state?"
Michnik opened the conference "From 1989 to 2009: History of a hope, end of an illusion?", organized by Osteuropa in Berlin last week, with a speech very much along these lines. The current issue features further speakers at the conference, including Ales Steger, Jirina Siklová and Ivaylo Ditchev.
Also to look out for: György Konrád, Petr Pithart and Tomas Venclova on the characteristics of the revolution in their countries and what came of it; Jachym Topol on why he accepts being an eastern European; Katharina Raabe on the ways literature has been dealing with 20 post-communist years; and Fyodor Lukyanov on Russia between history and globalization.
The full The full table of contents of Osteuropa 2-3/2009

Le Monde diplomatique (Berlin) 3/2009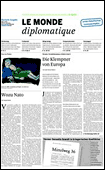 In Le Monde diplomatique (Berlin), Mathias Wagner tells the story of his smuggling trip across the Polish-Russian border together with a group of Polish housewives, apprentices in the flourishing smuggling trade. These well organized operations, complete with specially prepared buses and a standard bribe of 1 Euro per carton of cigarettes for the Russian customs officers, are in some parts of the country taking the place of non-existent social benefits.
"Answering the question what benefits a 40-year-old unemployed man without any health problems receives, the deputy mayor of a small town with bad infrastructure and an above-average unemployment rate states laconically: 'None. If he is fit, he can find work!'"
An estimated 10 000 people in the north eastern Polish province of Warmia-Mazury earn their living by smuggling, with altogether 40 000 people being sustained by it. Smuggling, mainly in vodka and cigarettes, makes up more than 95 per cent of private tourist traffic to Kaliningrad.
Although the Polish economy is – at least until recently – considered strong, the agricultural regions in the north-east and east of the country are in economic decline. Every eighth Polish citizen lives on the poverty line, while the Polish report on poverty states that the margin of subsistence has been reached once "the level of consumption only just prevents emaciation."
Also: In a focus on protectionism, Serge Halimi writes on helpless "Advocates of free trade and junkers"; and Isabelle Pivert points out the consequences of the principle of the shareholder-value.
The full table of contents of Le Monde diplomatique (Berlin) 3/2009

Wespennest 154 (2009)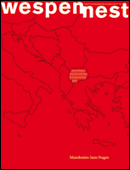 Wespennest turns its attention to literature from Macedonia, featuring, among others, Nikola Madzirov, Lidija Dimkovska and Rumena Buzarovska.
The small Balkan country is one of the youngest independent states in Europe, where, the editors point out, "the memory of nation building as a social-political process is as much alive as is the memory of the development of the language into standard Macedonian." In such a context, the roots of identity in language become a matter not only of literary but also political interest.
The sensitive character of the Macedonian national identity became apparent from recent reactions to the Bulgarian Milen Radev's article on relations between Macedonia and Bulgaria. The text has been described by Macedonian writers as "pro-fascist", nurturing dreams of a "Greater Bulgaria". Despite the sensitivity of the situation, one must question whether that is a plausible interpretation of Radev's article:
"Bulgaria has its difficulties recognizing the Macedonian language, which at times brings about irritations in official intergovernmental dialogue. But lately this question has been treated in a pragmatic and relaxed manner – an encouraging sign. […] The insight that one cannot dispute the freely-chosen nationality of parts of the population of the neighbouring country is gradually prevailing among Bulgarians – especially the enlightened and European-minded ones."
Tales from the Wild East: The lack of comprehension for historical as well as present-day events on the Balkans has to do with the very different character of master narratives in East and West, writes Goran Stefanovski. In 1990, he recounts, a group of young theatre directors tried to tell their story:
"It was the story of our time and place and context, a pastiche, a tragi-comic tale of a world spinning between two mighty political grinding wheels. But the story failed to sell. The western producers said it was hard to follow, difficult to file, they said it did not match Western horizons of expectation. […] Perhaps the Western producers (and here I mean not only theatrical, but also political) could have tried to create a context, to adjust the horizon of expectation to the story, and not vice versa."
The full table of contents of Wespennest 154 (2009)

Mute 1/2009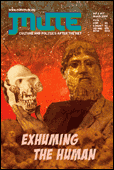 In Mute, Peter Linebaugh is impressed by a recent exhibition at the British Library. Entitled "Taking Liberties", it featured such items from the Library's catalogue as the Magna Carta (1215) and the Belfast Agreement (1998), with a good number of other milestones in the history of British libertarianism in between. "Many, many items signifying liberty. The indirect ones hit hardest, like Emily Davison's unused return ticket to London. (She had not planned to be crushed under the hooves of King George's horse)."
Nevertheless, Linebaugh wonders, is it possible to discuss liberty while excluding the question of equality? The title of the exhibition refers to a remark made by E.P. Thompson, social historian and author of The Making of the English Working Class (1963): "The state, whether Conservative or Labour Administrations, has been taking liberties, and these liberties were once ours" – a double entendre, Linebaugh points out, "mixing state crime with bad manners". Yet while Thompson was saying that the state takes from the people, the exhibition is curated in a way that suggests it is the people that "take liberties" from the state.
"The affirmative traditions of radical, socialist, communist and labour politics have vanished," writes Linebaugh. "Socialism is not here, communism is an absent ghost, anarchism unmentionable, while heresy is a faint wisp. […] When the census taker came knocking at the door of number 28 Dean Street, parish of St. Ann's, borough of Westminster, and found the German revolutionary exile, Karl Marx, he recorded him as Charles Marks […] Why is he not here, Karl or Charles? He should be."
Exhuming the human: Nina Power on Multitude: Between Innovation and Negation by Paulo Virno ("the 'dissociated' ex-operaista and exquisite professor of ethics of communication", as Mute editor Mathew Hyland describes the Italian philosopher). Power: "As an intervention into current debates about capitalism, language and politics, [Virno's book] is relatively coherent, but it suffers, as we all are supposed to (maybe), from excessive generalization, from an over-emphasis on the generic bio-linguistic traits that constitute the species."
The full table of contents of Mute 1/2009

Esprit 3/2009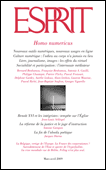 In a dossier in the new Esprit, entitled "Homo numericus" (Digital man), Bernard Benhamou writes on how the millions of computer chips embedded in everyday objects are forming an "Internet of things" and creating a ubiquitous background of "ambient intelligence". This is not virtual reality but "augmented reality" and could become "the prism through which citizens perceive the cultural, social and political world". But this omnipresent information could enable government and industry to further classify and control the world, Benhamou speculates; do we need a digital "right to silence" to protect our privacy?
Techno-bodies: Sociologist Georges Vigarello talks in interview about how, in every technological era, the human body is re-imagined in the image of the latest innovation. Electricity and the industrial revolution gave us the "nerve machine" and the "human motor"; the isolated computers of the twentieth century caused people to be thought of as calculating information-processors; today, by analogy to the Internet, humans are conceived of as networked communicators.
Online publishing: Media outlets moving online have often failed, some for financial reasons, others through misunderstanding the new medium. A few still try to use the Internet as a broadcast medium; many, seeing the rise of blogs, "citizens' journalism" and other participatory structures, worry about the future for the professional journalist. Laurent Mauriac and Pascal Riché, members of the team behind French politics website Rue89, explain how they attempt to bridge the gap between print and the Internet by encouraging contributions from experts and web users, but using journalists to coordinate, direct and edit this participation. It is not totally novel; they find parallels in readers' letters in the press, and above all in talk shows. With its user participation, lack of deadlines, and informal tone, Rue89 resembles nothing so much as "radio with an archive".
Also: Jacques Darras surveys French poetry of the late twentieth century; Ève Charrin imagines crisis-ridden Belgium as a microcosm of Europe; and Jean-Baptiste Soufron considers ideas of freedom contained in "open standards" and "open source software".
The full table of contents of Esprit 3/2009

Le Monde diplomatique (Oslo) 3/2009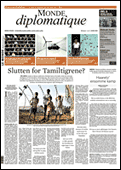 The European Parliament has struggled with a public image of being a powerless institution for a long time, writes Anne-Cécilie Robert in Le Monde diplomatique (Oslo). When the directive about free flow of the workforce was ratified in 1996, it was seen as a step in the right direction for employees. Instead it has been turned into a tool to facilitate the establishment of businesses without due attention paid to workers' rights.
But the resistance from the European Parliament last autumn against a decision which effectively legalizes social dumping has given new hope for a "social EU". However, in an atmosphere hostile to social rights, there is still no requirement for a clarification of the social aspects of the resolutions. "We're talking about a universe where one is actually discussing the possibility of a seventy-hour week and where the norm is a forty-eight-hour week!"
To err is human: In a symposium arranged by Nicolas Sarkozy, Tony Blair, Pascal Lamy and Angela Merkel in January, it was agreed that capitalism had to become "more moral". But so far, there has been no clarification of how this is to be achieved, "or what gives capitalism a morality to begin with", muses Remi Nilsen.
"With the development of the financial crisis into an economic crisis and then an ideological crisis, a simple and perfect scapegoat has been identified, as Kristin Clemet demonstrates in the most recent issue of Samtiden: 'The market is not just an abstraction or a system. It consists of people who sometimes do something stupid or bad. […]' So it's people who fail, not the market, or the system." The wish to keep capitalism alive seems far greater than the wish to develop new and more lasting systems of value and production, concludes Nilsen.
Also: Noëlle Burgi on private enterprise's increasing freedom to exploit workers; Kim Bredesen on how Asia has become the most dangerous continent for journalists; and Amnon Kapeliouk's account of Haaretz, which tries to remain neutral in a sea of blinkered support for the Israeli army.
The full table of contents of Le Monde diplomatique (Oslo) 3/2009

Varlik 3/2009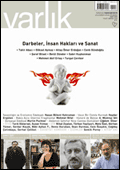 The March issue of Varlik deals with military interventions in general and with their influence on art and culture in particular. The Turkish military has a history of intervening in the country's politics. Since the end of single-party rule in 1950, this has happened three times: 27 May 1960; 12 March 1971; and 12 September 1980. These events have been so important in Turkish politics that the dates are often used as shorthand for certain developments in society, as in "the 12 March to 12 September period", referring not to six summer months but to the nine-and-a-half years between the last two military coups.
In an article entitled "Our most distant near history", Altay Ömer Erdogan raises a warning finger to those who now nurture hopes of yet another intervention: "While Turkish society has not yet managed to deal with past experiences, new items have been added to the bill up to the present day. 12 September continues to have an impact, but the existence of so-called 'leftists', still hoping that something good can come out of military intervention, is downright appalling!"
Also: In the Eurozine Review of 27 January, we reported on the conference "World literature in between", organized in Istanbul by Varlik. We then mistakenly claimed that Martin Puchner's article on Google literature was published in the issue of Varlik dedicated to the conference (1/2009). It was not. However, it is published in the current issue.
Here, Puchner argues that world literature is not "Google literature", aiming for an accumulation of all existing literatures (Google Books) and for total translatability (Google Translate). Puchner – who is the new general editor of the Norton Anthology of World Literature – tries to arrive at a pragmatic concept that would evade some of the critique directed at world literature's aspiration to totality. World literature, he writes, is "literature for the world, adopted by the world, world making, oriented towards the world market, and, finally, oriented towards this world rather than the next".
The full table of contents of Varlik 3/2009

Akadeemia 3/2009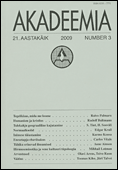 Various medical procedures such as plastic surgery, piercings and other decorations have contributed to turning the human body artificial, writes Kurmo Konsa in Estonian journal Akadeemia. "There are no fundamental obstacles in the way of shaping the biological future of nature and the human species. Even the existing restrictions have generally been imposed for ethical and religious concerns rather than technological limitations or risks", he says. Artificially created man is only a step away, and the image of man as a natural being has irreversibly faded.
Teaching the teachers: Issues related to the content and organization of teacher training have received little attention from Estonian educators, writes Edgar Krull. School practice should provide student teachers with conditions for promoting their professional decision-making capabilities, along with integration of theoretical ideas with practice. Using the Normal Lyceum of Helsinki University as the yardstick, he finds that the Finnish tradition of university practice schools has many advantages from which Estonian teaching education could benefit.
The heart of Russian darkness: Akadeemia continues its series on the semiotics of fear in Russian culture and has reached part three, where Mihhail Lotman takes a closer look at Russian glossophobia. "Glossophobia manifests itself in a fear of speaking; at the cultural level, it can acquire a specific form which is expressed as fear of (foreign) languages. This kind of glossophobia has been characteristic of Russian culture throughout the ages, where language has always been a dangerous and alien element."
The full table of contents of Akadeemia 3/2009

Semicerchio 38 (2009)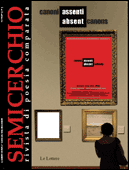 "What is poetry?" asks Daniele Piccini in an issue of Semicerchio looking at the contemporary poetic canon. Piccini notes the end of a fixed canon. Yet he calls for selection procedures and an attempt in the future to continue to concentrate on a few leading poets. The collapse of all rules and common features has destroyed what used to be poetry's distinctive character. However, that should not mean that from now on everything is treated as if it were the same. Many anthologies randomly place poets alongside one another, and in doing so blur the particularities of each. This is certain to lead to a crisis in the poetic tradition, one of the last ways of using language today that counters the general tendency towards banality and the levelling of differences.
What's next for Italian poetry? Editor Franceso Stella enquires into the social role of the poet in an article on the situation of contemporary Italian poetry. There may well be, on the part of many publishers, magazines and cultural organizations, a fundamental commitment to poetry, and it may well be possible to discern in Italy and elsewhere lively poetic production; nevertheless, the question still arises as to whether society is still prepared to recognize the poet "as a source of expression of collective sentiments, as one who identifies symbolic values".
At present, continues Stella, various competing canons within poetry can be identified that may alter the appearance of Italian poetry for good – from migrant poetry to poetry written in dialect. What's more, again and again certain works coalesce, forming their own canon to suit various groups at various times. However the real problem exists at another, more fundamental level: "Will this poetic canon, whatever it might contain, still bear weight within the cultural canon of the twenty-first century?"
The full table of contents of Semicerchio 38 (2009)