334 (2012)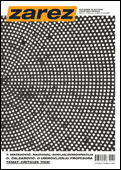 Society
Neoliberal social democracy?
Debacle of the Leftist Liberals
Noise drumming against evil energies
(Interview with Kornel Šeper)
Nicomachus' excellency
Film
Competing for the yellow tulip
Theme in Focus: Criticize This!
Identity roundabouts
From the house angel to the enemy's mistress
In search for identity
Towards new kinship
Theatre
What do slave bodies desire?
Prose
Disintegrations