156 (2009)
Dilemma 89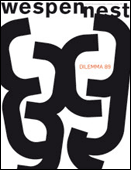 Der Milchmädchenreport
Report from a simple-minded reasoner
Das Verschwinden der Glühwürmchen
The disapperance of the fireflies
Zur Suche nach der Gauß'schen Gediegenheit
In search of Karl-Markus Gauss's solidity
Infotur?
Das pakistanische Bilderbuch. 14 Visitpostkarten
The Pakistani picture book. 14 postcards
stille tage in altaussee
silent days at altaussee
Gedichte
Poems
Gedichte
Poems
Dilemma 89
Vom Dilemma einer Vergangenheit, die nicht stattfand
The dilemma of a past that never occured
Das Jahr 1989 und wie es zu Ende ging. Grenzen damals und heute
Borders then and now. The year 1989 and how it ended
Erinnerung an die Vergeltung / Russischer Glamour. Zwei Geschichten
Memories of vengeance / Russian glamour. Two stories
Die Dichter sind natürlich voller Größenwahn ...
Erich Klein im Gespräch mit Tomas Venclova
Of course poets are megalomaniacs ...
Erich Klein in interview with Tomas Venclova
Ein Interview mit dem ältesten Hund in Bukarest
An interview with the oldest dog in Bucharest
Spuren von Gespenstern in Berlin
Traces of spectres in Berlin
Ethnonationalismen in Reformländern
Ethno-nationalisms in CEE reform countries
wespennest buch
Erich Loest: Einmal Exil und zurück / Löwenstadt / Sommergewitter
Matthias Frings: Der letzte Kommunist
Claudia Gabler: Die kleinen Raubtiere unter ihrem Pelz
Alfred J. Noll: Kein Anwalt für Antigone!
Konstantin Kaiser -- Ohnmacht und Empörung. Schriften 1982-2006
Werner Welzig (Hg.): Fackel Schimpfwörterbuch