165 (2013)
Mind the gap. Baustelle Gender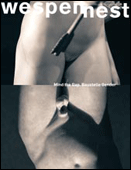 Editorial
Schattenwerfer
Shadowcaster
Gedichte
Poems
Gedichte
Poems
Gedichte
Poems
Ein Tod wie Paraffin. Gedichte
A death like paraffin. Poems
Alle diese komischen Geschichten
All these funny stories
MIND THE GAP. BAUSTELLE GENDER
MIND THE GAP. CONSTRUCTION SITE GENDER
Die Geschlechtergrenzen verschwimmen
The blurring of gender boundaries
Do women want "to have it all"?
Der Fall "Pussy Riot". Feministischer Protest im Kontext des Klassenkampfes
The class dimension of the Pussy Riot affair
Man wird nicht als Frau geboren -- aber auch nicht als Mann
One is born neither as woman, nor man
Gender in Prekmurje
Solidarität und Geschlecht: Von den Aufständen der Frauen in Polen
Women's Solidarity. The uprising of the Polish women's movement
Die Businesswelt ist ein Männertheater
Business is a male-dominated spectacle
Freiheit, Wahnsinn und Leidenschaft
Freedom, insanity, and passion
Bernarda Albas Haus
The house of Bernarda Alba
Was ist feministische Philosophie?
Bildpolitik
Image politics
wespennest_buch
wespennest_books
Die Kunst und Politik, aufzuteilen.
Heimrad Bäckers nachschrift reklamiert die Gegenwart
Dividing art and politics.
Heimrad Bäcker's nachschrift lays claim to the contemporary
Sebastian Kiefer: Dichte ich in Worten, wenn ich denke?
Ferdinand Schmatz oder: Nur der "Avantgardist" kann Romantiker sein
Eric Kandel: Das Zeitalter der Erkenntnis
Die mondäne Kommunistin.
Für eine Wiederentdeckung des Werkes von Gisela Elsner
The glamorous communist.
Why Gisela Elsner's work needs to be rediscovered