12/2012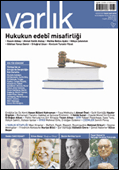 Summary
/
Özet
Dosya: "Hukukun Edebî Misafirliği"
Dossier: "Law visits literature"
Çizgi-yorum
Cartoonist's comment
Hukuk ve Edebiyatın Güncelliği
The actuality of law and literature
Edebiyatın İlham Ettiği Zayıf Düşünce: Hukuku Adil Kılmak
The weak thought inspired by literature: Bringing justice to law
Anahtar Deliği: Özel Somut Sübjektif
The keyhole: Private concrete subjective
Hukuk Hikâyeleri vs. Hukukun Hikâyeleri
Law stories vs. stories of law
Hukukçunun Edebiyatçı Olarak Portresi: Şair ve Avukat Archibald Macleish
A lawyer's portrait as a man of literature: Poet and attorney Archibald Macleish
Düzenin Kollayıcısı Olarak Yargıç: Reis Bey Yaşıyor mu?
The judge as the watchdog of the establishment: Is your honor still alive?
Kurbağalar, Cadılar ve Diğerleri
Frogs, witches and others
Endülüs'ün Üç Kenti
The three cities of Andalusia
Foça Mektubu / 4: Sirenler'in Yalancısı
Letter from Foça 4: Lying sirens
Split Günlüğü
Split diaries
Benim Barthes'larım: Yeniden
My own Barthes revisited
Kültür Gündemi: Türkiye'de ve Avrupa'da Dergiciliğin Durumu
Cultural Agenda: Cultural journals in Turkey and Europe
Dergilerin Suyu Nereden?
How journals survive
Avrupa'da Dergiciliğin Son Durumu
The situation of journals in Europe
Soruşturma: Türkiye'de Dergiciliğin Son Durumu
Questionnaire: The situation of journals in Turkey
Yaşar Kemal'in Gerçeği Yaratma Yolculuğu: "Bir Ada Hikâyesi"
Yaşar Kemal's journey to create reality: "An island saga"
Neden Cahit Külebi?
Why Cahit Külebi?
Romansal/Yaratıcı Hakikat ve Spinoza Problemi - II
Novel/creative truth and the Spinoza problem
Claude Monet'nin Evinde
At Claude Monet's house
Pablo Neruda'nın Şiir Anlayışı
Pablo Neruda's understanding of poetry
Yeni Şiirler Arasında
Ercan assesses works by aspiring poets
Yeni Öyküler Arasında
Among new stories
Varlık Kitaplığı
"Kedi ve Ölüm" / Erhan Bener
A review of Bener's novel Kedi ve Ölüm (Cat and Death)
"Mavi Kirazlar" / Sigrid Baffert, Jean-Michel Payet, Maryvonne-Rippert, Cécile Roumiguière
"Blue Cherries"
A review of the four novels of the Blue Cherries series
"Seçme Mektuplar" / Friedrich Nietzsche
"Selected letters"
Şiir Günlüğü
Poetry chronicles
Şimdi Haberler
Here is the news
Şiir
Poetry
Şiirler
Kırıntı
Öykü
Short story
Uyanış
Yeni İmzalar
New Names -- selection from among works sent in by new writers and poets
Şiir
Poetry
Yalan Arası
Sessizliğin Katili
Öykü
Short story
Zıpırlar