9/2014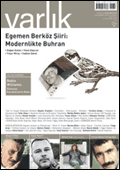 Dosya: Egemen Berköz Şiiri: Modernlikte Buhran
Dossier: Egemen Berköz poetry: Crisis in modernity
Çizgi-yorum
Cartoonist's comment
Son Üç Günün Hikâyesi
Berköz'ün dosyamız yazarları tarafından incelenen şiirine yer veriyoruz
"The story of the last three days"
This Berköz poem is being reviewed by our authors
Egemen Berköz ile Söyleşi
Şiir hakkında her zaman çok az konuşmuş ve neredeyse hiç metin kaleme almamış olan Berköz, kendi şiirinin kaynaklarını ve gençlik yıllarını anlatıyor
Interview with Egemen Berköz
Having spoken very little and written almost nothing about poetry, Berköz talks about his youth and his poetic influences
Şiirin Büyüsüne Kendini Kaptırmamak
Egemen Berköz'ün şiirinin tarihsel açıdan nerede durduğu irdeleniyor
Resisting the fascination of the poem
An essay on the historical position of Egemen Berköz's poetry
Egemen Berköz'ün Şiiri: Modernlikte Buhran
Kayıran "Çözülen, amaçsız, aslında yaşamak için nedeni ve çabası olmayan bir bireyin dünyasını dile getirir Berköz'ün şiirindeki tinsel evren," diyor
Egemen Berköz poetry: Crisis in modernity
Kayıran says, "The spiritual universe in Berköz poetry depicts the world of an individual who is unraveling, purposeless, deprived of any reason or will to live."
Egemen Berköz Şiiri
E. Berköz'ün dil anlayışı, şiirindeki sözcük seçimleri inceleniyor
Egemen Berköz poetry
Review of Berköz's use of language and choice of words
"Son Üç Günün Hikâyesi" Şiirinde Kalbi Daralan İnsanı Anlamak
Doğanın Berköz'ün şiirindeki yeri inceleniyor
Understanding the oppressed person in "The story of the last three days"
An essay on the significance of nature in Berköz poetry
"Şair"in Sosyal Medyayla İmtihanı
Ergülen sosyal medyada şiirin kapladığı yeri, yeni okur-izler çevrenin şiir üzerindeki etkisini sorguluyor
The 'poet's trial of social media
Ergülen questions the space occupied by poetry in social media, and the influence of the new readership-audience on poetry
İncelikler... Dokunuşlar... Elemler...
"Dikey şehirler kurarak katlediyoruz kentlerin ruhunu. Dikey şehir: yabancılaşmadır, yalıtmadır insanı insandan; hırstır, paradır, borsadır... Yatay şehir: uygarlıktır, insan sıcaklığıdır, sokaktır, evdir, bahçedir, mahalledir..." diyor Andaç
Niceties... Touches... Sorrows...
"We destroy the spirits of cities by building vertical abodes. A vertical city is one of alienation, isolation from human contact; it is greed, money, stocks... A lateral city is civilization, human warmth, streets, houses, gardens, neighbourhoods."
Tanpınar'ın Sokaklarında...
Ahmet Hamdi Tanpınar'ın romanlarından, günlüklerinden, kendi dönemindeki yazarların anlatılarından hareketle onun yaşadığı sokaklar ve evler için bir harita çıkarma denemesi
The streets of Tanpınar
An attempt at mapping the streets and homes Ahmet Hamdi Tanpınar lived in by collecting clues from the author's novels, diaries, and the writings of his contemporaries
Kültür Gündemi: Robin Williams: Ölümsüz Karakterlerin Ruhu
Robin Williams'ın filmlerindeki ortak temalar üzerine bir inceleme yazısı
Cultural agenda: Robin Williams: The spirit of immortal characters
An essay on the recurring themes in Robin Williams' films
Aylaklık İhtimali ve Birtakım Tuhaflıklar
Genç öykücü Alper Beşe'nin ilk öykü kitabı üzerine bir inceleme yazısı
The possibility of idleness and some anomalies
A review of young storywriter Alper Beşe's first short story book
Yılmaz Güney Filmografisi Şiirmatik
Yılmaz Güney'in filmografisi sunuluyor, her filmi üzerine kısa şiirsel notlar düşülüyor
Yılmaz Güney's filmography and poem-matic
A discussion of Güney's filmography with short poetic notes on each film
Orhan Kemal 100 Yaşında: Işık Öğütçü ile Söyleşi
100. doğum yılında oğlu Işık Öğütçü, Orhan Kemal'i anlatıyor
Orhan Kemal turns 100: Interview with Işık Öğütçü
Novelist Orhan Kemal's son Işık Öğütçü speaks about his father to commemorate the 100th anniversary of Orhan Kemal's birth
Latin Amerika Şiiri Antolojisi
Latin Amerika şiiri tanıtılıyor
Anthology of Latin American poetry
An introduction to Latin American poetry
Not Defteri
Güncel edebiyat olayları üzerine bir deneme
The Notepad
Essay on current issues in literature
Yeni Şiirler Arasında
İskender yeni imzalardan gelen şiirleri değerlendiriyor
Among new poems
İskender assesses works by aspiring poets
Varlık Kitaplığı
Varlık Library
Gülseli İnal ile Söyleşi
İnal, son romanı Lady Lazarus'u anlatıyor
Interview with Gülseli İnal
On her latest novel Lady Lazarus
"Hayatın Anlamı ve Psikoterapi" / Viktor E. Frankl
Bilici "Frankl'a Sorular soran hayatın kendisidir Bize düşen hayatın sorularına cevap vermektir," diyor
"Psychotherapy and man's search for meaning"
"It was life itself which asked questions to Frankl. What we have to do is to answer them"
"Vahşi Hukuk" / Cormac Cullinan
Cullinan'ın Vahşi Hukuk adlı kitabı tanıtılıyor
Wild law / Cormac Cullinan
A review of Cullinan's Wild law
Başar Başarır ile Söyleşi
Başarır Teklifinizle İlgilenmiyorum adlı öykü kitabını anlatıyor
Interview with Başar Başarır
On his short story collection Teklifinizle İlgilenmiyorum (I am not interested in your offer)
"Beni Oyuna Kaldır" / Hüseyin Peker
Hüseyin Peker'in son şiir kitabı Beni Oyuna Kaldır üzerine bir tanıtım yazısı
Hüseyin Peker
A review of Peker's latest poetry book Beni Oyuna Kaldır (Take me to play)
Ferhat Uludere ile Söyleşi
Uludere son romanı Don Quijote'nin Üçüncü Cildi hakkında konuşuyor
Interview with Ferhat Uludere
On his latest novel Don Quijote'nin Üçüncü Cildi (Volume three of Don Quijote)
"Kehanetin Gölgeleri" / William Blake
Tozan Alkan tarafından dilimize kazandırılan, Türkçedeki en kapsamlı Blake şiirleri seçkisi tanıtılıyor
William Blake
A review of the largest selection of Blake's poetry, translated to Turkish by Tozan Alkan
Oğuz Özdem ile Söyleşi
Özdem, son şiir kitabı İmge Çukurları'nı anlatıyor
Interview with Oğuz Özdem
On his latest poetry book İmge Çukurları (Image pits)
"Her Şey Dün Oldu" / Ogün Kaymak
Ogün Kaymak'ın son şiir kitabı Her Şey Dün Oldu tanıtılıyor
Ogün Kaymak
A review of Kaymak's latest poetry book Her Şey Dün Oldu (It all happened yesterday)
Şiir Günlüğü
Şiir kitapları, dergileri ve şairler hakkında kısa notlar içeren bir günlük
Poetry Chronicles
A chronicle on poetry books, magazines and poets
Şimdi Haberler...
Dünyadan ve Türkiye'den edebiyat, kültür-sanat haberleri
Here is the news...
Recent developments in literature and the arts in Turkey and around the world
Şiir
Poetry
Bir Kayanın Uçurumu
İki Şiir
Uçuruma Yakın
Kadından Erkeğe
Anılardan
Öykü
Short story
Sonsuz Kitap
Küçük Tufan
Yeni İmzalar
New Names -- Selection from works sent in by new writers and poets
Şiir
Poetry
Sarı
Gül ve Şarap Meselesi
Çürük Su
Öykü
Short story
Kavuşma
Üveyik Kuşları