6/2015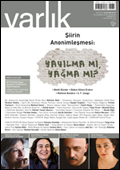 Summary
/
Özet
Dosya: "Şiirin Anonimleşmesi: Yayılma mı Yağma mı?"
Dossier: "Anonymization of poetry: Expansion or looting?"
Çizgi-yorum
Cartoonist's comment
Anonimleşen Biz miyiz Yoksa Dil/sizlik mi?
Is it us becoming anonymous or speech and silence?
Çömlekçinin Parmak İzleri
Fingerprints of the potter
Çoğaltılabildiği Çağda Şiir Yapıtı
The work of poetry in the age of duplication
Az Biraz T.A.Z.
Bir Anlatıcının Seslendiği Gücül Örnek Okur
Güven Turan'ın Nisan 2015'te Yapı Kredi Yayınları'dan çıkan Yaz Üçgeni başlıklı romanı bağlamında anlatıcının seslendiği örnek okur inceleniyor
A hidden ideal reader voiced by a narrator
An essay on the ideal reader voiced by the narrator in Güven Turan's April 2015 novel Yaz Üçgeni (Summer Triangle)
Tartışmacı, Düşünür, Araştırmacı, Edebiyatçı Attilâ İlhan
Attilâ İlhan'ın gençken, Balıkesir'de yayınlanan Türk Dili ve Balıkesir Postası gazetelerinde yazdığı "gençlik yazıları" inceleniyor
Attila İlhan: debater, thinker, researcher, writer
An analysis of Attila İlhan's "early writings" in the Türk Dili magazine and Balıkesir Postası newspaper printed in the province of Balıkesir
Cemal Süreya: Şairin Bir Denemeci Olarak Portresi
Cemal Süreya'nın denemeci yönü üzerine bir yazı
Cemal Süreya: A portrait of a poet as an essayist
An article on the essayist facet of Cemal Süreya
Fazıl Hüsnü Dağlarca
Dağlarca'nın şiir ütopyası üzerine bir deneme
An essay on the poetic utopia of Dağlarca
Ölüm Alışkanlığı...
Antik Yunan'dan günümüze ölüm kavramının gelişimi üzerine eğlenceli bir deneme
The habit of dying
A lighthearted article on the development of the concept of death from Ancient Greece to the present day
"Atların Uykusu"ndaki "Belirsizlikler"
Salih Bolat'ın Atların Uykusu adlı şiir kitabı üzerine bir deneme
Obscurities in Atların Uykusu
An essay on Salih Bolat's poetry book Atların Uykusu (Slumber of Horses)
Medya Notları: 2015 Türkiye Genel Seçimleri
Media notes: General elections 2015
Kitlelerin Hayali Coşkusu / İktidarın Fallosentrik Demokrasi Anlayışı?
Yeni Bir Seçim(!) ve Tutarsızlık Örnekleri
A new "election" and examples of inconsistency
Halkların Demokratik Seçimi
Democratic election of the Peoples
'Psikanalitik Duyarlıklı Bakış'la Fethi Naci ve Roman Eleştirisi / 2
Sunat'ın Fethi Naci'nin roman eleştirisi yöntemini incelediği yazısının ikinci ve son bölümü
Fethi Naci's novel critique with "Psychoanalytical Sensibilities" 2
The second and last chapter of Sunat's essay on Fethi Naci's method for novel critique
"Tekne Kazıntısı" Üzerine Bir Söyleşi
Tekne Kazıntısı adlı ortak şiir kitabının şairleri birbirleriyle söyleşiyorlar
An Interview on Tekne Kazıntısı
The co-writers of the poetry book Tekne Kazıntısı (Bottom of the Barrel) have interviews with each other
Editörlük Müessesesi Üzerine: "Yaşasın Edebiyat"
Editörlük müessesesi üzerine bir deneme
On the institution of editorship: "Long live literature"
An essay on the metier of an editor
"İçimizdeki Şeytan"a Feminist Eleştirel Bir Bakış - 1
Sabahattin Ali'nin romanının feminist bir incelemesi
A feminist critique of İçimizdeki Şeytan
A feminist critique of Sabahattin Ali's novel İçimizdeki Şeytan (The devil within)
Sesimdeki Rüzgâr
Andaç'ın "Başlangıçlar Karşılaşmalar Kırılmalar" adını taşıyan yeni yazı dizisinin ilki
The wind in my voice
The first article in a new series by Andaç titled "Beginnings, encounters, fractures"
Selma Ancira ile Söyleşi
Meksikalı çevirmen Ancira çeviri yöntemini, hazırladığı kitapları anlatıyor
Interview with Selma Ancira
Mexican translator Selma Ancira talks about her methods for translation and the books she prepared
Yeni Şiirler Arasında
Among new poems
Yeni Öyküler Arasında
Among new stories
Varlık Kitaplığı
Nihat Ziyalan ile Söyleşi
Interview with Nihat Ziyalan
"Mükemmel Katilin Peşinde" / N. Ahmet Erözenci
Erözenci'nin polisiye romanı tanıtılıyor
A review of Erözenci's detective novel
Ersan Üldes ile Söyleşi
Interview with Ersan Üldes
"Alandaki Park" / Adnan Özyalçıner
Özyalçıner'in Gezi Direnişi'ne gönderme yapan öykülerinin toplandığı kitap tanıtılıyor
A review of Özyalçıner's collection of short stories referencing the Gezi Resistance
Altay Öktem ile Söyleşi
Interview with Altay Öktem
"Ahlakın Akli ve İnsani Temeli" / Şahin Filiz
Filiz'in deneme kitabı tanıtılıyor
A review of Filiz's essay collection
Atilla Birkiye ile Söyleşi
Interview with Atilla Birkiye
"Barbarın Kahkahası" / Sema Kaygusuz
Kaygusuz'un son romanı tanıtılıyor
A review of Kaygusuz's latest novel
Tunç Lokum ile Söyleşi
Interview with Tunç Lokum
Şiir Günlüğü
Poetry Chronicles
Şimdi Haberler
Here is the news
ŞİİR
Poetry
Rüzgârın İşi
Buun Topika Anşalttım
Spectrophobia
Park Cinayetleri
Yazı
Fetret
Çabuk Sular
Dünya Vakti
ÖYKÜ
Short story
Kiralık Mezar
Masal Bitti
Reşit Paşa Sahil Sarayı
YENİ İMZALAR
New names
ŞİİR
Poetry
Muş'a Gelsene Baudelaire!
İmpala Heykelleri
ÖYK
Short story
Yakarete