3/2014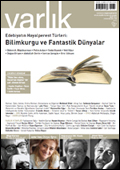 Summary
/
Özet
Başyazı: Seçmenler ve Seçenekler
Yaklaşan yerel seçimler dolayısıyla, seçmenlerin tercihlerine neye gore yaptıkları ve önlerindeki seçenekler hakkında bir yorum
Editorial: The electorate and their alternatives
A short commentary on the alternatives available to the voters in the modern consumer society and in particular (as the regional elections are approaching) the Turkish political system
Dosya: Edebiyatın Hayalperest Türleri: Bilimkurgu ve Fantastik Dünyalar
Dossier: The imaginative genres of literature: Science-fiction and fantasy worlds
Çizgi-yorum
Cartoonist's comment
Edebiyatın Hayalperest Türleri Üzerine Bir Söyleşi: Pelin Aslan, Seda Uyanık, Veli Uğur
Interview on the imaginative genres of literature
Ya Öyle Olsaydı? Bilimkurgu-Fantastik ve Hakikat Üzerine Bir İnceleme
What if? A study of science-fiction, fantasy and truth
Bilimkurgu ve Adilik: Biopunk
Science-fiction and banality: Biopunk
Sanal Hikâye Anlatıcılığı Çağında Yaşayan Bilimkurgu ve Fantastik Dünyalar Olarak Video Oyunları
Video games as living science-fiction and fantasy worlds in an age of virtual storytelling
"Uzay Çiftçileri" ve "Şebek Romanı" Ekseninde İslami Bilimkurgu Romanlarında Ütopya/Distopya
Utopia and dystopia in Islamic science-fiction novels exemplified by Uzay Çiftçileri (Space farmers) and Şebek Romanı (The baboon novel)
Roman, Öykü, Anlatı, Enfra-Roman, Enstantane ve Diğerleri
Novel, story, narrative, infra-novel, snapshot and others
Arap Saçı
Sicilya'yı konu edinen edebiyat eserleri üzerine bir yazı
Angel Hair
An essay on works of literature based in Sicily
Kemal Tahir'in Kaleminden Namus ve Namuscular
Kemal Tahir'in romanlarında Anadolu insanı açısından namus kavramının nasıl anlatıldığı üzerine bir inceleme yazısı
Chastity as observed by Kemal Tahir
An essay on how Kemal Tahir novels depict the concept of chastity as perceived by the people of rural Anatolia
Edebiyat Gündemi: "Ölüm'den olma, Hayat'tan doğma" bir şair: Ahmet Erhan
Literary agenda: Ahmet Erhan: A poet conceived by death, born of life
Yüzlerce Yılkı Şairi: Ahmet Erhan
Hundreds of prairie poets: Ahmet Erhan
Şairin Seyir Defteri: Silivri Yılları
Poet's logbook: Silivri years
Ahmet Erhan'ın Şiiri Üzerine
On Ahmet Erhan poetry
Ahmet Erhan: Yaşadığı Günlerin Tanığı
Ahmet Erhan: Witness of days lived
Turgut Uyar Şiiri: Ruh Kelepçelerini Açan Tılsımlı Anahtar
Turgut Uyar poetry: An enchanted key that unlocks spiritual chains
Metonimi ve Metafor Eğretileme Çeşitleri midir?
Are metonymy and metaphor types of allegory?
Bu Kent Unutacak Seni
Erzurum insanı üzerine bir yazı
This town will forget you
An essay on the people of Erzurum
Şiddet Edebîleşince...
Ayla Kutlu, Mine Söğüt ve Şebnem İşigüzel'in öykülerinde kadınlık açısından şiddet yansımaları inceleniyor
When violence becomes literature
A study of violence against women in the stories of Ayla Kutlu, Mine Söğüt and Şebnem İşigüzel
Doğumunun 100. Yılında Octavio Paz Lozano
Paz'ın genel olarak sanat anlayışı ve postmodernizm ile modernizm üzerine görüşlerinin incelendiğini bir yazı
Remembering 100 years of Octavio Paz Lozano
An essay discussing art as understood by Paz, and his opinions on modernism and postmodernism
Bilge Karasu: "Nereden de Andım Şimdi?"
Karasu'nun "Nereden de Andım Şimdi?" adlı öyküsü üzerine bir inceleme yazısı
A review of Bilge Karasu's short story "Nereden de Andım Şimdi – Why did I just remember"
Ahmet Oktay'ın "Radyomu İstiyorum" Şiirine Bir Bakış Denemesi
An attempt to discuss the poem "Radyomu İstiyorum" by Ahmet Oktay
Özdemir Asaf'ın "Hidim"i
Şair Özdemir Asaf'ın şiir çevirileri ve çeviri anlayışı üzerine bir deneme
"Hidim" by Özdemir Asaf
An essay on poet Özdemir Asaf's poetry translations and understanding of translation
Yeni Şiirler Arasında
İskender yeni imzalardan gelen şiirleri değerlendiriyor
Among new poems
İskender assesses works by aspiring poets
Varlık Kitaplığı
Ayfer Tunç ile Söyleşi
Ayfer Tunç ile son romanı Dünya Ağrısı üzerine bir söyleşi
Interview with Ayfer Tunç
An interview with Tunç on her latest novel Dünya Ağrısı (World of hurt)
"Yüzbaşının Oğlu" / Nedim Gürsel
Nedim Gürsel'in 1950-1960 yılları arasında İstanbul'da yaşananları konu ettiği romanı Yüzbaşının Oğlu üzerine bir tanıtım yazısı
A review of Nedim Gürsel's novel Yüzbaşının Oğlu (The captain's son) on the events in Istanbul in the 1950s
Metin Cengiz ile Söyleşi
Cengiz son şiir kitabı Yeryüzü Halleri'ni anlatıyor
Interview with Metin Cengiz
Cengiz discusses his latest poetry book Yeryüzü Halleri (Ways of the planet)
"Rüyaların Yorumu" / Sigmund Freud
Freud'un Rüyaların Yorumu adlı çalışması üzerine bir tanıtım yazısı
A review of Freud's The interpretation of dreams
Türkân Yeşilyurt ile Söyleşi
Yeşilyurt son şiir kitabı Küçük Bir Ah'ı anlatıyor
Interview with Türkan Yeşilyurt
Yeşilyurt discusses her latest poetry book Küçük Bir Ah (A little lament)
Kemal Varol ile Söyleşi
Varol ile ikinci romanı Haw üzerine bir söyleşi
Interview with Kemal Varol
An interview with Varol on his second novel Haw
"Bir Parmak Bal" / Ian McEwan
Ian McEwan'ın Bir Parmak Bal adlı romanı üzerine bir tanıtım yazısı
A review of McEwan's Sweet tooth
"Düş Hırsızlarına Karşı" / Zehra İpşiroğlu
Fantastik çocuk romanı Düş Hırsızlarına Karşı üzerine bir tanıtım yazısı
A review of children's fantasy novel Düş Hırsızlarına Karşı (Against dream thieves)
İnan Çetin ile Söyleşi
Çetin ile Uzun Bir Ömür İçin Uzun Bir Elbise adlı romanı üzerine bir söyleşi
Interview with İnan Çetin
An interview on Çetin's Novel Uzun Bir Ömür İçin Uzun Bir Elbise (A long dress for a long life)
"Minima Poetika" / Ersun Çıplak
Ersun Çıplak'ın 2008 yılından itibaren dergilerde yayımlanmış olan yazılarını bir araya getirdiği kitabı Minima Poetika üzerine bir tanıtım yazısı
A review of Minima Poetika, a collection of Ersun Çıplak's articles published in periodicals since 2008
"Akla Çarpan" / Nihat Ateş
Ateş'in son şiir kitabı Akla Çarpan üzerine bir tanıtım yazısı
A review of Ateş's latest poetry book Akla Çarpan (What strikes the mind)
Şiir Günlüğü
Şiir kitapları, dergileri ve şairler hakkında kısa notlar içeren bir günlük
Poetry chronicles
A chronicle on poetry books, magazines and poets
Şimdi Haberler
Dünyadan ve Türkiye'den edebiyat, kültür-sanat haberleri
Here is the News
Recent developments in literature and the arts in Turkey and around the world
ŞİİR
Poetry
Çalgısız Şarkı
Yazılamayanlar
31
ÖYKÜ
Short story
Hikâye Boğultusu
YENİ İMZALAR
New names
ŞİİR
Poetry
Kökler
Şizofreni
ÖYKÜ
Short story
İki Düş Arasında