4/2015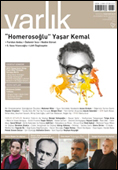 Summary
/
Özet
Dosya: "Homerosoğlu" Yaşar Kemal
Dossier: Yaşar Kemal, "Homer's son"
Çizgi-yorum
Cartoonist's comment
Kurucu Anlatıcı: "Homerosoğlu" Yaşar Kemal
Yaşar Kemal'in sözlü ve yazılı geleneği buluşturan romancılığı üzerine bir yazı
Founding narrator: Yaşar Kemal, "Homer's son"
An essay on how Yaşar Kemal brought the oral and written traditions together in his novels
Şair Yaşar Kemal
Yaşar Kemal the poet
Fırat Suyu Kan Akıyor Baksana: Düşten Gerçeğe Yazınsal Bir Yolculuk
Look, the Euphrates is Flowing with Blood: A literary journey from fantasy to reality
Yaşar Kemal Buluşmaları
Fotoğrafçı Lütfi Özgünaydın, Yaşar Kemal ile olan dostluklarını birlikte açtıkları sergileri ve hazırladıkları kitabı anlatıyor
Meeting Yaşar Kemal
Photographer Lütfi Özgünaydın speaks of his friendship with Yaşar Kemal, the exhibitions they held and the book they wrote together
Monika'nın Öyküsü
Monika's story
Bir Entelektüeller Sözlüğünün Ölçütleri
The criteria for a who's who of intellectuals
'Oyun Yeri'ndeki Kalabalık
The crowd at the playground
'Diğer'inin Yerine Gamlı
Haydar Ergülen, sempati, empati, diğerkam sözcüklerinin hayatımızdaki yerine keyifli bir bakış atıyor
Feeling in place of the other
A lighthearted look at the place of words like sympathy, empathy and altruism in everyday life
Medya Notları: Medyanın Şiddet Tutkusu
Media notes: Media's lust for violence
"Yazık ki Sıradan Kalacaksın!"
"Alas, you will remain ordinary!"
"Hepsi Gerçek, Çünkü Televizyonda Gördüm"
"It's all real because i saw it on TV"
Anneler Ölmesin, Kadınlar Ölsün!
Mothers must not die; women can!
Medya, Çocuk ve Şiddet
Media, children and violence
(Ömer) Edip Cansever'in Kitaplarına Girmemiş Üç Şiiri
Three unpublished poems by (Ömer) Edip Cansever
"Sevda Dolu Bir Yaz"da Füruzan
Füruzan in "An amorous summer"
Edebiyat Gündemi: 2015 Tüyap İzmir Kitap Fuarı Onur Konuğu: Süreyya Berfe
Literary agenda: 2015 Tüyap Izmir Book Fair guest of honor: Süreyya Berfe
Süreyya Berfe ile Söyleşi
Interview with Süreyya Berfe
Süreyya Berfe'nin "Kasaba" Öncesi Şiiri
Süreyya Berfe poetry before "Kasaba"
Uzaktan Süreyya Berfe Şiiri
Süreyya Berfe poetry from a distance
"Kalfa"nın İhaneti
Süreyya Berfe şiirinin toplumcu yönü inceleniyor
Betrayal of the "Journeyman"
An essay on the socialist aspect of Süreyya Berfe's poetry
Yeni Şiirler Arasında
Among new poems
Varlık Kitaplığı
İbrahim Yıldırım ile Söyleşi
Interview with İbrahim Yıldırım
"Salyangoz İlmi" / Sina Akyol
Akyol'un "Salyangoz İlmi" adlı şiir kitabı inceleniyor
A review of Akyol's poetry book Salyangoz İlmi (Snail Science)
"Kaçan Şehir" / Hovhannes Tekgyozyan
Ermenistan edebiyatının günümüzdeki önemli imzalarından Hovhannes Tekgyozyan'ın "Kaçan Şehir" adıyla Türkçeye çevrilen romanı inceleniyor
A review of leading contemporary Armenian writer Hovhannes Tekgyozyan's novel The Fleeting City
Gülce Başer ile Söyleşi
Şiirleriyle tanınan Gülce Başer ilk romanı "Bir Ceset Bir Söz"ü anlatıyor
Interview with Gülce Başer
Known for her poems, Başer talks about her first novel Bir Ceset Bir Söz (A Corpse and a Word)
"Marx'ın İnsan Anlayışı" / Erich Fromm
Fromm'un incelemesi tanıtılıyor
A review of Fromm's Marx's Concept of Man
"İmdat Şiirleri" / Devrim Dirlikyapan
98'den bu yana şiir yayınlamayan Devrim Dirlikyapan'ın son şiir kitabı tanıtılıyor
A review of the latest poetry collection by Dirlikyapan, who had not been publishing new poems since 1998
"Ruh Gibi" / Tahir Abacı
Abacı'nın "Ruh Gibi" adlı şiir kitabı üzerine bir yazı
A review of Abacı's poetry book Ruh Gibi (Spirited)
Arife Kalender ile Söyleşi
Interview with Arife Kalender
"Dekadans ve Ölüm" / Orçun Ünal
Orçun Ünal'ın öykü kitabı tanıtılıyor
A review of Ünal's short story collection
Mehmet Yaşar Bilen ile Söyleşi
Interview with Mehmet Yaşar Bilen
Cafer Hergünsel ile Söyleşi
Hergünsel son öykü kitabı "Kadriye"yi anlatıyor
Interview with Cafer Hergünsel
Hergünsel talks about his latest short story collection Kadriye
"İhtimal" / Selma Sancı
Selma Sancı'nın "İhtimal" adlı ikinci romanı üzerine bir tanıtım yazısı
A review of Sancı's second novel İhtimal (Probability)
Sezgin Kaymaz ile Söyleşi
Interview with Sezgin Kaymaz
"O Anda" / Melike İnci
İnci'nin "O Anda" adlı romanı tanıtılıyor
A review of İnci's novel O Anda (At That Moment)
"Dağ Sustu Dağ Konuştu" / Hacer Kılcıoğlu
Kılcıoğlu'nun Dağ Sustu Dağ Konuştu adlı romanı tanıtılıyor
A review of Kılcıoğlu's novel Dağ Sustu Dağ Konuştu (The Mountain Spoke, the Mountain Spoke Not)
"Ölüm Vardiyası" / Haz.: Hande Baba
Soma'daki maden faciası üzerine yazılmış öykülerin derlendiği "Ölüm Vardiyası" adlı kitap tanıtılıyor
A review of Ölüm Vardiyası (Death Shift), a compilation of stories written on the mine disaster in Soma
Şiir Günlüğü
Poetry chronicles
Yeni Yayınlar
ŞİİR
Poetry
Kış Şiirleri
Gölgenin Sesleri
Yazı
Kabul Günü
ÖYKÜ
Short story
Hürriyetten Azberi
YENİ İMZALAR
New names
ŞİİR
Poetry
Mâveylâ
İris