46 (2014/15)
Krise Kritik Kapitalismus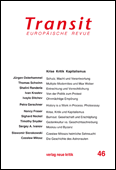 Schutz, Macht und Verantwortung
Protektion im Zeitalter der Imperien und danach
Protection, power and responsibility
Protection in the age of empires and thereafter
Multiple Modernen
Überlegungen im Anschluss an Max Weber
Multiple modernities
Reflections after Max Weber
Entrechtung und Verrechtlichung
Entpolitisierung der Demokratie?
Disenfranchisement and juridification
De-politization of democracy?
Von der Politik zum Protest
From politics to protest
History is a Work in Process
Bilder aus Frankfurt und Istanbul
Photoessay
Ohnmächtige Empörung
Beobachtungen zu neuen Formen des Protestes
Powerless indignation
Observations on new forms of protest
Krise, Kritik und Kapitalismus
Ein Leitfaden für das 21. Jahrhundert
Crisis, critique and capitalism
A framework for the 21st Century
Burnout
Das gesellschaftliche Leid der Erschöpfung
Burnout
The social disease of fatigue
Das Zweite Rom aus Sicht des Dritten
Russische Debatten über das "byzantinische Erbe"
The second Rome seen from the third
Russian debates on the "Byzantine heritage"
Heimliche Sehnsucht
Czesław Miłosz und der Roman
Secret yearning
Czesław Miłosz and the novel
Die Geschichte des Astronauten
The astronaut's story