2/2012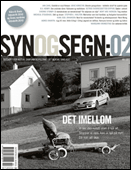 Leiar
Editorial
Oslofolk er visst flinkare
Are art and culture better in Oslo?
Breivik-paragrafane. Kollektiv straff for psykisk sjuke
"Lex Breivik". Collective punishment of the mentally ill
Den arabiske våren. Kulissane og realitetane
The Arab Spring. The side scenes and the reality
Døden i arkivet
Death in the archives
Er demokratiske val demokratiske? Får veljarane sin vilje?
Are democratic elections democratic?
Ting imellom. Fotoserie
Things inbetween. Photos
Dikt og draum
Poetry and dream
Matriarkar som bryt handbak, og festgalne transvestittar
Armwrestling matriarchs and party-mad transvetites
Nord for moralsirkelen? Kristenliv og ekteskapsmoral i Nord-Noreg
North of the Moral Circle. Christian life and marital moral in northern Norway
"Lyg litt meir, Vetle-Erling!" Erling Lægreid om delfinar, Hamsuns kvinner og tulleri og tullera
"Lie some more!" Erling Lægreid on dolphins and Hamsun's women
Ein vaklande kritikk
On the state of the critique of literature in translation