3/2014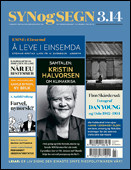 Leiar
Editorial
Sinnakula
Ein tekst om sinne og kvifor det er bra (nokre gonger) å bli sint
The surge of anger
A text about anger and why it is (sometimes) good to be angry
Intervjuet
Interview
Ida Habbestad intervjuar Hanne Fjerdingby Olsen om omsorgslønn og fleksible ordningar for dei som ynskjer å ta ansvar for tunge omsorgsoppgåver
Ida Habbestad interviews Hanne Fjerdingby Olsen about financial aid for caregivers and flexible arrangements for those who wish to take on difficult caregiving work
Harde fakta
Hard facts
Illustrasjon ved Øystein Runde
Illustration by Øystein Runde
Samtalen
Conversation
Eskil Skjeldal i samtale med Kristin Halvorsen, tidlegare rikspolitikar og statsråd – no direktør i CICERO Senter for klimaforskning
Eskil Skjeldal in conversation with Kristin Halvorsen, former national politician and cabinet minister – now director of CICERO (Center for International Climate and Environmental Research)
Emne: Einsemd
Topic: Solitude
Om einsemd
Det finst mengdevis av songar om einsemd, men ingen synest å fange einsemda sitt vesen så godt som "All is loneliness", med den repetitive og kvernande tristessen songen har
On solitude
There is a great number of songs about solitude, but none seem to capture solitude's essence as well as "All is loneliness", with its repetitive and churning sadness
Ei personleg forteljing om einsemd og vegen vidare
Når ein er omslutta av einsemd og ser på livet rundt som tilsynelatande er fylt av lykkelege menneske, kan ein bli dobbelt oppteken av eiga ulykke
A personal narrative about solitude and the way forward
When one is encompassed by solitude, and the surroundings are seemingly filled with happy people, one can become doubly preoccupied with one's own misfortune
Å leve i einsemda
Etter ei diktopplesing på Litteraturhuset i Oslo for nokre år sidan kom ei middelaldrande kvinne opp til meg, stilte seg framfor meg og såg lenge granskande på meg før ho utbraut: Sei meg, har du kjent einsemda?
To live in solitude
After a poetry reading at the House of Literature in Oslo several years ago, a middle-aged woman approached me, stood before me and looked at me searchingly before she burst out: Tell me, have you felt loneliness?
I opposisjon
In opposition
Danna uutdanna
Du som les dette, har heilt sikkert eit par år på universitetet bak deg. Eller kanskje mange år. Du har tatt bachelor, master kanskje. Eller om du er litt eldre: doktorgrad og fordjuping
Educated uneducated
You, the reader, presumably have a couple of years of university behind you. Or perhaps many years. You have taken a bachelor's degree, maybe a master's degree. Or, if you are a little older: a doctorate with specialization
Foto
Photography
Oslo 1962-1964. Med tekst av Finn Skårderud
Oslo 1962-1964. With a text by Finn Skårderud
Utland
Abroad
Permanent observatørstatus
For meg er ikkje London betre berre fordi det er London
For meg er London betre fordi det ikkje er Noreg
Permanent observer status
For me, London is not better just because it is London
For me, London is better because it is not Norway
Frie tekstar
Free texts
Tre menn. To målformer. Éi kvinne
Eg søv godt om nettene. Eg manglar ikkje matlyst, heller ikkje livsgnist. Like fullt er det ei form for kjærleikssorg eg går rundt og kjenner på. Etter meir enn 30 år med nynorsk som hovudmål vurderer eg å gjere det slutt
Three men. Two language variants. One woman
I sleep well at night. I don't lack an appetite or vitality. All the same, I feel a form of heartsickness. After more than 30 years with Nynorsk as my primary language, I am considering putting an end to it
Folkestyret rotnar på rot
Dei siste tiåra har jussen blitt meir og meir internasjonalisert: Noreg underordnar seg internasjonalt lovverk, og i ei særstilling står EØS-avtala
The democracy is rotten at the root
During the last several decades, law has become more and more internationalized: Norway complies to international legislation, and the EEA agreement stands in a unique position
Dobbelt framand
Alle livsstadene mine har vore parentesar. Dei har vore rasteplassar der eg har slått meg ned ei tid for å bli kjent med noko nytt." Ein tekst om norsk og svensk tilhøyr
Doubly foreign
"All of the stages of my life have been parentheses. They have been rest stops where I have settled down for a time to get to know something new." A text about Norwegian and Swedish affiliation
Tilrådinga
Recommendation
Dei andre plassane
Ein ubrukt flekk mellom kjøpesenteret og bustadblokka. Nye tråkk utanfor gangvegen og fortauet. Korleis tek vi i bruk byane – på nye måtar?
The other places
An unused space between the shopping center and the apartment block. New trails beyond the footpath and the sidewalk. How do we take the cities into use – in new ways?