1/2015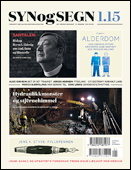 Leiar
Editorial
Berarane av dødens smitte
Den medisinske utviklinga har revolusjonert kvardagen for HIV-positive. Men noko er framleis som før: fordomane
Deadly carriers of the infection
Medical progress has revolutionized the lives of HIV positive. But some things remain the same: prejudice
Intervjuet
The interview
Ida Habbestad i samtale med professor Ingeborg Hartz om kvifor fleire born i dag enn for ti år sidan får medisin mot psykiske plager
Ida Habbestad talks to Professor Ingeborg Hartz about why more children are medicated for mental problems than a decade ago
Harde fakta
Hard facts
Illustrasjon ved Øystein Runde
Samtalen
Conversation
"Eg har ikkje vraka Den norske kyrkja. Ho har hjelpt meg på vegen." Forfattar Mette Karlsvik i samtale med den katolske biskopen i Noreg, Bernt I. Eidsvig
"I have not dropped the Norwegian Church. In fact it helped me move on." Author Mette Karlsvik in conversation with the Catholic bishop of Norway, Bernt I. Eidsvig
Emne: Alderdom
Topic: Age
Ein pensjonist funderer over tilværet
An old age pensioner reflects on existence
Dagane som kjem
Days come and go
Gamlisungdomen
The elderly young
Tabu
Taboo
Har du eit traume, så har du ein kompetanse, skriv skribent og kioskeigar Alice Gudheim. "Eg ville ikkje ha vore noko av det forutan. I desse åra tok eg mi danningsreise, og det ville aldri skjedd utan barndomstrauma som høgoktanbrensel på tanken."
If you have a trauma, then you are an expert in it, "writes author and stall-owner Alice Gudheim. " I would not be without it. It was my education; it would not have been possible without my childhood trauma; it was high octane fuel in my tank."
Utland
Abroad
"Det er særsynt at ein stat så ope fører ein samanhengande diskusjon om dei mest skamlagde sidene ved si eiga fortid. Ei ekstrem og krevjande form for normalitet." Jørgen Norheim om Tyskland og Berlin
"It is singular that a state conducts a continuous open discussion on the most shameful aspects of its own past. An extreme and demanding type of normality." Jørgen Norheim about Germany and Berlin
Frie tekstar
Free texts
Eit greitt byte
"Kvifor eg støttar Bioteknologirådet si tilråding om å ikkje opne for assistert befruktning for einslege kvinner i Noreg? Fordi genar tel."
A fair exchange
"Why do I support the Biotechnical Council's recommendation not to permit assisted fertilisation for single women in Norway? Because genes count."
Hydraulikkmonster og stjernehimmel
"Medan dei fleste av oss står opp og går ut i lyset, går andre inn i mørkeret i arbeidsdagen sin. Der inne bygger dei store hol til vegar."
Hydraulic monster and the starry heavens
"While most of us get up and go out into the light to work, others go into the dark to make big holes for roads."
Eit demokratisk utmattingssyndrom
"Færre og færre brukar stemmeretten sin. Korleis kan vi revitalisere den demokratiske deltakinga i det 21. hundreåret?"
A democratic attrition syndrome
"Fewer and fewer use their right to vote. How can we revitalize democratic participation in the 21st century?"
Tilrådinga
Recommendation
Fyllepennen. "Kva gjer at eg brukar nattetimar på Internett – på leit etter den perfekte pennen?"
The fountain pen "Why do I spend nights on the net searching for the perfect pen?"