3/2015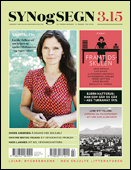 Leiar
Editorial
Kvart år blir det skrive bygdebøker for titals millionar kroner. Bøkene er god butikk - og annleis litteratur. Men kva veit vi om dei - og korleis kan dei gje svar til liva våre i dag?
Every year local history books are written, costing tens of millions of Norwegian kroner. The books are good business - and unique literature. But what do we know about them - and how do they inform our lives today?
Intervjuet
The interview
Marit Heier Lajord intervjuar forskar Sigrid Stokstad om kvifor "omgrepet" det kommunale sjølvstyret ikkje er å finne i Grunnlova. Kommunane manglar rettsleg vern overfor staten, seier ho.
Marit Heier Lajord interviews researcher Sigrid Stokstad on why the concept of municipal self-government is not found in the Constitution.
Samtalen
Conversation
Kva gjekk gale under den arabiske våren? Kvifor var Syria fortapt frå dag ein? Og går verda mot ei meir eller mindre uroleg tid? Midtausten-forskar Cecilie Hellestveit gir innblikk i spelet vi ikkje ser.
What went wrong during the Arab Spring? Why was Syria lost from day one? And is the world moving toward a more or less turbulent time? Middle East researcher Cecilie Hellestveit provides insight into the game taking place behind the scenes.
Emne: framtidsskulen
Topic: the school of the future
Kva slags skule bør vi bygge for framtida? Kva slags nye læringsverktøy og ny teknologi bør skulen ta i bruk? Finst det smartare og meir effektive måtar å lære på? Tre skribentar, ein fotograf og tre diktarar tek eit blikk på den norske framtidsskulen frå ulike synsvinklar.
What kind of school should we build for the future? What kinds of new learning tools and new technology should schools take into use? Are there smarter and more effective ways to learn? Three writers, one photographer, and three poets examine the future of Norwegian schools from different viewpoints.
Tid for ny teknologi
Time for new technology
Ein stoppestad på vegen ut i verda
A stopover on the journey into the world
Foto frå lærarkvardagen, med dikt av Frode Grytten, Einar Økland og Bergljot K. Nordal
Photos from a teacher's workday, with poetry by Frode Grytten, Einar Økland, and Bergljot K. Nordal
Kompetanse og læring i endring
Changes in competence and education
Tabu
Taboo
"Sjeldan høyrer eller ser vi vaksne menneske som snakkar ope med seg sjølv. Og når og om det skjer, gjer vi det ikkje utan å føle at vi er vitne til noko unormalt, rart, sjukleg." Sindre Andersen om dei som snakkar med seg sjølv.
"We seldom hear or see adults talk to themselves in public. And when and if it occurs, we feel that we are witnessing something abnormal, strange, sickly." Sindre Andersen on those who talk to themselves.
Demokrati
Democracy
TTIP - eit nytt demokratisk dilemma: Ein ny handelsavtale mellom USA og Europa er på trappene. Målet er å auke ein del av verdshandelen. Men avtalen er ein trussel mot demokratiske praksisar, seier kritikarar.
TTIP - a new democratic dilemma: a new trade agreement between the US and Europe is in the works. The goal is to increase global trade. But critics say the agreement is a threat to democratic practices.
Frie tekstar
Free texts
Manglande oppgjer etter det armenske folkemordet for hundre år sidan hindrar framleis sårt tiltrengd vekst og utvikling i Armenia. Samstundes definerer det ein armenar på godt og vondt.
A lack of reconciliation after the Armenian genocide 100 years ago continues to hinder growth and development in Armenia. At the same time, it defines an Armenian, for better or worse.
"Sjølv i eit land der det er meir av hus og hytter enn av slott og katedralar, finn den bygningshistorisk interesserte av og til heilt vanlege, rurale bygningsdetaljar som har vore for små til å bli nemnde - sjølv i bandsterke verk om den norske byggjeskikken. Den vesle opninga mange løedører har for at katten skal kunne smette inn, er nett, bokstavleg talt, eit slikt lite hol i bygningshistoria."
"Even in a country where there are more houses and cabins than palaces and cathedrals, those interested in building history sometimes find ordinary, rural building details which have been too small to be mentioned - even in multi-volume publications on Norwegian building traditions. The small opening many barn doors have for a cat to slip through is literally such a hole in building history."
Tilrådinga
The recommendation
Han som går og går - AEG Turnamat 1976
The washing machine that goes and goes - AEG Turnamat 1976