2/2014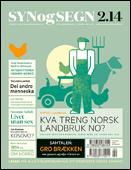 Leiar
Editorial
Den norske pakkeløysinga
The Norwegian package deals
Do all of a person's attitudes need to be consistent?
Intervjuet
Interview
Den sørafrikanske konstitusjonen feirar 20 år i år
Ida Habbestad intervjuar Liv Tørres om demokratiet og framtidshåpet
The South African constitution celebrates 20 years this year
Ida Habbestad interviews Secretary-General of Norwegian People's Aid, Liv Tørres, about democracy and hope for the future
Harde Fakta
Hard facts
Teikneserie ved Øystein Runde
Illustration by Øystein Runde
Samtalen
Conversation
Eskil Skjeldal i samtale med Gro Brækken, administrerande direktør i Norsk olje og gass
Eskil Skjeldal in conversation with Gro Brækken, Director General of the Norwegian Oil and Gas Association
Emne: Landbruk
Topic: Agriculture
Class structures in agriculture
Note from a workday
Where does Norwegian agriculture actually stand – today?
Can agricultural politics be changed?
I opposisjon
In opposition
Annleinskroppane
The different bodies. What is it like to be disabled and different in today's society? What is it like to stand out in a crowd?
Utland
Abroad
Kva kanvi lære av Kosovo?
What can we learn from Kosovo?
Frie tekstar
Free texts
Diktet
Poetry
Antisemittismen i Bonde-Noreg på 20- og 30-talet
Antisemitism in rural Norway during the 20s and 30s
om livet – utan sex
on life – without sex
Og den britiske debatten om Noreg
1814 and the propaganda war over Norway
Tilrådinga
Recommendation
Kolonialistisk sus
Colonialist rustling
Four destinations:
Long Mynd: Mountains and hotels, Wales
Darjeeling Himalayan Railway, India
Santa Fe Opera House, New Mexico/USA
Gossip concert at the Velodrom, Berlin/Germany