4/2014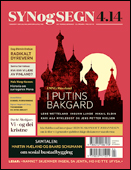 Leiar
Editorial
"Namnet skjemmer ingen, sa jenta, ho heitte Ufysa."
Ein tekst om norske namnetradisjonar
"No one is stained by their name, the girl said, her name was Ufysa
(= repulsive)." An essay on Norwegian naming traditions
Intervjuet
Interview
Ida Habbestad intervjuar Hedvig Skonhoft Johannesen om kvifor vi i grunnlovsjubileet ikkje diskuterer statsforma
Ida Habbestad interviews Hedvig Skonhoft Johannesen
Samtalen
Conversation
Ingrid Eidsheim Daae i samtale med Martin Mæland, konsernsjef i OBOS, og Baard Schumann, direktør i Selvaag bolig, om sosial bustadbygging
Ingrid Eidsheim Daae in conversation with Martin Mæland, CEO of OBOS, and Baard Schumann, Group CEO of Selvaag Bolig, about social housing
Russland
Russia
Korleis er kvardagen for russiske journalistar, forfattarar og opposisjonelle kunstnarar i Russland i dag? Kva veit vi om det historiske samkvemmet mellom Noreg og Russland sidan 1814? Går vi mot ein ny kald krig?
What is life like for [Russian] journalists, writers and oppositional artists in Russia today? What do we know about Russian-Norwegian relations after 1814? Are we heading towards a new cold war?
I opposisjon: Radikalt Dyrevern
In opposition: Radical animal rights activism
"Vi blir nok aldri ein art av vegetarianarar. Men vi skyldar dei millionane av dyr vi fortærer, at dei har eit best mogleg liv før vi hiver dei oppstykkja opp i grytene eller smør dei utover brødskivene."
"We will probably never be a vegetarian species. But we owe it to the millions of animals we devour, that we give them the best life possible before we throw their diced remains in our pans and spread them on our bread."
Utland
Abroad
Om draumen om Finland
On the dream of Finland
Frie Tekstar
Independent articles
Tilrådinga
Recommendation