2/2015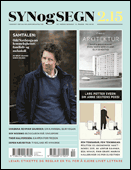 Leiar
Editorial
Nordmenn seier "du" til alle, "hæ" i staden for unnskyld – og klemmer vilt framande. Har vi trødd over intimitetens grenser?
Norwegians use the informal (du) imperative with everyone, say "what" instead of "pardon me" – and hug strangers. Have we crossed the boundaries of intimacy?
Intervjuet
The interview
Prinsipp med innhald? Ida Habbestad i samtale med Kerstin Söderström om kvifor Noreg nøler med å gje barn klagerett til FNs barnekomité
Principles with content? Ida Habbestad in conversation with Kerstin Söderström on why Norway hesitates to give children the right to submit a complaint to the UN Committee on the Rights of the Child.
Samtalen
Conversation
"Før var eg meir oppteken av å vere smart og intelligent, kanskje bar eg på eit mindreverdskompleks." Musikar Odd Nordstoga i samtale med bror Haavar Simon Nilsen
"Before, I was more concerned with being smart and intelligent. Maybe I had an inferiority complex." Musician Odd Nordstoga in conversation with brother Haavar Simon Nilsen.
Emne: Smak og ubehag
Topic: Taste and distaste
Kvifor har ferdighus vorte ein folkeleg suksess? Korleis skal vi forstå kompleksiteten i omgrepet smak? Korleis skal vi forstå etikken bak estetikken? Tre skribentar ser arkitektur, etikk og estetikk frå ulike synsvinklar.
Why have prefabricated homes become a mass success? What kinds of complexities are involved in the concept of taste? What are the ethics behind the aesthetics? Three writers examine architecture, ethics, and aesthetics from different points of view.
Bustad som symbol
The home as symbol
Ferdighus blues – songen om ein folkeleg suksess
The Prefab Blues – A Song about a Popular Success
Estetikk og etikk
Aesthetics and Ethics
I opposisjon
In opposition
Vi et kjøt fordi det er tradisjon, fordi det er kultur, fordi det er ideologi. Kjøtindustriell ideologi. Men er det rett? "Eg har forlate førestillinga om at dyr er skapte for menneske. Måten vi utnyttar dei på, gjer oss umenneskelege", skriv vegan Shabana Rehman Gaarder.
We eat meat because it is tradition, because it is culture, because it is an ideology. The meat industry ideology. But is it right? "I have abandoned the notion that animals are created for humans. The way we exploit them makes us inhuman," writes vegan Shabana Rehman Gaarder.
Utland
Abroad
"Eg vart saksøkt av den singaporske statsministeren Lee Hsien Loong. Så vart eg sparka frå jobben, og da eg tok ordet under ein demonstrasjon, vart eg ytterlegare straffa ved å bli sikta for to nye brotsverk." Den kjende bloggaren Roy Ngerng skriv om ytringskåra i Singapore – i Syn og Segn.
"I was sued by the Singaporean Prime Minister, Lee Hsien Loong. Then I was fired from my job, and when I took the floor during a demonstration, I was further punished by being charged with two additional crimes." The well-known blogger Roy Ngerng writes about the status of free speech in Singapore – in Syn og Segn.
Frie tekstar
Free texts
Eit oversyn over den globale kampen for menneskerettane. Ti historier. Ti personar som – kvar på sitt vis – har kjempa og arbeidd for fred og fridom i landa sine. Og som alle fortener merksemd.
An overview of the global struggle for human rights. Ten stories. Ten people who – each in their own way – have advocated for peace and freedom in their countries. All of them deserve attention.
Fem teiknarar, fem teikningar: Korleis tolkar norske teiknarar den politiske og økonomiske makta i Noreg i dag?
Five illustrators, five drawings: How do Norwegian illustrators interpret political and economic power dynamics in Norway today?
Tyskland på nynorsk: I det nøytrale Noreg tok dei fleste side for Storbritannia og Frankrike – mot Tyskland. Men ikkje alle.
Germany in nynorsk: In neutral Norway, most people took sides with Great Britain and France – against Germany. But not everyone.
Tilrådinga
The recommendation
Ofte er livet så stort at eg ikkje finn fram i det. Men Anne Sextons poesi er alltid der og viser meg vegen. Forfattar Lars Petter Sveen om poeten Anne Sexton.
Life is often so intense that I cannot find my way through it. But Anne Sexton's poetry is always there, and it shows me the way. Author Lars Petter Sveen on poet Anne Sexton.