4/2012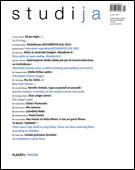 Kā pa miglu...
As if in fog...
Viedokļi par dOCUMENTA (13), 2012
Interviews regarding dOCUMENTA (13), 2012
Stāsts ar atvērtām beigām. Manifesta 9
Story with open end. Manifesta 9
Apbrīnojamā cilvēka kļūda jeb pie kā noved iedzeršana un metināšana
Admirable human error, or where drinking and welding can lead to
Attēlu tīrības spēks
The power of pure images
Bu, bu, būūū...!
Boo, boo, boooo...!
Henrihs Vorkals. Logs uz pasauli un pasaulē
Henrihs Vorkals. A window to the world and into the world
Evas Langes zīmes
Eva Lange's signs
Oskars Pavlovskis
Atis Jansons
Laimdota Steķe
Paula Zariņa
Nav mazas un lielas filmas. Ir īsas un garas filmas. Tā domā 2ANNAS
There aren't any small and large films. There are short and long films. According to 2 ANNAS
Izstāde grāmatas formātā
An exhibition in book form
Plakāts
Poster
Aizdedzinātāja tēvs
Father of the Arsonist. 2012