3/2012
Art of Angry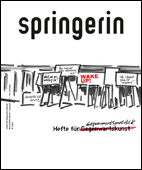 Netzteil
Klangkunstausstellungen 1975-2013
Ein Nachruf anlässlich der Ausstellung "Sound Art" im ZKM Karlsruhe
Sound, Art, Vision
Über Anziehung und Abstoßung zweier wahlverwandter Medien
Leblose Materie?
Nach fünf Jahren Pause fand heuer wieder das Dutch Electronic Art Festival statt -- Thema war die Macht und Schönheit der Dingwelt
Porno for the People
Die Medienwissenschaftlerin Katrien Jacobs und ihre Forschungen zu sexueller Repräsentation und Repression in China
Von der Notwendigkeit schnellen Agierens
Die syrische Online-Videoszene und ihr Engagement für eine neue Zivilgesellschaft
Gewaltfrei, aber actionlastig
Eine junge Entwicklergeneration am arabischen PC-Spielemarkt
Hauptteil "Art of Angry"
Eventarbeit
Die vierfache Matrix zeitgenössischer sozialer Bewegungen
Konzentration statt Dispersion
Interview mit der Politikwissenschaftlerin Jodi Dean über die Occupy-Bewegung und die Fallen des "kommunikativen Kapitalismus"
"Self # governing"
Cartoon aus der von der Künstlerin herausgegebenen Zeitung
Das getadelte Land
In der israelischen Kunstszene machen sich Zunehmend Unmut und Proteste breit -- ein Lokalaugenschein
Aufwertung in Zeiten der Krise
In Russland und der Ukraine nehmen administrative Sanktionen und staatliche Repressionen gegen Provokante Kunstformen zu
Roma-KünstlerInnen in Ungarn
Der Kampf um Anerkennung
Trans*Europa*Lublin
Gedanken zu queer-feministischer Kunst, Aktivismus und politischer Kritik im polnischen Kontext
"Take The Square"
Bildstrecke
Komplexität und Kritik
Eine Modellanalyse anhand von Anatoly Osmolovskys "Rot Front -- Leftover"
Ausstellungen
Ulrike Müller, "Herstory Inventory: 100 feministische Zeichnungen von 100 KünstlerInnen"
KUB Arena, Kunsthaus Bregenz
"Töten"
Kunstpalais Erlangen
Tanja Widmann, "eine von euch"
Grazer Kunstverein
"Kabinenschau/Moja Kabina/La mia cabina"
Kalmusbad, Ebenthal/Žrelec bei Klagenfurt/Celovec
Rajkamal Kahlon, "Doppelbilder/Double Vision"
Rudolf-Scharpf-Galerie des Wilhelm-Hack-Museums
L.A. Raeven, "Ideal Individuals"
Casino Luxembourg -- Forum d'art contemporain, Luxemburg
"La Triennale. Intense Proximité"
Palais de Tokyo, Paris und sieben weitere Institutionen
"Islands of Resistance. Between First and Second Modernity 1985-2012"
Nationalgalerie Prag
Gina Pane, "È per amore vostro: l'altro"
Museo di Arte Moderna e contemporanea di Trento e Rovereto (Mart)
Andrea Fraser, "Projection"/"There's No Place Like Home"
mumok/Whitney Biennial
"Getting It Wrong"
das weisse haus, Wien
Stephan Dillemuth, "Öffentliche Verkehrsmittel"
Secession, Wien
Lektüre
Tiqqun, "Anleitung zum Bürgerkrieg"
Billy Ehn, Orvar Löfgren, "Nichtstun"
Guy Delisle, "Aufzeichnungen aus Jerusalem"
Maximilien Le Roy "Die Mauer. Bericht aus Palästina"
Gertrud Koch, Volker Pantenburg, Simon Rothöhler (Hg.)
"Screen Dynamics"