2/2014
Zensur [Censorship]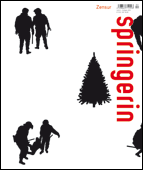 Netzteil
Net Section
Im Unterbewusstseinsstrom der Bilder
Zum Phänomen Tumblr Art
On the phenomenon of Tumblr Art
Klicken Sie auf den roten Pfeil, um zu navigieren
Über virtuelle Museumsrundgänge
On virtual tours of museums
Verfassungsmäßig verboten
Ein Gespräch mit dem Germanisten York-Gothart Mix über Zensur
Restricted by constitution
Interview with York-Gothart Mix about censorship
Die "Super Joden" von Ajax
Zum Dokumentarfilm Superjews von Nirit Peled
The "Super Joden" of Ajax
On the documentary film Superjews by Nirit Peled
Das Internet als MakerBot
Zur Ausstellung Speculations on Anonymous Materials
The Internet as MakerBot
About the exhibition Speculations on Anonymous Materials
Farbintensive crashes
Internetkunst für den Coffeetable
Colour intensive crashes
Net art for the coffee table
Zensur
Censorship
Widersprüchlicher Gemeinsinn
Über Neoliberalismus und gesunden Menschenverstand
Common-sense neoliberalism
Selbstzensur vermeiden?
Die Manifesta und das Petersburger "Fenster nach Europa"
Avoiding self-censorship?
Manifesta and St. Petersburg as "Window towards Europe"
Du sollst deine Heimat nicht kritisieren
Collage-Projekt (2014)
You mustn't criticize your homeland, just like you mustn't criticize your mother
Image series (2014)
Soziale Zensur
Wenn TheatermacherInnen und KritikerInnen zu ZensorInnen werden
Social censorship
When intellectuals, theatremakers, and critics turn censors
"Nichts anderes als Politik"
Vier Beiruter Institutionen und ihr beharrliches Anecken an den sozialpolitischen Gegebenheiten
"Nothing but politics"
Four cultural institutions in Beirut and their ongoing struggle with the sociopolitical conditions
The Silent University
Eine transversale Institution gegen Schweigen und Selbstzensur
The Silent University
A transversal institution against silence and self-censorship
Zensurfreie Mediennutzung
Zur Ausstellung global aCtIVISm im Karlsruher ZKM
On the exhibition global aCtIVISm at ZKM, Karlsruhe
Markus Brüderlin 1958–2014
Artscribe
Exhibitions
Bielefeld: Katarina Zdjelar – Towards a further word, Bielefelder Kunstverein
Chicago: Faith Wilding – Fearful symmetries retrospective, threewalls
Graz: Johannes Schweiger – IMA SET IMA TEXT, INO BUTT, Künstlerhaus, Halle für Kunst & Medien (KM)
Grenoble: Deimantas Narkevičius – Da Capo, Le Magasin (Centre National d'Art Contemporain)
Karlsruhe: Pauline Boudry/Renate Lorenz – Patriarchal Poetry, Badischer Kunstverein
Klagenfurt: Nebelland hab ich gesehen*
Zum Verhältnis von Kunst und Literatur, *Ingeborg Bachmann,
Museum Moderner Kunst Kärnten
Rom: Utopia for Sale? – Eine Hommage an Allan Sekula
MAXXI, Museo nazionale delle arti XXI secolo
Vienna: Anna Artaker – Rekonstruktion der Rothschild'schen Gemäldesammlung in Wien, Arbeiterkammer
Vienna: and Materials and Money and Crisis, mumok
Vienna: Wäre ich von Stoff, ich würde mich färben – Retrospektive Ulrike Grossarth, Generali Foundation
Lektüre
Books
Armen Avanessian (Ed.)
#Akzeleration
Jonathan Crary
24/7: Late Capitalism and the Ends of Sleep
Bernd Kracke/Marc Ries (Ed.)
Expanded Narration. Das neue Erzählen
Hanno Rauterberg
Wir sind die Stadt!
Christopher Dell
Ware: Wohnen!
Radikale Nostalgie?
50 Jahre nach der Gründung des Birminghamer Centre for Contemporary Cultural Studies