1/2014
Chronic Times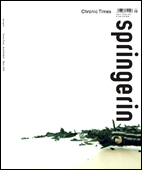 Netzteil
Net Section
Internet Joys
Zum Phänomen der "Post-Internet Art"
Bilderlos inmitten der Bilder
Die Videos von Jesse McLean
Auf Papier arbeiten, Arbeiten auf Papier
Zur maschinellen Logik von Ignacio Uriarte
Das Netz ist kein Freundeskreis
Zur Gründung des netzpolitischen konvents der österreichischen zivilgesellschaft
BürgerInnen suchen Staat
Edward Snowden und das nicht-wirtschaftliche Moment der digitalen Gegenwart
Wenn Apple ein Staat wäre...
Über den Film iPhoneChina (2013) von Christian von Borries
Chronic Times
On uncanny states and bodies
Zum Begriffshorizont des "Chronischen"
Renate Lorenz im Gespräch mit Mathias Danbolt und Elizabeth Freeman
Politik von Raum und Zeit
Zum Projekt Living Archive
Das Werden einer Geste
Archiv des unsichtbaren Konflikts Marokko – Westsahara
Sie hebt die hand, sie wendet den Kopf
Eine Untersuchung zu Körper und Revolution
Kallir
Zum Leben und Werk des Schriftforschers Alfred Kallir
Es gibt keine unschuldige Lektüre!
Ein Lesestück
Punta Carretas – Gefängnis/Einkaufszentrum
Kollektives Gedächtnis und zivilgesellschaftliche Gegenwart Montevideos
Familienfoto mit nur einer Person
Zurückgelassen in den Dörfern Chinas
Closet Case Studies #1.
Ausstellungen
Exhibitions
After Year Zero. Geografien der Kollaboration seit 1945; Haus der Kulturen der Welt, Berlin
;
Self Made Urbanism Rome (S.M.U.R.) NGBK, Berlin
Lois Weinberger Ferdinandeum, Innsbruck
Gülsün Karamustafa – a Promised exhibition SALT Beyoglu und SALT Galata, Istanbul
Sean Snyder – no apocalypse, not now Kölnischer Kunstverein
Luisa Kasalicky – intro: Desiderio Lentos Kunstmuseum Linz Carola Platzek
The Temptation of aa Bronson Witte de With, Center for Contemporary Art, Rotterdam
Salon der Angst Kunsthalle Wien
Amar Kanwar – The Sovereign Forest Thyssen-Bornemisza Art Contemporary – Augarten, Wien
Ich bin eine andere Welt
xhibit, Akademie der bildenden Künste, Wien
Lonnie van Brummelen/Siebren de Haan Kunsthaus Zürich
Lektüre
Books
Diedrich Diederichsen/Anselm Franke (Hg.)
The Whole earth
Enrique Dussel, Der Gegendiskurs der Moderne
Peter Osborne, anywhere or not at all
Jean-Luc Nancy/Daniel Tyradellis
Was heißt uns Denken?;
Jean-François Lyotard Wozu philosophieren?
David Prudhomme, Einmal durch den Louvre;
Brecht Vandenbroucke, White Cube