3/2015
Fluchtpunkt Ethnografie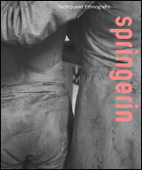 Netzteil
Turboimmaterialität
Zu zwei Videoarbeiten von Aleksandra Domanović
Raumsehen in Stereo
Zu den Aussichten eines experimentellen 3D-Kinos
Proxy-Politik
Neue Machtform - neuer Widerstand
Umverteilung à la Robin Hood
Wie ein aktivistischer Hedgefonds das Gemeinwohl befördern möchte
Commons nach Snowden
Alternativen zur Black-Box-Politik
Fluchtpunkt Ethnografie
Pascal Jurt im Gespräch mit Susanne Leeb über den Zusammenhang von Kunst und Ethnografie
Following the Modern Genealogy, 2015
Bildbeitrag
Die Geister der Vergangenheit sprechen nicht
Über die Destabilisierung des Authentischen, 1915-2015
Grenzerfahrungen im Rahmenprogramm
Fuck you!
Zu Ines Doujak Not Dressed for Conquering!
Spezielle Funde, 1937-1939
Zur Aufarbeitung verbotener Kunst aus der Sowjetzeit
Artscribe / Ausstellungen
The Beast and the Sovereign
MACBA, Barcelona
Gareth Moore
A Burning Bag as a Smoke-Grey Lotus
La Loge, Brüssel
Minouk Lim - United Paradox
Portikus, Frankfurt am Main
Trevor Paglen - Octopus
Frankfurter Kunstverein
Aurélien Froment - News from Earth/ Fröbel gefröbelt
Badischer Kunstverein, Karlsruhe
Heidelberger Kunstverein
Robin Vanbesien - Gravidade
Lumiar Cité, Lissabon
Daniel G. Andújar - Operating System
MNCARS, Madrid
Camille Henrot - The Pale Fox
Westfälischer Kunstverein, Münster
Fred Lonidier - Strike
Istituto Svizzero, Rom
Anna Artaker und Meike S. Gleim
Atlas von Arkadien
xhibit, Akademie der bildenden Künste, Wien
Krüger & Pardeller
HOMO FABER. Ein räumliches Hörspiel in drei Teilen
21er Haus, Wien
Lektüre
Ralph Eue/Florian Wüst (Hg.)
Die moderne Stadt
Michèle Bernstein
Alle Pferde des Königs
Zygmunt Bauman
Retten uns die Reichen?
Jean-Luc Nancy
Demokratie und Gemeinschaft
Julian Voloj/Claudia Ahlering
Ghetto Brother: Bronx, NY