5 (2012)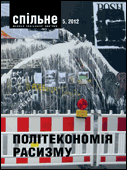 Summary
/
Pезюме
Політекономія расизму
Political economy of racism
Праворадикальна політика
Radical right politics
Нація в заголовках, клас у підтексті
робітничий популізм і повернення витісненого в неоліберальній Європі
Titles of nation, subtexts of class
Working class populism in neoliberal Europe
Британська національна партія
причини зростання правих радикалів, їхній сучасний стан і перспективи
The British National Party
Underlying causes of far right growth, its present nature and prospects
"Ми називаємо щось "громадянським суспільством",
коли воно нам подобається, а як ні, то шукаємо якусь іншу назву"
"We call something 'civil society' when we like it,
and we call it something else when we don't"
Праворадикальні партії в Центрально-Cхідній Європі: справа в економіці?
Як і чому комуністи і соціал-націоналісти пародіюють лівий рух?
How and why communists and social nationalists are imitating the Left?
Расизм і капіталізм
Racism and capitalism
"Світ 2050-го року буде таким, яким ми його створимо"
"The world of 2050 will be what we make it"
"Расизм був одним із найважливіших інститутів у процесі розвитку капіталізму"
"Racism was one of the key institutions of capitalism advancement"
Невільники і смертники у двох таборах
спогади про Освенцим і Біркенау
Prisoners and death convicts in two camps
Memories of Oswiecim and Birkenau
Генрі Форд - натхненник Адольфа Гітлера
Henri Ford - inspirer of Adolf Hitler
Провісники і союзники нацизму в США
Precursors and allies of Nazism in the USA
Проблема "асоціалів" у нацистській Німеччині
The problem of "asocials" in Nazi Germany
Один із нас: фріки та соціальна нормативність
One of us: Freaks and social normativity
Південна стратегія
Southern strategy
Мігранти, біженці, меншини
Migrants, refugees, minorities
За крок до американської мрії
трагедія 72 мігрантів (передмова до історій мігрантів)
One step before the American Dream
A tragedy of 72 migrants (foreword to migrant stories)
"Довгий час панувала хибна думка, що робітників-мігрантів нізащо не вийде організувати на захист їхніх трудових прав"
"For a long time there was a false assumption that migrant workers can never be mobilized to defend their labour rights"
Ексклюзія замість інтеграції
чеські профспілки і державна міграційна політика
Exclusion instead of integration
Czech trade unions and state migration policies
Ієрархія легального статусу, табори, ринок праці та новий імперіалізм
Hierarchy of legal status, camps, labor market, and new imperialism
Гуманітарний расизм?
Міжнародна допомога та політика інтеграції біженців в Україні
Humanitarian racism? International aid, migration control, and the politics of refugee integration in the Ukraine
"Йдеться про ксенофобію згори, яка підживлює ксенофобію знизу"
"It is a question of xenophobia from above that feeds the xenophobia from below"
Порочне коло на узбіччі суспільства
ситуація ромів в Україні
A vicious circle on the edge of society
The situation of Roma in the Ukraine
Рецензії
Reviews
Вороги навколо
про другий випуск журналу "Політична критика" "Слава ворогам!"
Еnemies around us
Review of Politychna Krytyka 2/2011 "Glory to the enemies!"
Інструменталізація радикальної музики
про праворадикальні музичні гурти України
Instrumentalization of radical music
On radical right music bands in the Ukraine
Гавр і Маркс (про фільм "Гавр" Акі Каурісмякі)
Le Havre and Marx: On Aki Kaurismaki's film "Le Havre"
Один день біля стіни
про роботу "Стіна миру" Нади Прлйа з Берлінської бієнале
One day by the wall
On Nada Prlja's art project "Peace Wall" at the seventh Berlin Biennale